There are always plenty of nifty ideas to take home from the flower shows. The RHS Hampton Court Palace Flower Show is no exception. This year there are an incredible 42 gardens, from small City Gardens, to achievable Summer Gardens right up to the major show gardens, all with plenty of planting combinations and ideas to take home.
Floating flowers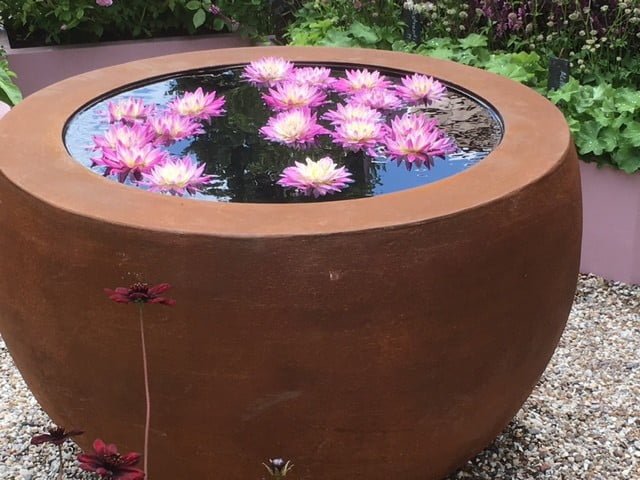 Create a magical and pretty instant floral display in the garden by floating flower heads in a bowl of water. On Katie's Garden, there are floating pink dahlia heads in the main rusted water feature. They look stunning. You could recreate the idea using any water container, just by adding a few cut flowers.
Gabion wall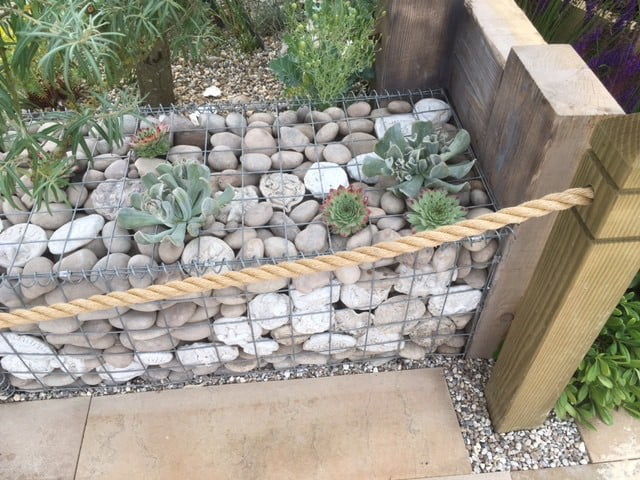 On the BBC Kent's Beachscape Oyster Garden some pebble filled gabion baskets create a neat, low wall. Planted with sea-washed succulents and seasoned with handmade clay fossils made by the local school children, the gabions make an interesting and easy to recreate garden boundary.
Slate planter
Here's a fabulous way to grow alpine plants from Rotherview Nursery (FM360)  Large slabs of thin rocks, slate like, placed on their sides are sandwiched with compost and the alpines planted in between.
Bird feeder
On the Alitex stand (HC517) look for the little rusted sculptures in the flowerbeds. Filled with birdseed it brings the birds right into the garden to add their lively antics. But once in the garden, the birds will also provide vital pest control by eating the many bugs that can affect our plants.
Wall crates
Another idea from the lovely Katie's Garden (HC692). These little wooden crates have been attached to the fence and contain a variety of decorative items. Pine cones. Jugs of flowers. Glass bottles. Balls of string. They make lovely open cupboards and could be used to display little potted plants or anything you choose.