Peppermint (Mentha x piperita) and Spearmint (Mentha spicata) are the most popular and well known of the mint family. Mint is such a versatile herb in the kitchen and there are many different mints with fruity flavours and some with variegated leaves that look attractive on the plate and in the garden. You can use mint to flavour hot and cold drinks, for sauces, in salads, desserts and with vegetables. Fresh garden peas and new potatoes are delicious anyway, but cooked with mint, and served with fresh mint, their flavour is upped 100%. And it will provide soothing and scented aromas if you add it to a hot bath.
Growing mint
Because it is such a rampant spreading plant, and often described as a bit of a thug, mint is usually corralled in a corner of the herb garden or grown in containers. If you have the space, especially in sun or moist shade, then let it rip how and where it wants to grow. In containers mint needs regular watering.
Mint leaves lose their strong flavour as the plants mature and flower and when the plants are in flower and, as they rise up the stem, the leaves also become smaller. The small white or mauve flowers are whorled around the stems at the tips. They are edible though, and useful in salads or with fruit such as strawberries and raspberries. And they are a magnet for bees and butterflies.
In late summer, after flowering, I cut the flowering stems back hard to encourage new growth. It will take about 6 weeks before this appears. If I want new or more plants I either root stems in water (a very quick process) or repot the plants in containers, dividing them and then replanting them with fresh compost.
Mint sauce
Spearmint (Mentha spicata) is the mint to choose for mint sauce – the 'sauce of choice' to accompany a roast lamb dish. Spearmint is also known as 'garden mint' and is probably the first mint we come across in the culinary mint trail. Its leaves are oval with textured surfaces and its aroma is undeniably that of spearmint.
For a mint sauce chop a handful of leaves, add castor sugar, then white wine vinegar. Taste the sauce as you add and combine, and if the taste is too sharp, add more sugar.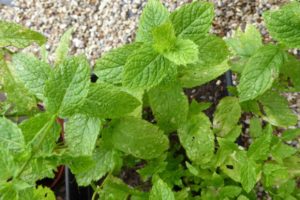 Tea
Both these spearmints vie for the title of 'best mint for mint tea': Tashkent (Mentha spicata 'Tashkent' and Moroccan mint (M. spicata var. crispa 'Moroccan') taste similar but in the garden 'Tashkent' is a taller-growing plant. Both plants have wrinkled leaves and a strong flavour of chewing gum. Moroccan mint is the favourite in North Africa for a refreshing mint tea. Place green tea and a bunch of fresh mint in a teapot, then pour in boiling water to fill, add sugar and stir until dissolved. Let it steep for a few minutes then serve (over ice, if you wish, for an instant iced tea).
Fruity drinks
The most delicious and attractive-looking summer drinks are usually packed with sliced fruits such as strawberries, pineapple, apple, orange and lemon and cucumber. Mint leaves are a favourite to add to this fruity mix and there are a host of fruity favours in mint foliage to mix and match. Don't forget mojitos and mint juleps too.
Lemon mint (Mentha x piperita f. citrata 'Lemon') has pale green leaves with a lemon to lime citrusy note. For a slightly different colour and flavour choose 'Grapefruit' mint with a mauve blush to its large crinkly leaves. It goes well in sweet and savoury dishes. Apple mint (Mentha suaveolens) has large, apple-green, slightly furry leaves and packs a really fruit punch to a punch bowl.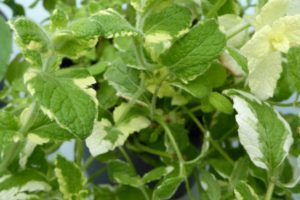 For salads
Ginger mint (Mentha x gracilis) is a good looker that adds a zingy taste to salads. Its oval, toothed foliage is striped yellow or golden and green. In summer its delicate mauve flower is whorled around the stem. It is useful in summer drinks and desserts, too.
Pineapple mint (Mentha suaveolens 'Variegata') is the variegated form of apple mint. Its pineapple flavour and variegated white and green foliage make it a great choice for a leafy garden salad. It is an attractive garden or container plant.
Desserts
If you want a chocolate hit without the calories use chocolate mint (Mentha x piperita f. citrata 'Chocolate') as a garnish and to flavour fruit salad bowls. It will remind you of coffee and after dinner chocolates. It has dark stems and dark veined foliage and a distinctly chocolate flavour, and will be a good companion to a chocolate mousse, as well as a useful ingredient.
Strawberry mint (it is so strawberry in flavour that you just need to add cream…!) is a delicious garnish for strawberry ice cream and other fruit desserts and ices.
Relaxing in the bath
Eau-de-Cologne mint (Mentha x piperita f. citrata) is a peppermint with dark stems and aromatic, perfumed foliage, with strong orange notes, so unsurprisingly, it is also known as orange mint. The taste of the foliage is very strong, and reminds me of lavender and old-fashioned scent bottles, so I prefer it for its looks, rather than its taste in food.
Tie several stems together in a bundle and place them in a muslin bag to float in the bath, or tie the bag under the hot tap, you will have scented and relaxing minty fresh bath experience.