Herbs are a fantastic gateway plant to bridge the gap between growing houseplants and starting a garden. That's because many of them can be grown indoors on a windowsill and also placed outside in a pot, planter or a window box.
You can have a go with the living herbs you buy at the supermarket but remember these have been 'forced' into growth to produce a crop or two of leaves, so it's better to buy acclimatized, locally grown plants from your local plant nursery.
Seed sown basil and coriander
In mid to late summer it's the perfect time to sow a late crop of basil and coriander. They love the heat and will germinate in a few days producing masses of leafy growth for your summer salads and menus. Just sow five to ten seeds in a small pot of quality seed compost. Space them out, water gently with tepid water and put them in a warm light place to germinate. Once they start to grow they will romp away and you can pick the leaves as soon as they are big enough to cut.
These herbs can be grown in small pots on the windowsill, but for the best results pot them into larger pots of quality compost and feed with Flower Power. Basil likes it hot so don't leave the pots out in wet and stormy weather and always water in the morning and not in the evening so that the roots don't stand in water overnight. Coriander is a bit more forgiving. Sow a few seeds weekly for a continuous crop right into winter.
Mint
If you only grow one herb this summer make it mint. It's an amazing plant. It's incredibly easy to grow, easy to grow from cuttings and a great plant for the kids. Rub a leaf and it smells of mints. Wow. Pick two or three fresh leaves and make some mint tea! There are dozens of amazing varieties. It grows well in pots and grows stronger the more you pick the stems and leaves. Leave a few shoots to flower; it's a great pollinator plant. For the best mint tea choose Moroccan mint, it's divine.
Chives
Chives are a fantastic herb to grow in a pot or container. The plants are perennial which means that they will grow from year to year, but they do die down for the winter and then sprout again in spring, bigger and better than ever before. Chopped chives are a great way to add a tangy onion flavour to sandwiches, salads and summer menus. Once you've got a big clump you can divide it and share the plants with others. Chives have funky purple flowers, which can also be added to salads, but leave a few for the pollinators because they are rich in nectar and popular with bumblebees.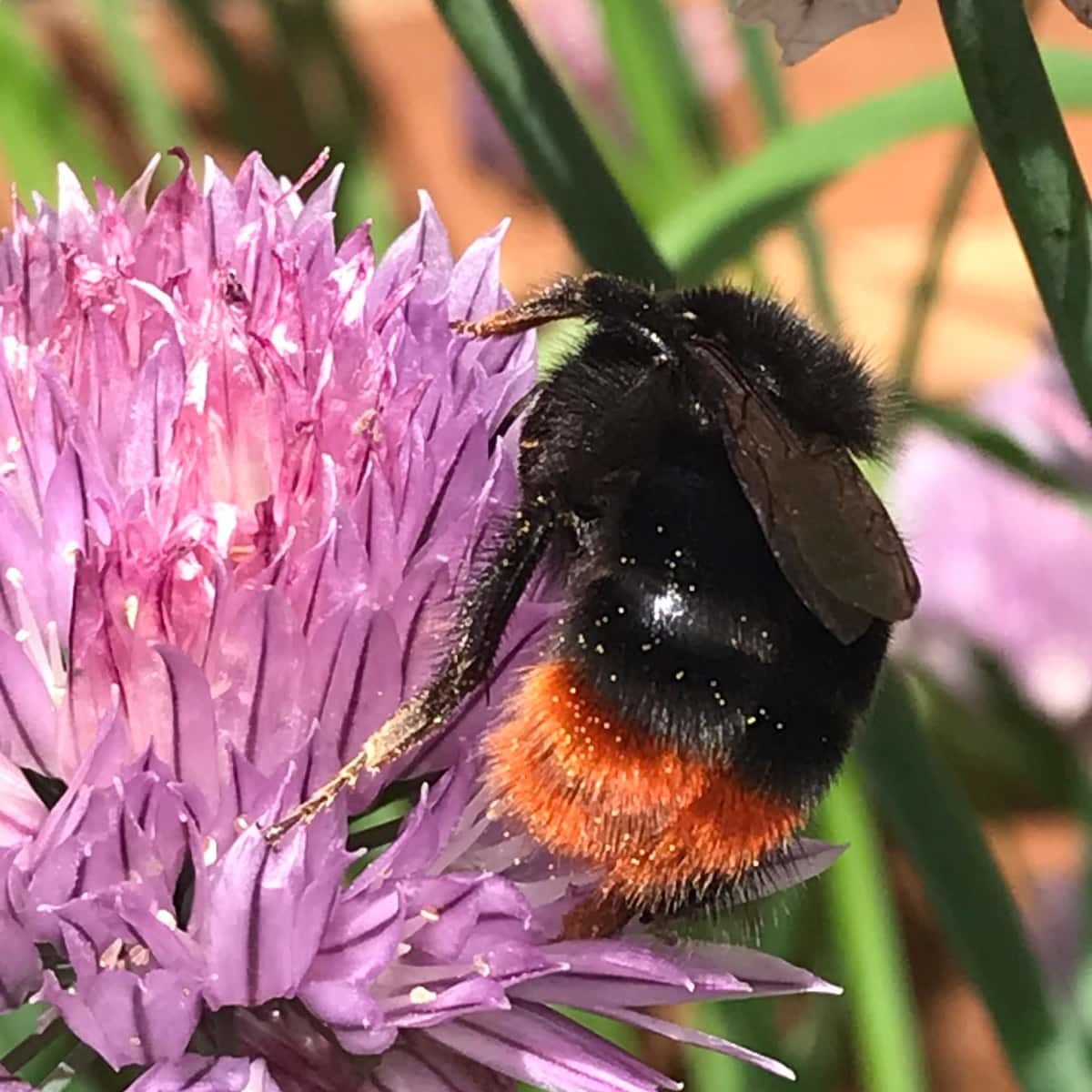 Thyme
That saying about Time healing all ills, is actually written about Thyme, not Time. Thyme is an incredible healer, rich in antimicrobial and anti fungal properties, so much so that research has shown that bumblebees suffering from a fungal disease will feed on the nectar from thyme flowers to heal their ailments. Thyme is a low growing cushion forming plant that is evergreen and has masses of pretty pink flowers rich in healing nectar. You can grow it in a pot or use it as a ground cover plant. It's a great kitchen herb too adding rich flavours to your cooking and there are dozens of varieties with different fragrances and flavours.
Rosemary
One of my favourite herbs is rosemary. I used to have a huge rosemary bush in the herb garden, but my dogs decided it was the perfect plant to chew and gradually chopped it down. I can't say I blame them because it is a wonderful aromatic plant. It's an evergreen shrub and it can grow quite big so it's not great in small containers. That said you could plant it into a larger terracotta pot and bring it into a greenhouse for the winter. Rosemary has lovely soft blue flowers that are rich in nectar. It sometimes flowers in late winter so it can be an important pollinator plant.
I love ginger rosemary and as it's not always reliably hardy outside so the protected climes of the winter greenhouse keep it safe until spring. It makes amazing tea too!