Of all the vegetables grown at home in the UK, the tomato is the most popular, possibly because of its diversity, productivity and culinary uses. Eating a tomato freshly picked and still warm from the summer sun is divine and everyone should enjoy this heavenly experience.
Rich diversity
Tomatoes come in many hues and a range of shapes: classic, beefsteak, plum, cherry, cherry plum and currant. Confusingly they grow as indeterminates/cordons, which keep on growing throughout the season; determinates that don't, or semi determinates which grow somewhere in between. You can grow your own plants from seed or buy young tomato plants online, from nurseries or garden centres in early summer.
One of the most important aspects in choosing tomato varieties is the flavour. Flavour is dependent on many factors: the amount of sunshine in the growing season, the prevailing temperatures, the quantity of water uptake, the amount and type of feeding, the type of compost, the position of the plant indoors or outside and the variety.
Some tomato varieties definitely are sweeter than others while others have a more savoury finish but we can all disagree on which tomato has the best flavour. My own favourite is 'Rosada' sadly now out of seed production. To find out more about flavour why not gather gardening friends at the beginning of the season, share a number of tomato varieties to grow and then have a tomato party at the end of summer to check out the resulting flavours. Much more fun than anyone else's opinion on the subject!
At West Dean Gardens we are growing over 50 varieties of tomatoes under glass this year to avoid tomato blight. We plant them in the ground and in pots using a mix of multipurpose and John Innes No 2 at a ratio of 2:1, plus a small amount of added grit.  We are also experimenting with a woodchip-based product called Silvamix with good results. Our feed starts as a sea weed extract for young plants followed by a balanced fertiliser for growth and flower development and lastly a high potash feed to really promote the development of flowers.
Look out for grafted tomato plants, which have become much more readily available in recent years.  I have found these turbo charged plants the way to go especially for beefsteak varieties. I used to worship at the shrine of Heritage varieties but generally found them somewhat reluctant to set much fruit, whereas grafted varieties like 'Belriccio' from Sutton Seeds roared out of the ground and set magnificent trusses of fruit, which needed to be well supported because of their weight.  The cost of the plant is well worth the results. I still grow Heritage varieties from seed; 'Brandywine' and 'Pineapple' for example, as they provide wonderful colours for tomato salads, but in my own allotment I would seriously consider grafted plants because of their productivity (and flavour!).
Pushing the boundaries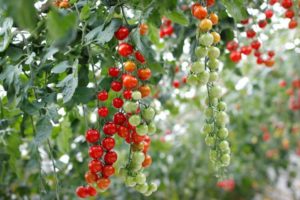 Sowing time for tomatoes varies depending on your location in the country and the final destination of the plant either outdoors or under glass. Indoor varieties can be sown early to late March depending whether the glass is heated or not. We aim to plant those destined for outdoors in late May after frosts, so their sowing time is early April.
Our beefsteak tomatoes are planted in a trench and grow against a south-facing wall under glass and we restrict their growth to 6 trusses of fruit.
Cherry types are potted into large pots and grown up a string to the rafters of the glasshouse or elsewhere, in a quasi-continuous grow bag sunk into a bench where they are trained as double cordons against the pit-house roof. It's a bonkers method that seems to work. Grown under glass they're nearly a trouble free crop responding to regular morning watering (avoid evening watering) and feeding and happily for us not succumbing to blight because their foliage is kept dry. We constantly look at new varieties each year but grow some favourites like 'Santa' F1, 'Rosada' F1, 'Ruby' F1, 'Brown Berry' and 'Jelly Bean', regularly, although the selection of varieties is like being in Aladdin's cave. So much choice!
Bush tomatoes are potted into a variety of terracotta pots depending on their size. We also play around with sowing a variety like 'Red Alert' in June to plant out in the garden under cloches for a late season harvest. It all shows that you can play around and manipulate the sowing times of tomatoes to suit your circumstances.
Trouble shooting
Beware the dreaded greenhouse whitefly and take early action with a bio-control predator such as Encarsia. It's effective and safe to use. See online websites like Gardening Naturally or the Green Gardener for guidance. Regular feeding and watering is a must as is side shooting on indeterminate varieties, but other than that tomatoes are remarkably obliging and one of the most gratifying crops to grow and eat.
Once harvested remember to store tomatoes at room temperature and not in the fridge as its the fastest way to kill the flavour. Tomato varieties of different hues make a delectably gorgeous salad particularly chopped up with olives, a little anchovy, some spring onion, garlic, olive oil, balsamic vinegar and fresh basil leaves.
Tomato seed sources
Plants of Distinction, www.plantsofdistinction.co.uk
Simpson's Seeds Ltd. www.simpsonsseeds.co.uk
Thompson and Morgan www.thompson-morgan.com
Edwin Tucker and Sons Ltd. www.edwintucker.com
Seeds of Italy www.seedsofitaly.com
Tozer Seeds Direct www.tozerseeds.com