Whether you are getting your garden ready to open to the public, or just preparing it for your own summer enjoyment, there can be a hard working regime to follow to get it just right.
Over the six years I have been doing it, the task always begins with power washing of all the hard surfaces. It's amazing what you can achieve in making your plot look good with just clean looking paths, brick work and garden sculpture. My box courtyard has a lovely brick finish but until you blast clean the bricks individually, you just don't realise how dirty they have become. It may be time consuming, but it's well worth the effort to pressure clean every individual brick as well as the grouting in between.
Border control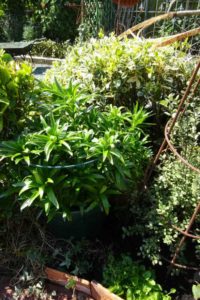 If, as we do, you have dog in the family, they can play havoc with your beautifully planted garden beds. A trick I've always used, which has worked extremely well is to edge your beds before you get planting. Here at Driftwood I edge the beds with rusted metal plant supports placed on an angle that plants can grow up through to then conceal them from view, but our dog knows they are there and he stays out. It really does work.
I've got three large clumps of Shasta daisies in a gravel area that are very exposed to winds from the sea, so now is the time to get the additional support into the ground that they can grow up through and to give them that extra support. The stakes soon become hidden.
I also have tall semi-circular rusted supports that help me pin bushy shrubs like my fabulous Fuchsia 'Riccartonii' back. It helps to create a much more even and balanced display.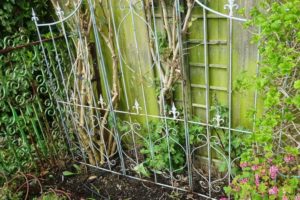 This year I find that I've got nowhere to place a metal screen I've had a few years, but inspiration struck this week and I've placed it in the border, about 9 inches from the fence to help support the Lavatera rosea and buddleja which are always prone to being blown down by the strong winds we can get off the sea.
My top 5 tips for getting your garden in shape for the summer
Without doubt my top tip is power cleaning throughout the garden. The end result makes a real statement.
Meticulously prune every plant and shrub in the garden of dead wood and damaged leaves, they will look amazing.
Make sure you feed the plants and shrubs from late April onwards. This year I'm using Flower Power. The results will make your neighbours very jealous.
If, like me, you have lots of containers, treat yourself to a moisture meter so you can make sure you water them when needed and not because you think they need it.
Cover all exposed soil with bark chip and mulch containers with gravel or slate and you'll be amazed how few weeds you will see and it also helps moisture retention too.