Garden News readers win prizes with Richard Jackson's Flower Power plant food.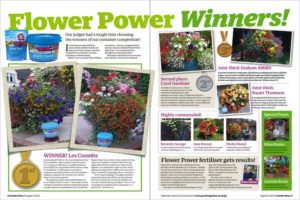 When Garden News ran a summer container competition, to find the best container display, the entries flooded in. The judges were so inundated with fabulous, flower filled baskets and containers it was hard to select a short list, let alone the winners.
"It's such a pleasure to see so many beautiful pots, baskets and window boxes being grown throughout the UK this summer. I'm also delighted that, once again, gardeners are winning with my Flower Power plant food' says Richard Jackson
Many of the entrants had used Flower Power with great results and the winner; Les Coombs from Surrey won £250 for his efforts, plus a bonus of £250 for using Flower Power and including it in his photos.
Les sent images of two flower filled containers, fed all summer with the new Flower Power formulation.
His vibrant planters included purple and white petunias and the mini petunia –calibrachoas, as well as exuberant begonias and pelargoniums.
Secrets of success
What does Les do that makes his containers such worthy winners?
"Feed, water and deadhead – it's as simple as that," he says. "I have quite a lot of containers around the garden and I probably spend a couple of hours a day deadheading." Deadheading keeps the plants flowering for weeks on end.
For feed, Les uses Flower Power plant food. "They get their Flower Power two or three times a week normally. There's more potash in Flower Power than any 
of the other feeds I can find and it makes all the difference."
Finally they need a drink. "It's essential to water as well. You're getting a lot of growth in a little pot so if you don't water and feed it's not going to thrive," he added.
Runners up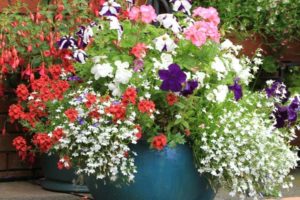 Carol Gardiner was awarded second place in the Garden News competition, winning £100 for her petunia and diascia planter. Overflowing with colour and interest, its soft effect captured the attention of the judges.
Third place was hotly contested and in the end the judges awarded two prizes. Graham Abblitt's hanging basket was brimming with plants, colour and vibrancy and won him £75. Stuart Thomson's simple basket of apricot begonias fed with Flower Power also scooped a third prize of £75.