I've had over 12,000 visitors to my small seaside garden in the last few years and the things they say to me never fail to amaze me. I always think they are looking at a different garden to the one I see. However, one of the most frequent questions I'm asked is, how do I keep my plants in such pristine condition?
Water and feed
So, how does it happen? Well there's a fair degree of luck in there somewhere, I'm sure. But regular watering and feeding is pretty high up on the list too. I seem to spend so much of my summer keeping it all looking its best! My regime of feeding all of my plants, whether they are annuals, shrubs or perennials can, and does dramatically improve the look and the life of my displays.
Plants in containers – all mine are terracotta – need regular feeding, as they only have what you give them. I always line the base of the pot with silver foil to help retain a small reservoir of water in very dry spells.
While plants in beds and borders are able to use the resources present in the garden soil, I still feed them, as Driftwood is mainly on chalk, which doesn't help matters. In nature, as leaves fall and plants die, they decompose and return nutrients to the soil, maintaining the natural balance. However, as my garden is on show, I am forever tidying up, meaning that the plant 'bits' that would naturally rot down are actually depleting the already poor soil of its nutrient reserves. I need my plants and shrubs to grow up big and strong, ensuring they're not undernourished.
Soluble feed
Plant foods that are dissolved or diluted with water are much better for plants in pots and I find them much easier to apply. Nutrients are immediately accessible and applied in the right concentrations. When you've got a large garden with dozens of containers it can be a very time consuming job though. However I do find it quite therapeutic and it does mean you are looking at every plant in the garden at the same time to check on its condition.
Since I first opened the garden I have religiously fed every single annual, plant or shrub individually by hand using a watering can. Visitors are shocked when I tell them that with over 600 different plants and shrubs, this can take me over five hours! But let me tell you, it is five hours very well spent.
Trialling Flower Power
After using the same plant food for many years, I've decided to make a significant change for 2016. Flower Power was not a product I had heard of, but several visitors and comments on social media brought it to my attention and I have been extremely pleased with the relationship that has subsequently developed with Richard Jackson's Garden, both from supplying the Flower Power to be used in the garden this year and for the opportunity to write blogs like this for the website. More importantly Richard has very generously sponsored the Macmillan Coastal Garden Trail that I organise every year between Brighton and Eastbourne.
Without bias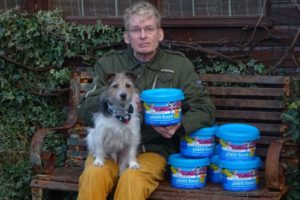 With the excitement and anticipation that visitors have before visiting the garden I can guarantee you that my assessment of Flower Power this summer will in no way be coloured by what I have just said. I need a plant food that will allow my plot to shine in all respects, better still, exceed previous years results, so rest assured I will be very forthright with my analysis. But it comes highly acclaimed from several plant nurseries that use it to feed their gold medal winning displays at RHS Chelsea and Hampton Court.
Richard Jackson's super-concentrated Flower Power formula for gardeners features chelated trace elements for even faster nutrient uptake. It contains high levels of potash, which is excellent news for me, as it is supposed to increase hardiness and help tolerance of frost and wind. Fabulous for a windy seaside garden. It's also a key nutrient for encouraging high levels of flowering, fruiting and plant resilience. It is even recommended for tomato plants capable of producing over double the crop of tomatoes, so, expectations are high!
This super concentrated formula goes a long way, much more effective than my previous plant food. The 600g pack makes 120 gallons of diluted feed. My 2016 delivery, as you can see, came this week so my monthly blogs will keep you updated on its much anticipated success! Watch this space.