Thinking back to the summer of 2015 and I have to be totally honest, I had never heard of Richard Jackson, let alone his amazing plant feed, Flower Power. Last summer I persuaded a garden journalist, Jean Vernon, to come and see my garden. My expectation from her visit was hopefully an article about Driftwood in a national newspaper or magazine. Well, how wrong I was! It was much, much better. Jean, who also works for Richard Jackson was blown away by the garden and wrote a wonderful blog about her visit. But she also put me in touch with Richard and his son Nick, so that I could ask if they were able to help by sponsoring an annual garden trail I organise along the coast near Brighton in aid of Macmillan Cancer Support. Almost without a second thought a substantial amount of sponsorship was banked with Macmillan and this has helped us raise over £8400 this summer for the charity, from the trail and other activities by my Driftwood Fundraising Group.
True Flower Power
However, Richard did not leave it at this, in support of my charity activities, through my garden, he decided to supply me with all the plant food I needed for the year as well. This was totally out of the blue and was incredibly generous. A big bonus for me was also being asked to write a monthly blog for Richard Jackson's garden web site too. The site went on to win Garden Website of the Year at the Garden Media Guild Awards, making me a very proud contributor to the website.
VIP Garden Visit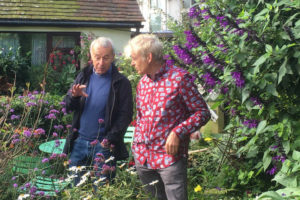 Recently Richard asked to come and visit the garden and see it for himself, having read all the blogs I had written and knowing it was about to appear on BBC Gardeners' World and also currently shortlisted for Gardeners' World magazine's Garden of the Year 2016 in the Small Space category.
We had a lovely morning in my sunny Driftwood Garden. Richard marvelled at my amazing Salvia 'Amistad', that has reached over 6 feet tall, (it normally grows to about 3 feet tall). I put this down to the use of Flower Power this summer. He wandered around the garden and we chatted about its different rooms and hundreds of plants. He was somewhat taken aback and wrote after leaving; "Thanks so much for today. I really enjoyed meeting you and seeing your fabulous garden. I knew, from what I'd read and been told, that it would be a real gem, but it was even better than I'd expected, packed with colour, interest, and charm. There was something to enjoy at every turn, and I genuinely loved it."
The great bonus for me though has to be an agreement Richard gave to sponsor the garden trail yet again in 2017 and to continue to supply Flower Power for use next season too.
Trust me though, I would have purchased it even if it had not been donated. Richard is an amazing man and Flower Power is a fabulous product. If you want to see the impact of Flower Power on plants please come and visit Driftwood in 2017. All next year's 14 public days are listed on the Driftwood Garden website, but we also open by arrangement from 1st June to early September too.