This guest blog post comes from Liz Anderson who works with Stars for Europe, the EU-wide Poinsettia campaign.
Known as the Christmas Star in mainland Europe and in Mexico where it originates (on account of its star-shaped leaf bracts), the poinsettia has become as much a part of Christmas as the Christmas tree itself. The best-selling Christmas plant of them all, poinsettias are sold in a range of sizes and colours. The classic flame-red poinsettias are now supplemented by plants in shades of pink, apricot and white or with marbled, flecked and variegated forms – there is a poinsettia for every Christmas colour scheme.
The Poinsettia advent calendar
Why not make an advent calendar with a difference this year? Plant a large poinsettia (or two or three standard plants) in a lined wicker basket, then attach little gifts with festive ribbons and felt number stars for each day.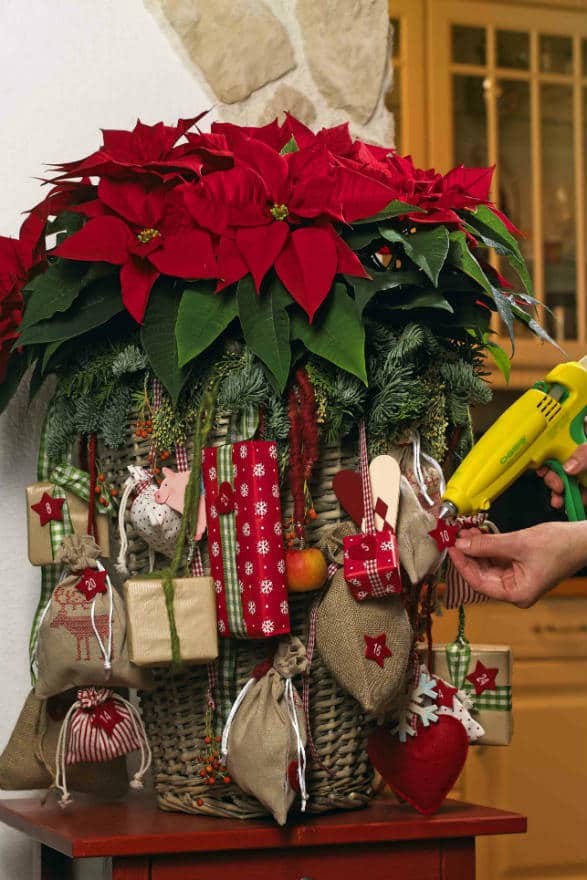 Tiny Tot
The gorgeous super-mini 'Tiny Tot' poinsettia are the latest – and the cutest – poinsettia trend. Just 5cm across and with a single coloured bract, the 'Tiny Tots' make perfect place settings for the Christmas table. Simply wrap coloured felt around the pots, secure the felt with ribbon and then put them on each plate, atop a candlestick or display together on a cake stand.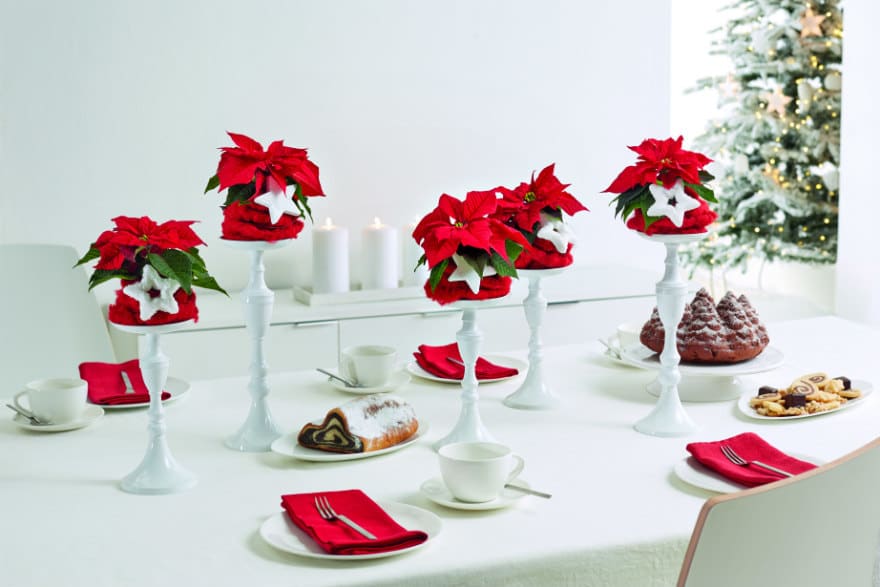 Do the Poinsettia snip
Poinsettias make incredible cut flowers. They last for up to two weeks in water and look wonderful as single stems in bud vases or mixed with other flowers. You can use them in wet floral foam to make wreaths, table centres or create stunning bouquets and arrangements in water. You can keep or remove the green leaves and keep the coloured bracts as you wish.
The simple trick to long-lasting cut poinsettia is:
Cut the stem with a sharp knife or floristry scissors
Dip the stem immediately into hot water (60C) for 20 seconds
Dip into cold water for 10 seconds before arranging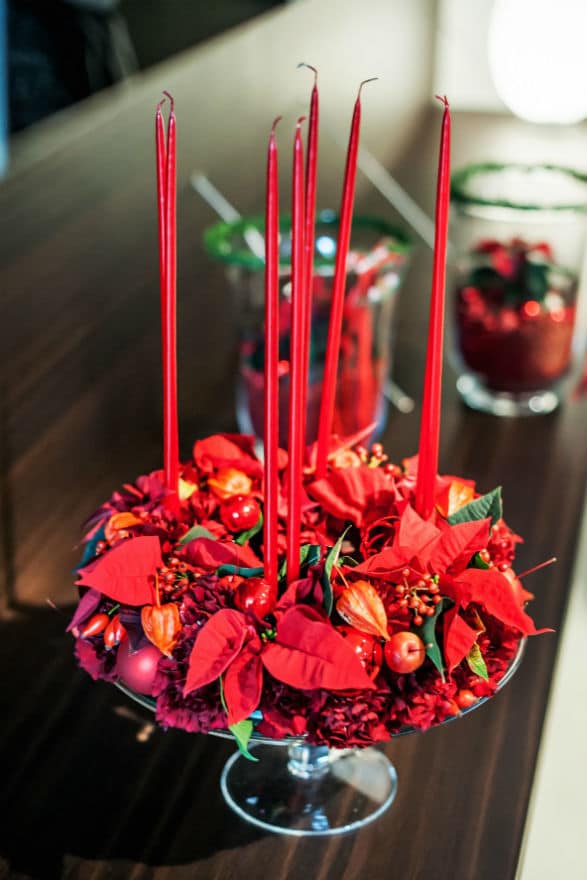 Beauty in Numbers
The dramatic show of a poinsettia in colour is all the more striking when you group a few plants together. An urn or planter filled with a dome of poinsettia is a really simple and effective arrangement to achieve for a sideboard or table centre.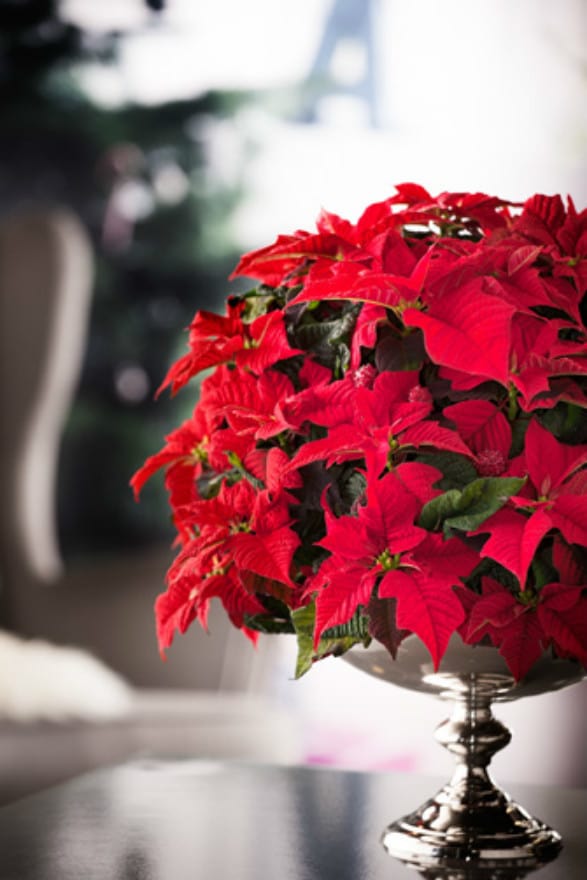 Turn their world upside down
The exciting new Sky Planters give a new angle on displaying your poinsettias – literally. You can suspend the potted poinsettias upside down and hang them from the ceiling. The watering is done from the top as the poinsettia looks down on you from above!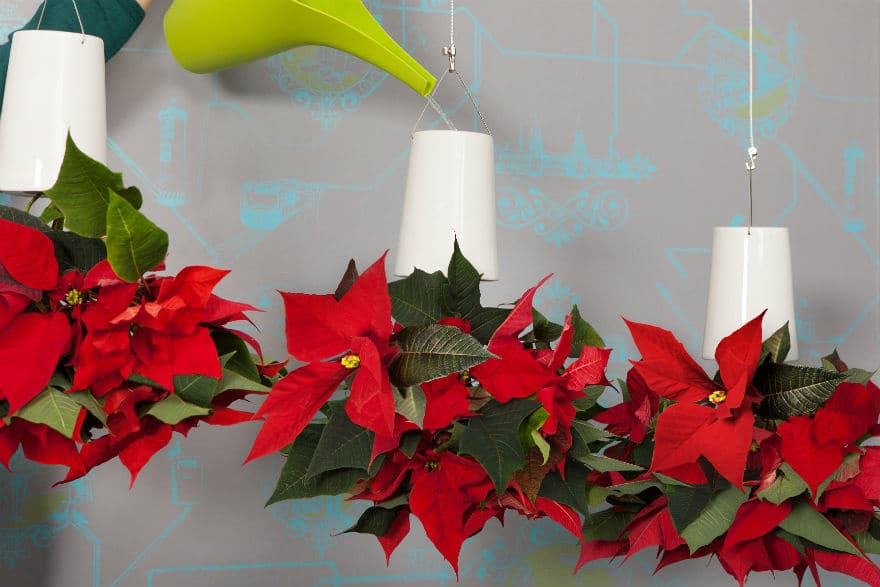 Five tips to keeping your poinsettias looking good
Keep your plant warm (14-18C) at every stage – even on the way to and from the shop!
Keep your poinsettias out of drafts or dramatic temperature changes.
Water well but don't let the plant sit in water.
Allow the poinsettia to dry out in between watering.
Then…get creative! Visit the Stars for Europe campaign for even more decorating ideas at christmas-star.info