There's a real festival vibe to the RHS Hampton Court Palace Garden Festival this year, complete with al fresco dining, live music and gardens galore. It's a large site and the show gardens, feature gardens and other elements of the show are spread out and integrated into the entire experience.
Here are five things now to miss at this year's RHS Hampton Court Palace Garden Festival.
Community allotments
Search out these delightful spaces at this years show. Four small allotment plots offer a variety of different styles and approached to GYO, showcasing community projects and homegrown produce.
Don't expect neat rows of spuds and carrots, these are plots that integrate a wide variety of flowers, fruit and vegetables, interspersed with herbs in attractive inspirational plantings. Rich with colour and texture and alive with pollinators too, the Community Allotments showcase unusual crops from distant shores, ideas and methods to support communities and offer safe places to grow as well as produce essential ingredients for kitchen use. There are lots of great ideas in these spaces too. Look out for the unusual containers, planted up with crops.
Rose Festival
This year the Festival of Roses has a new look. Not only is it housed within a beautiful marquee, but there is a rose tea garden (Roses Tearoom) outside and a stunning rose garden full of beautiful perennials and of course roses to welcome visitors.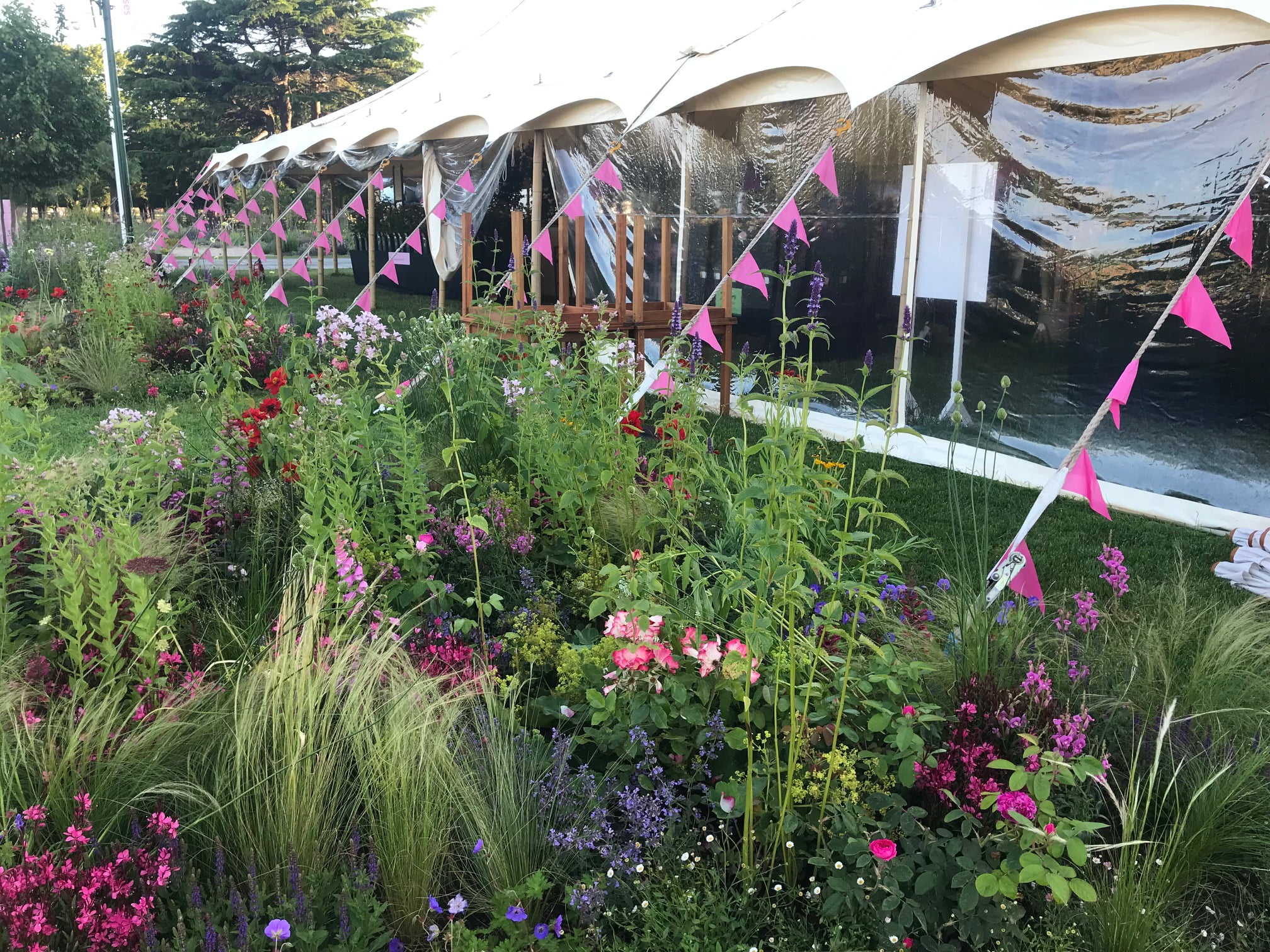 Enter into the marquee to immerse yourself in a world of gorgeous colour and scent from some of the most wonderful rose growers.
Look out for Rose of the Year 2020 Sweet Honey 'Kormecaso'.
It's a beautiful floribunda rose with large clusters of elegant, hybrid tea-shaped blooms in creamy apricot tones, and is being launched at the 2019 Hampton Court Palace Garden Festival.
Iconic Horticultural Heroes
For 2019, the Iconic Horticultural Hero (or heroine to be precise) is none other than the late Beth Chatto OBE VMH. The feature garden pays homage to this legendary plants woman who passed away in 2018. Beth created the Beth Chatto Gardens in Elmstead Market, that championed her ethos of planting the correct plant in the right place and became renowned for the drought resistant dry garden or gravel garden that thrived in the low rainfall catchment of eastern England.
A representative of the drought resistant garden has been recreated before the dramatic backdrop of the Hampton Court Palace by David Ward, Garden Director of the Beth Chatto Gardens. It's packed full of beautiful plants that will withstand drier conditions and offers hope and inspiration to those with concerns about climate change and its effect on our gardens and our garden plants.
It's a wild world
Schools in Greater London and the Home Counties have created a range of fabulous insect houses out of all sorts of fascinating materials. It's a Wild World features dozens of creations by youngsters, designed to provide nesting habitats and shelter for all manner of creatures. Take a closer look at the flowers to attract pollinators, rich in nectar and pollen.
But it is the sheer diversity of the designs and ideas from deep inside the minds of little children that offers hope that maybe, just maybe insects could be revered instead of feared.
Plant heritage Zone
Make sure you visit the Plant Heritage Zone within the Floral Marquee at this year's RHS Hampton Court Palace Garden Festival 2019. Plant Heritage is on a mission to conserve the diversity of plants.
This year several National Plant Collections are being showcased, as well as a display of the Queen Mary Exoticks from Hampton Court Palace. There is also a call for more collection holders as the charity highlights ten pollinator friendly plant groups that are missing from the National Collections list. These include popular plant groups like echinacea, poppies, cosmos and verbascum.