Many garden enthusiasts love to holiday in places where they can indulge their passion for visiting gardens, often trekking across continents and oceans to assuage their next gardening fix. But with the dire exchange rate, it's time we turned our full attention to the rich source of gardens within our own borders. Late summer as the garden slips into autumn and takes on its hues of fabulous autumn shades is my favourite time to visit not just gardens, but to be out in nature. I've been hopping around these last few weeks packing in a few botanical delights and the sun has shone all the way.
Seaside secret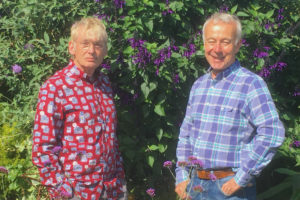 After weeks of procrastination for various reasons I finally set a date in the diary to revisit Driftwood By Sea in Seaford, East Sussex. I arranged to meet Richard Jackson there, I wanted him to see what a difference his plant food Flower Power had made to Geoff's garden and even in late September there was plenty of colour and interest. Geoff's garden is awash with clever ideas, from successful garden sculpture made from everyday objects, to secret doorways, wall windows and focal points all giving the impression of a larger plot. The day after our visit it was featured on Gardeners' World and I have to say Geoff was a TV natural showing off his manicured garden in just a few minutes of coverage. It's closed now for the season, but it's shortlisted for another garden award this month, so watch this space for news.
Thirty miles from Driftwood is another simply stunning garden. Great Dixter, home and garden of the late Christopher Lloyd. It's a cacophony of colour and contrast and every season, in every year it offers fabulous planting combinations, stunning container displays and borders simply brimming with vibrancy, textures and richness. It's a reflection of its former owner, now overseen by Fergus Garrett and his team of students, gardeners and volunteers. The borders are jam packed with delectables, all vying for space and attention, jostling tightly together like a loose stack of colourful woolly jumpers subtly arranged for effect. Some now a little threadbare and moth eaten, but still recognisable as the prized possession they once were. It's a mecca for garden lovers for good reason and a must visit garden for your gardens to visit next year.
Garden and gourmet
A few days later I hopped aboard the Wightlink ferry from Lymington to Yarmouth; my second visit to the garden isle this year. The Royal Hotel at Ventnor is now offering special short breaks for garden lovers, combining fine dining in its fabulous restaurant with a garden orientated itinerary.
It's the perfect destination for some garden visits, a veritable treasure trove of botanical delights, some planted in the hotel garden and many more up the road at the extraordinary Ventnor Botanic Garden. A highlight of the Royal Garden Tour is a garden design walk with Curator Chris Kidd, introducing the fascinating global collection to new and familiar visitors. This modern botanic garden takes advantage of its unique spot, warmed by the Gulf Stream and nestled against the radiator rocks that form its edge, it can and does grow remarkable plants from wide and varied origins. Immerse yourself in the landscape of a New Zealand Tree fern forest or within a glade of tropical palms, surrounded by indicator species from far distant shores. It's a botanical rollercoaster through a treasure trove of botanical delights.
A few new garden discoveries. Some old favourites and some time taking bee portraits filled every spare moment and there's still so much more to see.
Fairy glades and gardens
My last visit was to the depths of Dartmoor. A woodland walk brought me back to earth, literally. There is nothing more grounding than being surrounded by ancient trees, a fast flowing river and all the leaf litter and ground cover that goes with it. It's just simply beautiful and as nature intended, a genuine fairy glade. A fairy garden atop a tree stump left me completely enthralled. Like a rustic nature table of fallen feathers, autumn leaves, fruits from the forest and more. Coins pushed into the cracks of the stump, bearing wishes and kisses of lost souls and seekers from every walk of life. Just magical and wonderful. A reminder of the beauty of simplicity and the wonder of sharing.