Viburnums for every season
Though their individual flowers are small, and they cannot compete with more showy shrubs for floral display, the sheer usefulness of viburnums makes them essential garden plants. With diverse habits, often colourful berries and foliage that adds texture and colour to the garden all year, there is always one viburnum that is just right for your plot.
Viburnum tinus
For Evergreen foliage choose Viburnum tinus.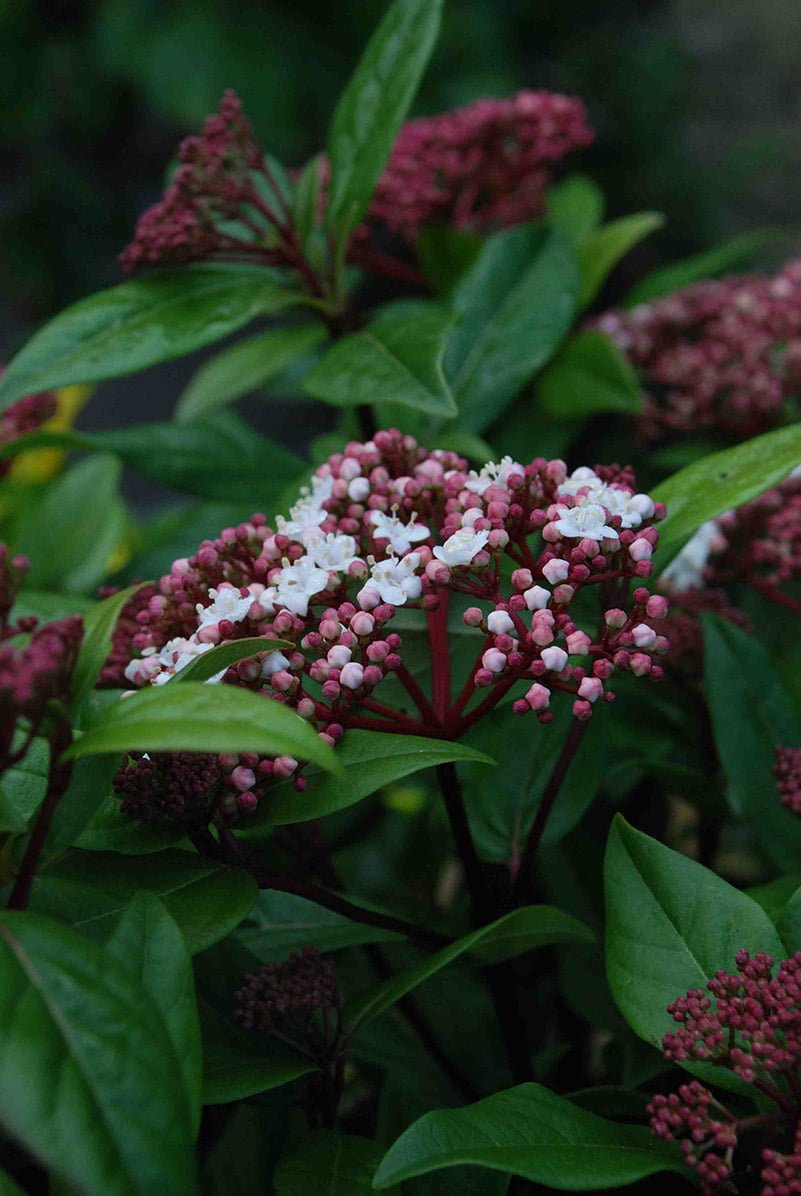 The 'go to' evergreen when something is needed to grow in sun, shade, for winter interest or just a broad hedge, Viburnum tinus is a surprisingly tough shrub that has been grown here for centuries, introduced from its native Mediterranean in the 16th century. It has pleasant, glossy green leaves and has the useful habit of opening its small white flowers at any time from autumn to spring, from red or pink buds. Unfortunately, unlike many of the popular viburnums, the flowers are not sweetly scented and some (including myself) find their fragrance mildly unpleasant. But that has not stopped me planting some already in my new garden – they are indispensible for making some winter interest and make a great backdrop for other winter flowers or coloured stems. You can let this shrub grow naturally or clip it to keep it as a broad hedge and if it gets too big, you can chop it to the ground in spring and it will bounce right back. Unpruned, the flowers will be followed by blue or black berries if the weather is decent at flowering time. 'Gwenllian', 'Eve Price' and the newer 'Ladybird' are popular varieties. Height and spread around 2m x 2m (6ft x 6ft)
Viburnum x bodnantense 'Dawn'
For Winter colour and fragrance choose Viburnum x bodnantense 'Dawn'.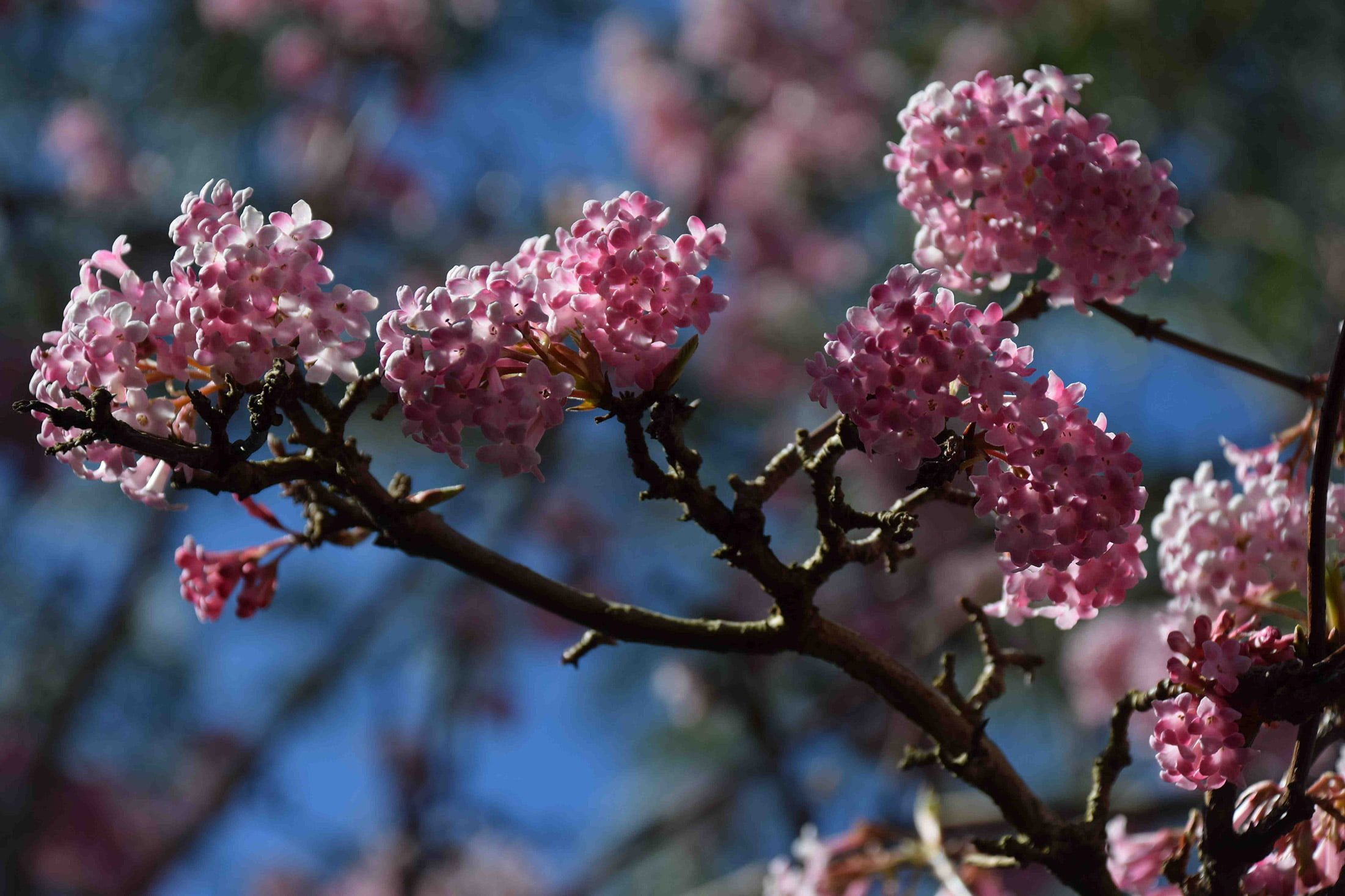 This hardy, reliable shrub is one that I would recommend for any garden, no matter how small. It is one of the few shrubs that I have planted in every garden I have had. It has an upright habit, neat, small leaves and will grow in sun or part shade. But what makes it a garden staple is that it produces fragrant pink flowers on the bare branches any time between November and March. The flower buds are frost hardy though the flowers can be killed by harsh weather but this means that new blooms keep appearing all winter. Mild spells are rewarded with a cloud of blooms. Cut a few twigs to enjoy indoors.
No pruning is needed for the first few years but you can remove old stems, near the base as the shrubs ages to keep it neat and compact.
Height and spread around 3m x 2m (10ft x 6ft).
Viburnum plicatum 'Kilimanjaro Sunrise'
For showy flowers choose Viburnum plicatum 'Kilimanjaro Sunrise'.
Sometimes called the wedding cake viburnum, Viburnum plicatum has horizontal layers of branches smothered in white flowers in early summer. It is usually wider than tall but 'Kilimanjaro Sunrise' is more upright and has masses of summer blooms, starting pink in bud and becoming pure white. They are followed by bright red berries in autumn. Because it loses its leaves in autumn it is perfect for underplanting with snowdrops and other spring bulbs and hellebores for an early show. Growth is slow at first and it takes a few years for the characteristic shape to develop. Height and spread around 3m x 2m (10ft x 6ft).
Viburnum x burkwoodii
For delicious fragrance choose Viburnum x burkwoodii.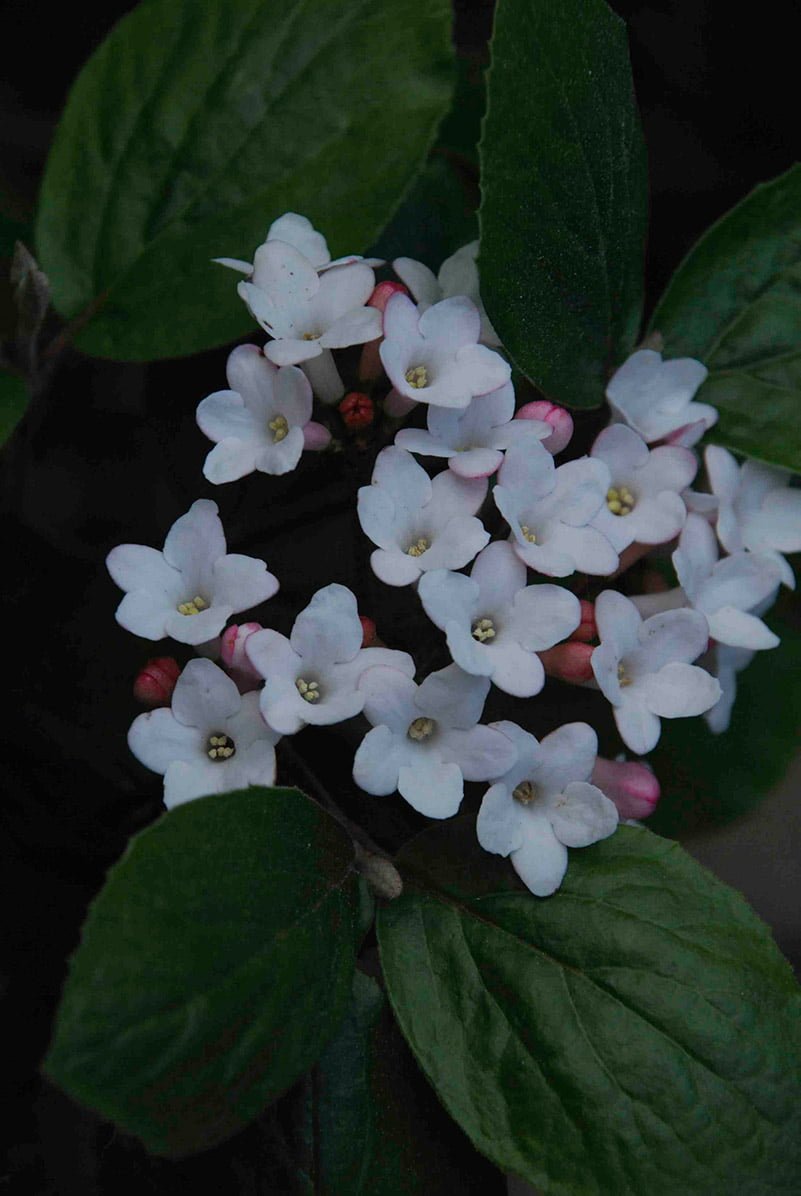 This hybrid has been created several times, crossing the rather dull but evergreen Viburnum utile and the fragrant Viburnum carlesii. It is a beautiful, easy to grow shrub that will thrive in sun or partial shade and is completely hardy, keeping most of its leaves in winter apart from in very cold areas. The reason for choosing this mounded shrub is the domed clusters of deliciously fragrant white flowers that open from pink buds in early summer. Plant it where you can sniff it often! Small red fruits, ripening to black are not showy but will help feed birds and some leaves will turn red in autumn. 'Anne Russell' is a popular variety as is the newer, pure white 'Mohawk'. Height and spread around 2m x 2m (6ft x 6ft)
Viburnum opulus
For autumn berries and wildlife choose Viburnum opulus.
The native guelder rose is a large shrub that often has glorious red and gold foliage to offset the bright red berries in autumn. Typically the summer flower clusters are comprised of a ring of showy, sterile flowers surrounding a cluster of small, fertile flowers that will become the berries. The most commonly grown form, often called the snowball bush, has globular clusters of sterile white flowers and no berries. Confusingly it is called 'Roseum', not because the flowers are pink but for the fanciful idea that the flower clusters look like roses! The best for berries are 'Notcutt's Variety' with red fruits and 'Xanthocarpum' with translucent berries. All are large shrubs for the back of a border. Height and spread around 3m x 2m (10ft x 6ft).