I'm so lucky that I get to travel so much. My freelance working life takes me to a fair few far-flung places, and I've been busy this year lecturing in Japan, presenting in Canada and US, not to mention plant hunting travels in Europe. However, another reason I get to travel so much is my partner's job, he's often posted to different spots around the world, so over the past couple years I could be found working out of an apartment in New York, Poland and China!
During the quieter autumn season, I've brought myself to Shenzhen in Southern China, and it got me thinking about how people garden in Asia. Are there similarities, or is it a world of difference…? So, the first time, I've brought together my thoughts on the Asian trips I've been on in the last few years, and will uncover horticultural wonderfulness; from the succulent obsession in China to a new blend of 'in and out' planters..
The Chinese craze for brighter succulents!
As soon as I arrived at the apartment in China, I wanted to kit it out with plants. We visited a few local flower shops and garden centres and I was overwhelmed with the range of exciting plants, in particular the luminous succulents. After a meal one night, I bagged myself a 'Rainbow' Echeveria from the local shopping complex, which houses a lovely kitsch flower shop. The prices aren't bad either, with Sedum rubrotinctum (Jelly Beans plant) costing just 20RMB (about 2 quid!).
Then, I was introduced to 'Taobao', an online shopping paradise. I translated the word for succulent and soon got lost in a hole of some of the most exciting succulents I'd ever seen. How were these so brightly coloured? There were azure blues, ruby reds, banana yellows, pastel pinks! I soon dropped some Lithops into my shopping basket, plus a cute little Hawothia cooperi (the one that has leaves that look like they're made of glass!).
My most intriguing moment came when we returned from Ikea one evening, however. As we got out of the taxi at dusk, we walked past an old man with a flower cart full of potted plants! We had a bit of a rummage and bought a Guzmania and an odd plant that looked like a small-leaved Crassula with pink tips to the leaves. Upon sharing a photo with The Plant Geeks group on Facebook, I found this plant is actually subjected to radiation in order to create that colouring. Let's see how long it keeps it, or whether it grows out. So far, it's proving a little difficult to keep happy, I think I was over-watering it.
Every urban surface is covered with plants
Before I report back on the mass of living walls, I think we should embrace a disclaimer. Yes, it's a lot easier for a warm climate such as Southern China to be full of lush greenery than a cooler European spot. In fact, when I was in Beijing a few years back, it really wasn't an 'urban jungle', it was much more grey and lacked planting. But, where they have the warmth and the knowhow, they sure do run with it.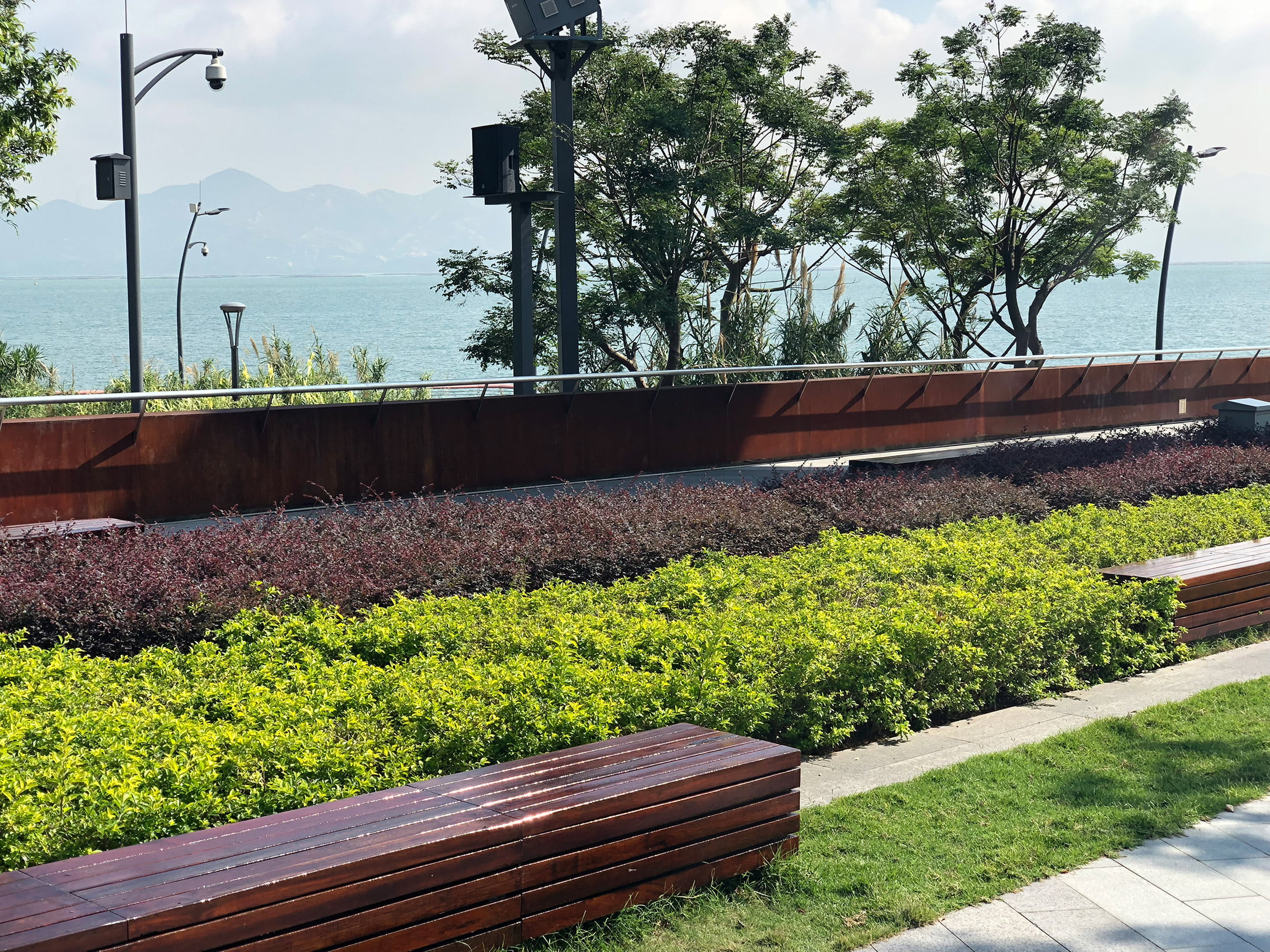 Tropical plants from the wild petunia (ruellia) to the traveller's palm (ravenala punctuate) the urban landscape, with countless living walls, planted central reservations on motorways, litter bin planters… there are even plants in the toilets .A warmer climate means quicker and cheaper production, and I've watched a few amenity areas being planted up at a density that would make a European garden designer wince.
This mass 'exotic' planting certainly creates an environment that many people don't expect of China, and people seem to have great respect for the plants too. All public spaces have signs asking you to 'please protect the flowers and trees' and I've never seen a trampled border yet.
Mixing it all up in Japan!
During September, I was also back in Japan to give workshops and lectures at the Gardening School of Barakura. Tthey recruited me so they could learn about European planting styles and our gardening culture. However, I have learnt a fair amount from them too. Their avant-garde planting style is a breath of fresh air, and it has been a joy to mix annuals with perennials with shrubs, all in one container!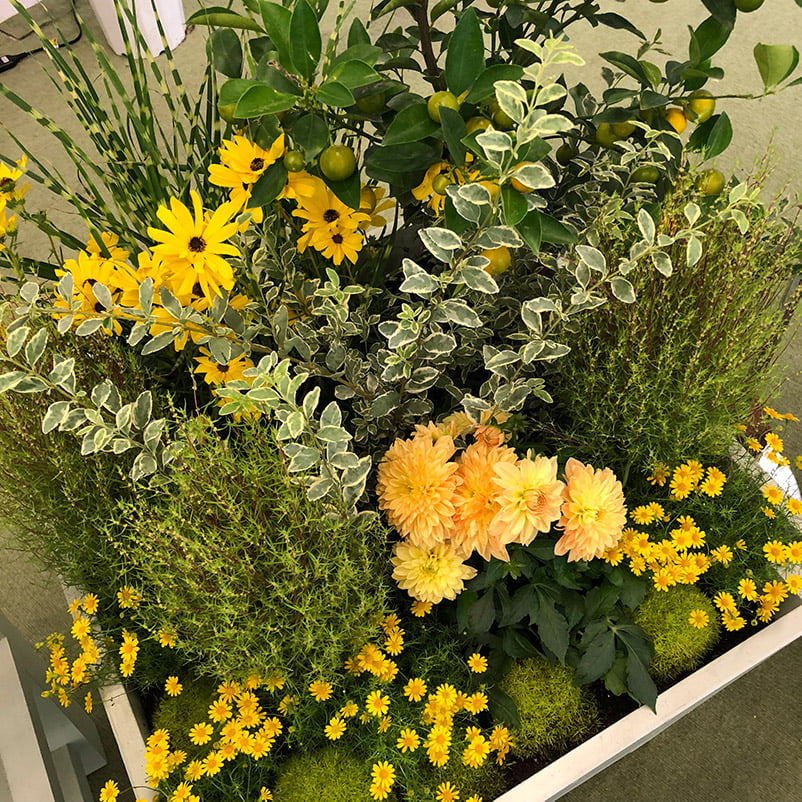 It may sound crazy, but it really works! The Japanese are not always looking long term with their container displays, they want to change them every 3-4 weeks. This immediately opens up a world of possibility, where you don't have to consider the eventual size of a plant, or any other convention for that matter!
You can be amazingly creative now there aren't any rules. Some of my favourite creations could actually work in Europe too, and that's the mixing up of indoor and outdoor plants. We are so conditioned to what's a houseplant and what's a patio plant, but you can think beyond that. A spider plant mixed into a basket of annuals looks ace, as does a happy Schefflera blended with foliage begonias! After all, you'd usually give your plants a summer holiday outdoors anyway, so why not mix them in!
Japanese 'Plant Families'
Another Japanese aesthetic I've learnt is the art of display. The first year I was at Barakura, they asked me to arrange my freshly planted containers into a 'display'. I wasn't quite sure what they meant at first. In Europe, I'm not sure we're always as heightened to the finer detail of how something looks. As I explored Kyoto backstreets later that week, I realised that every house had a group of pots outside the front, and they were indeed neatly arranged. I nicknamed these 'plant families'!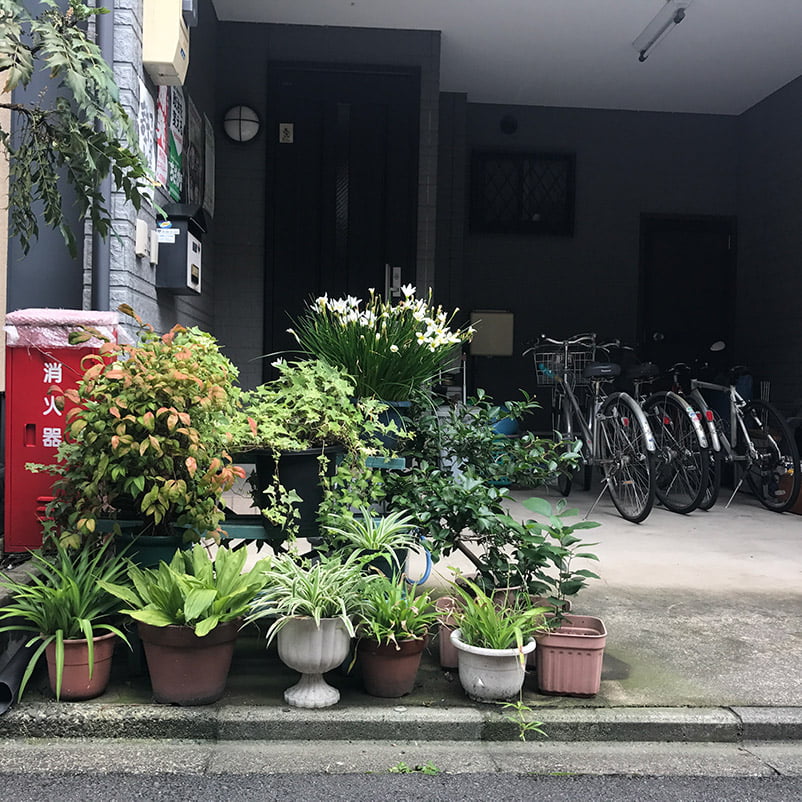 Your 'plant family' doesn't have to be all in bloom at the same time, it's more about the aesthetic of the group, with different heights, shapes and sizes. It seemed to make far more sense than the lonely containers we sometimes place out in the UK. I felt inspired and will group my pots in the future, whether that's on the ground or on a table or outdoor surface.
Balinese beauty
My last teaching from Asia came from Bali. What a colourful paradise, and sadly one we could never re-create back in Northern Europe. Or, could we? Lots of the Balinese garden plants I saw were things we'd use as houseplants in the UK, with croton, cordyline and dracaena taking centre stage.
We can be inspired, however, by the texture and colour planting style though, we have plenty of hardy and cold tolerant shrubs and perennials with big border presence. Robust perennials such as ligularia, podophyllum, hosta and crambe all spring to mind- big personalities, big on colour! Shrubs we could use include physocarpus, sambucus and leucothoe- why not paint your garden with a graffiti style of planting!