Sometimes when you are swept away by the hype and coverage and fever that accompany this week of chaos that is RHS Chelsea, it's hard to remember that it only a tiny percentage of the population has ever been to this magnificent show. Many watch it on television and many more possibly feel it has little relevance to their lives, their gardens and their homes.
That's a great shame, because plants and gardens and nature have a relevance to us all. Many people have lost their connection with the natural world and until they reclaim it they will remain more and more detached from what is important. Gardening is a great way to redress that balance.
Make a small start in your garden. Gardening is not housework. You can make it into housework if you want to, by inventing tiresome chores that you have to do to make your garden conform to whatever you think it should be. Or you can gently transform it inch by inch into a space that you and your family can love and enjoy. It's all about your vision and your angle. Yes you can have a Chelsea show garden if you've got a few thousand pounds spare. Or you can plant a container and add a chair and change your thinking so that you see the beauty in the weeds, the plants and all of nature's creatures. You can learn to harness the power of nature rather than fighting it all the way. And you can do everything in between.
Flower Shows are a great place to meet people and to learn a little more about plants. If your knowledge is limited then go and see what you like. Every garden is different. It's an expression of the creator. It's their vision and their interpretation of the space. A garden design is not just about the layout; it encompasses everything from the plants and landscape materials to the levels and even the empty spaces in between. So take time to really absorb as much as you can. You might not like everything that you see the first time, gardens, pardon the pun, and can grow on you.
Garden inspirations
At this years show here are a few things that really inspired me. Plants that everyone can grow, ideas to take home from the show and a glow that stays with you, creating your very own Chelsea tinge that will affect how you garden and make gardening decisions for a long time to come.
The alpine troughs in the Grand Pavilion (GPE13)
by Rotherview Nursery are a miniature garden in every sense of the word and something that could be created in a shallow container in any garden, even a small one. Every garden has room for a pot of alpines. They are by their very nature pretty tough and hardy (generally) and compact too. Every garden centre has a display of alpine plants, make it your mission to go and meet them and adopt one at least this summer.
The exquisite display of flowering bulbs from Avon Bulbs  was simply magnificent.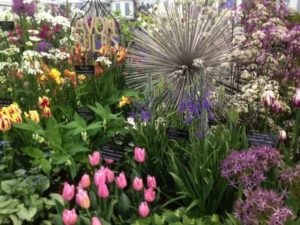 What a delightful mix of magical plants. Bulbs are another great plant for small pots and containers. Mix and match for a truly wonderful effect.
The Nong Nooch Tropical Botanical Garden all the way from Thailand (GPK1) in the Grand Pavilion is breathtaking.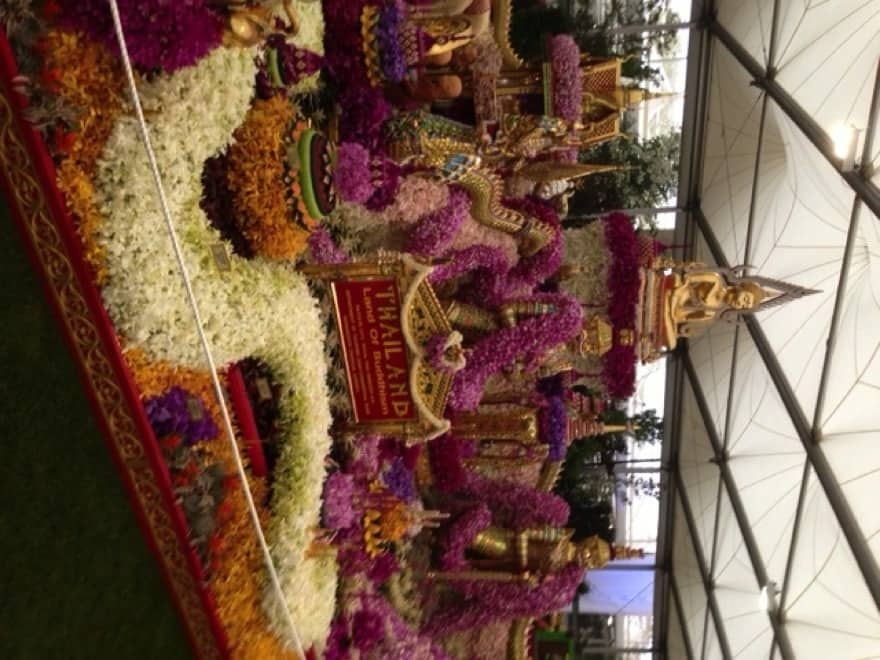 Created from thousands and thousands of orchid flower heads, painstakingly arranged to create a massive, show-stopping centrepiece in the marquee. It has the wow factor and is a reminder that some things are bigger than the sum of their parts. Each flower is exquisite, but when used as an ingredient for a spiritual creation such as this, the full effect is immeasurable.
And finally, it was the baked bean can sculpture
on Sean Murray's Main Avenue show garden (MA2) that really made me think. Not only can anyone create a similar effect with objects that might otherwise be on their way to landfill or a recycling plant, but also that every item should have a second or a third life and that beauty can be created from the most unusual ingredients. Is it time to find new ways to use old objects and to allow our inner child's creativity to shine through and be a little daring, perhaps a little messy but definitely creative? I think it is. So here's your challenge for the week ahead. Make something for the garden from nothing and get to know a new plant, something you can buy and grow this season.