There truly is something magical about growing seeds and while there are a few seeds you can start sowing now, few of them will be ready for eating in the near future. That's the beauty of sprouting seeds, which are on trend along with micro leaves and other baby vegetables.
By February many gardeners are desperate to start sowing seed, and armed with a heated propagator and a greenhouse that's all perfectly feasible. But what if you just have your kitchen windowsill to start growing?Well sprouting seeds are the perfect solution until spring arrives. Of course you can have a grow with any seeds on a windowsill and get good results, but you need to remember that your seedlings will grow fast, need potting on and will take up a lot of room before you can plant them outside, so if you are planning any other seed sowing it is better to wait until March or April so that by the time your plants are big enough to plant outside, the weather is warmer and the risk of frost has passed.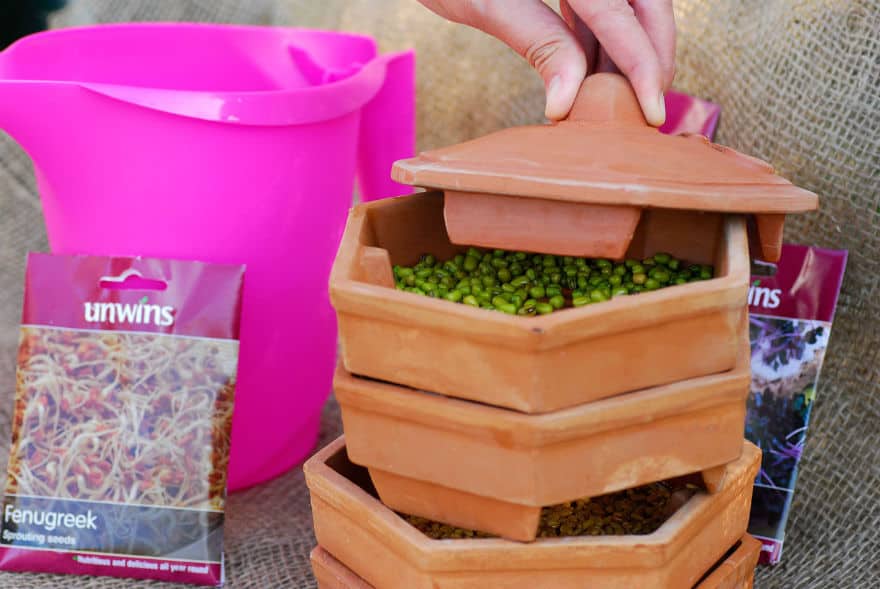 Most seeds are slow to germinate when it is cold and even a kitchen windowsill can be too cold. But with a special seed sprouter, or a Kilner jar with a muslin lid, you can grow all manner of seeds into vitamin rich sprouts with a crunchy texture and a nutty taste. It might just indulge your need to grow seeds and satisfy your inherent curiosity to check on seeds as they sprout.
Sprouting seeds are just ideal if you are one of those gardeners that just can't resist poking around in the compost to see how your seedlings are doing, especially when they are slow to appear (must confess that's me!).
In a few days the first crop of sprouting seeds can be added to a sandwich or used to garnish a plate of winter food and the successional process of sowing, sprouting and growing will begin, in and out of the greenhouse.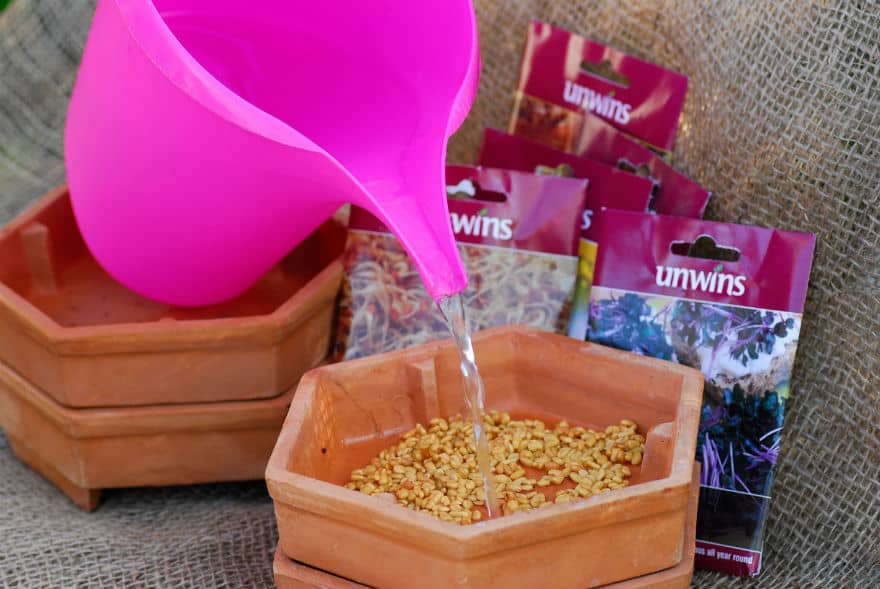 How to sprout seeds
Sprouting seeds are really easy to grow, you don't need much room to grow them and even the kids can have a go. Follow these instructions for the very best results.
You don't really need any special equipment to sprout seeds, though a dedicated sprouter is a convenient way to grow them, alternatively use a glass jar and cover the top with muslin held on with an elastic band. This will help you drain off the excess water while rinsing and keep the seeds inside the jar.
Choose specially selected seeds for sprouting to ensure they are free from any pesticides, there is a wide variety available in the garden centres now.
Soak your seeds for sprouting overnight in slightly tepid water.
Then tip the seeds into the separate layers of your special sprouter, or into your clean jam jar. Replace the lid or the muslin.
Rinse the seeds thoroughly with slightly tepid water twice or three times a day, pouring away the old water each time.
The seeds will start to sprout quite quickly, usually within 1-2 days; some take a little longer. Continue to rinse them regularly and when the sprouts are about 1cm long they can be added to salads, stir fries and sandwiches.
For a constant supply sow fresh seed every 1-2 weeks. Look out for different sprouting seeds at the garden centre and experiment a little. A handful use as a garnish to a meal will add important vitamins to the winter diet.