For many of us spring started this year in midwinter; the mild weather coaxed bulbs, shrubs and even some summer-flowering perennials into an early awakening. However, when the days really start to lengthen, and light levels increase, even plants disturbed from their slumber will awaken and sing their usual dazzling spring song.
Favourite spring-flowering shrubs
There are just so many things going on in the garden at this time of year it is hard to know which to choose, so I thought I would pick a few favourite spring-flowering shrubs, with my preferred support acts, for their finest performance.
Spring yellow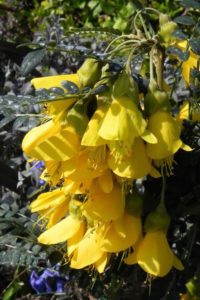 There is a lot of yellow going on in the garden in spring. Forsythia and daffodils dominate the stage for a few weeks. I tend to avoid strong spring yellow for just that reason, however when you see Sophora microphylla 'Sun King' in full swing, it's hard to ignore the appeal of those silky golden bell flowers, hanging in clusters against dark green foliage. It's a leggy, sprawling shrub, so needs light pruning after flowering to promote bushy growth. However I think it is at its best planted against a wall and trained as a wall shrub. This produces a deep green textural backdrop and displays those early flower clusters to advantage.
Now comes the magic ingredient: to my mind it craves blue. Underplant with a drift of blue muscari, better still the sapphire and white star flowers of Chionodoxa forbesii. A divine melody to lift the spirits.
Spring blossom
For many of us spring means blossom, frothy, frivolous and full on. However not everyone has the space for a full-blown flowering cherry. Prunus incisa 'Kojo no Mai' is the answer. This charming little shrub has zig zag twigs and the stance of a bonsai. In spring the buds burst into a cloud of delicate white blossoms, tinged with a hint of palest pink. Small green leaves follow which colour brilliantly in autumn. In a pot it will normally reach 90cm (3ft), more in the open ground.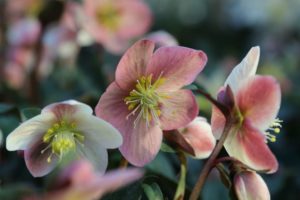 I love to underplant with Cyclamen coum. This is the winter and early spring flowering hardy cyclamen with petite brave blooms and leaves like tiny grey-green lily pads. Notes of Madame Butterfly I think? Or for a charming addition how about a hellebore? No, not one of those that every garden has by now, but an evergreen star with fabulous foliage and bags of personality. Helleborus x ballardiae 'Merlin' is a real stunner with heads of long-lasting flowers that will certainly steal the show.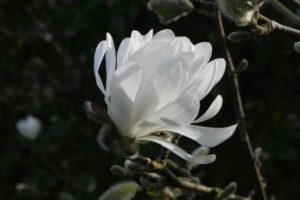 Spring beauties
There is always something magical about shrubs that flower on bare stems. Magnolia stellata produces its lotus-like blooms from silky, silver buds before the leaves unfurl. This is a small magnolia in stature, far more suitable for most gardens than Magnolia soulangeana. It is also tolerant of chalk soils and far easier and more reliable than most. The delicate flowers are surprisingly weather resistant and appear over several weeks from early spring.
In the warmest areas I've seen those grey buds opening in late winter, so I like to under plant with really early flower bulbs. I would choose the deep purple-blue specie Crocus tommasinianus 'Whitewell Purple' here. Sought after by early bumblebees it reliably returns year after year; always a pleasing encore. In a sunny situation another good plant for lovers of blue and white is the charming Iberis 'Appen Etz'. This evergreen candytuft forms a cushion of dark emerald leaves smothered with white flower heads from late winter through spring. It has so many uses in the garden: pots, paving, gravel, low walls. It is also brilliant for seaside gardens.
Why not join me on my four-week online course on shrubs and how to make the best of them in your garden? Just one of the great courses at MyGardenSchool.