Spring in a garden full of containers can be quite magical. Take this shot around my pond with tulips and daffodils. You never quite know what's going to pop up unless you clearly mark the pots. Usually if it's in the ground you can remember what you have planted but with containers, especially the more portable ones, which I am moving around all the time, it can get in a bit of a muddle. But… a nice muddle. I have been growing spring bulbs for self-interest for many years. My garden does not open until June, so no visitors, other than those on social media, never see these spring displays. I have to confess, some years, I wish they could, as they look quite spectacular. I tend to go for tulips, daffodils, narcissus with a few hyacinths and crocus. I never seem to find that crocus make a real statement, they seem to get a bit lost in my over-crowded plot.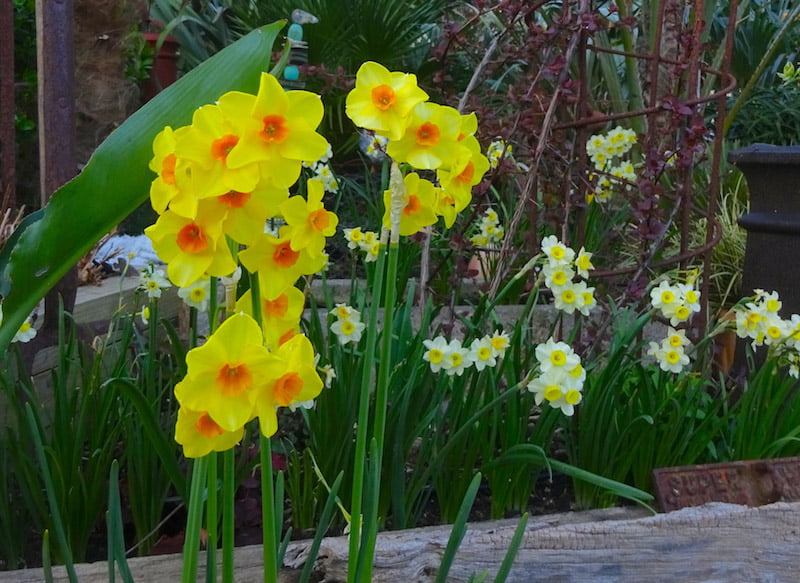 Repot or not?
Are you someone who takes their bulbs up and replants them every year after drying them out over the winter or do you leave them in the ground? I tend to do both. Generally, leave in the ground but take out of pots and store for the summer. I tend to take mine out of the raised beds I have too as they get packed with annuals through the summer, which require lots of watering. This approach also gives me the flexibility to change the look of the garden for visitors each summer in high impact areas such as the central steps. A lone pot of daffodils can look quite stunning perched on a wall or dropped into a gravel bed or even a border too.
Recycle and re-use
Spent spring bulbs can be recycled quite easily if carefully stored. I tend to wait at least six weeks after flowering before cutting back dead bulb foliage, when it is yellow and straw-like. If you leave your bulbs in the ground then most varieties will multiply, giving you even more bulbs next spring. The rule book says that while you do not need to dig and divide your tulips every year, they should be dug up at least every 3-4 years if they are planted in the ground. If not digging up take care through the summer as too much water can rot and kill your bulbs. Each autumn I do tend to acquire a few new bulbs as well.
Tulips in containers
I suppose my favourite spring bulb has to be the tulip as they produce so many stunning colours and varieties. At the back of the house, the patio path is littered with pots in the spring and the tulips popping up area welcome splash of bright colour. In addition to the containers with annuals each year, I also have many established standard shrubs and the like containerised too. Each spring they get a mini-makeover by the underplanting of bulbs the previous autumn, especially the smaller spring flowers of crocus and muscari. Over the last few years the weather has been very mild and last spring I saw crocus, daffodils and tulips all out at the same time with many tulips still ablaze in May when I needed to get the annuals planted. There is no question that the effort to plant the bulbs in the autumn is well worth it, for the stunning displays they produce in the spring, but more importantly because they can be containerised so they can brighten up a small patio or with balcony too. Read more of Geoff's garden at www.driftwoodbysea.co.uk