Give your mash a seasonal twist with this delicious version that includes a few root veg too. Sweet potatoes are another great addition, but this one with parsnips and carrots makes a great side dish to a hearty stew. You can even fry the leftovers and serve with eggs for breakfast. It's a great way to use up what's lurking in the salad drawer in the fridge, but for the best taste, use freshly harvested carrots and parsnips, dug after the first frosts for the sweetest flavour.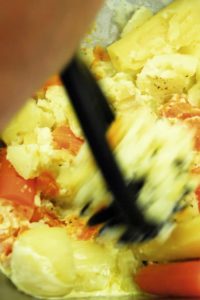 Experiment with the flavours and colours and crush/mash loosely to preserve the colour contrasts.
Ingredients
2 parsnips
2 carrots
4 potatoes
Sea salt
Cracked black pepper
1 knob butter
100ml double cream (not essential but adds richness to the mash)
 Method
Chop up all the vegetables into 2-inch cubes.
Boil in salted water for 25-30 minutes until tender, then drain.
Add the salt, pepper, cream and butter and roughly mash leaving some of the vegetables intact to give a nice contrast of colour and texture.
Serve with a casserole or stew.