For me, a lawn is a beautiful thing in a large garden, providing it is well maintained and looks pristine. Needless to say it requires both the space and the skill to achieve this. In my view, it is generally not possible to achieve this in a small garden let alone one like mine, which slopes up and away from the house.
Lawn alternatives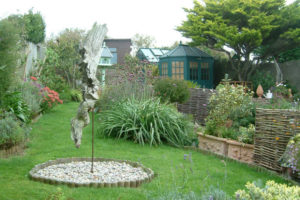 Back in 2008, part of my garden at Driftwood still had lawns on one side at the back of the house and also in the front garden. It really did not look that good and if there was one garden task I really disliked back then, it was mowing the lawn. Coupled with that, it was slightly uphill and very uneven, which made the actual task of pushing a mower across it very difficult indeed. So, after a little debate I decided, it all had to go.
The question then was what to replace it with? My garden is full of different textures and surfaces across both the walkways and the planted beds, such as plum coloured slate, different gauge gravel, shingle and pebbles. In one section, I opted for a Cambrian green stone (admittedly, it does look a bit grey) with three clumps of Shasta daisies bursting out from the ground. Add to this a lovely vibrant green table and chairs, a couple of low hedges (Olearia haastii 'Tweedledum' and Grisolina littoralis) and for me there really is no competition.
Sea views
In the front garden I took away all the lawn and opted to replace it with a beach garden, to take advantage of the sea views and my coastal location. It is much easier to maintain and generally looks fantastic all year round, which certainly could not have been said of the lawn.
The options open to you, once the lawn has gone, are endless. Being by the sea, I went for a coastal theme with boat, groins and lobster pots. Equally, in the country, you could use old rusted farm equipment. Or in the city, a range of old garden equipment might look good. The most important thing is that you do whatever feels right for you and your garden, irrespective of what others tell you.
For many people, one of the key reasons they visit Driftwood, is to see how a garden fares with no lawn. Over the years we have been opening the garden, I have seen may couples debating the possibility of losing their lawn. On balance, from the feedback I get on subsequent visits, the idea is frequently taken up, especially in the smaller gardens.
For me, in a small garden, it makes real sense to remove the lawn. Disposal of lawn clippings can present a problem and often there is hardly room to swing a cat, let alone manoeuvre a mower, so you may well be better off with gravel or paving. This winter be brave, consider your options carefully and maybe make the decision that you've possibly been long debating.