Everybody loves rhododendrons, but now they've just got even better, with the launch of 'Tinkerbird', the world's first ever scented semi-dwarf rhododendron!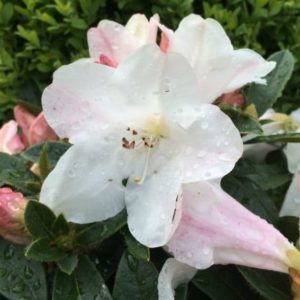 This hardy, scented, compact rhododendron and was voted 'Star Plant for 2017' by a panel of trialists for Richard Jackson's Garden. Sue Whiteside from Chelmsford was delighted that 'it was quick to flower, had an excellent scent and lovely blooms.' Joanna Hughes from Exeter thought that 'The scent was amazing, the flowers lovely and a good colour too.'
QVC exclusive
Encouraged by the success of the trial, Ken Evans from Plants2gardens bought all the stock and will be selling it on QVC on Richard Jackson's Garden show in January 2018. The fabulous evergreen plants are 4-years old and will create an instant impact in your garden this spring and for years to come.
Look out for a very special QVC offer in January 2018 where rhododendron 'Tinkerbird' is on offer on Richard Jackson's Garden. Stocks are limited, so if you want to grow this world exclusive, you may need to order it fast!
Growing tips
Rhododendron 'Tinkerbird' is very easy to grow and a very low maintenance plant, but there are a few tips that will ensure that you get the very best from your plant.
Like all acid loving rhododendrons, we recommend using John Innes ericaceous compost when planting them or alternatively you can use Richard Jackson's multi-purpose compost with some sulphur soil acidifier added, which helps soil and compost achieve a suitable pH level. This special combined treat will increase the natural soil acidity and enhance the growth and performance of all ericaceous plants.
Rhododendron 'Tinkerbird' plants are compact and bushy and perfectly suited to being planted in an attractive patio pot; ideally choose one that is approximately 25cm in diameter and height.
Position the pot on your patio, preferably in partial shade and in a spot that also gives you the opportunity to appreciate the wonderful jasmine fragrance of the flowers.
All plants perform better when fed with an appropriate plant food, especially when growing in a container. When it comes to feeding Rhododendron 'Tinkerbird', like all rhododendrons, the most important time to feed is from February when the buds are really starting to swell. For great results, use Richard Jackson's Flower Power Plant Food once every four weeks until September; alternatively an ericaceous plant food would be beneficial.
Keep your plant well watered and the compost moist. This is especially important if you're growing it in a pot. Compost in containers can dry out very quickly in the heat of the summer and then you'll need to water it thoroughly every few days.
The new growing tips will form just under the existing flowers so take extra care when deadheading, literally just remove the dead flower head and you should see the new tips forming just underneath in preparation for another fabulous display of blooms the following spring.