Some plants, like daffodils and bluebells, come in a very limited range of colours, others in a vast variety but there are few that come in varieties that cover the complete rainbow range. Some, like sweet peas, have no yellow-flowered varieties, while roses have no true blues in spite of millions of pounds spent on years of work by the genetic engineers (we don't, of course, count flowers that are dyed!)
But either through the natural occurrence of all the colours in wild species or through many decades of careful selection by plant breeders, some familiar annuals and perennials include varieties in the full colour range – and many feature colourful combinations of shades too.
Columbine (Aquilegia)
Although the plants tend to be short-lived, usually flowering for only two or three years before fading away, the seed they drop usually comes up to offer a newly unpredictable range of colours and colour combinations. All the colours are here, and sometimes the flowers come in dramatic colour combinations. You can buy the plants, 'McKana Giants' are in most garden centres and are especially vivid, but be sure to also check the seed racks for mixes that take your fancy. Aquilegias are happy in sun or a little shade.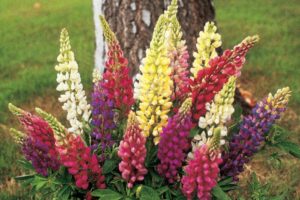 Lupin (Lupinus)
These dramatic hardy perennial plants come with long, crowded upright summer spikes of flowers in bright single colours or with each little two-lipped flower in contrasting shades. All the colours are clear and bright and if you cut off the main spikes as they start to look ragged new spikes will develop lower down on the plant to extend the season. Lupins are best in a sunny spot. Choose individual plants in colours you like, 'Gallery' is half the height of the rather floppy but more dramatic 'Russell Hybrids' and 'Tutti Frutti'.
Pansy and viola
These must be the plants with the widest range of colours and combinations – including black and green – and in the most amazing range of patterns. The difference between pansies and violas is, basically, that pansies have fewer larger flowers while violas have more flowers that are smaller. Different varieties bloom almost the whole year round but plants usually fade away after their season is passed. Best in sun, although partial shade is better for summer flowering types. Look for 'Sorbet' violas and 'Matrix' pansies.
Petunia
Petunias come in the full rainbow of colours, plus black, in trumpet shaped and multi-petalled varieties for borders and containers, with small flowers and large. Flowering through the summer, as well as varieties with pure colours there are bicolours, multi-colours and varieties with star patterns and bold veins in contrasting shades as well as some wild combinations – pink and green, for example, or black and yellow – that very definitely divide opinions. There are even a few with yellow-edged leaves and some, especially the 'Tumbelina' doubles for containers, are scented.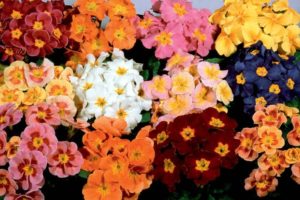 Primrose and polyanthus (Primula)
These classic spring flowers have come a long way from the familiar pale yellow, but there are wild varieties growing in Asia with flowers in other colours and these have been developed and enriched over the last hundred plus years. Many of the most flamboyant colours and colour combinations are one-spring-only plants, such as 'Pacific Giants' polyanthus, intended to be dug up and composted after flowering but some of the double flowered ones are more persistent. Primroses, by the way, have flowers on individual stems, polyanthus have all the flowers on short stalks at the top of one upright stem.