Admit it; most of us buy our plants on impulse. We see something pretty in a pot and we are hooked. We buy it, wander around the garden with it, find a space and put it in. It looks great, well, maybe. But what about a month later? Or at the same time next year? If the plant you chose was a shrub, then it might well give you those long-term good looks you desire. Especially if you chose an evergreen, or something with more than one season of interest.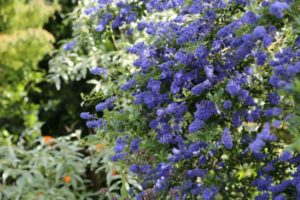 If you think shrubs are those boring, woody things you see hacked into ugly shapes on roundabouts, and in supermarket car parks, think again. Shrubs are colourful, textural, architectural, dramatic, subtle and altogether superb. Use them to create wonderful planting combinations that will bring pleasure throughout the year, and give you more time to enjoy your garden.
Like most gardens mine is a mixture of trees, shrubs, perennials, lots of bulbs and a few seasonal bedding plants. However, it is the shrubs that are the mainstay. They give the colour and interest that lasts through the seasons from year to year, especially those with colourful foliage.
I suppose I am a bit of a "shrubby" at heart, so I thought I would give you ten good reasons why you should plant your garden with shrubs:
Shrubs are long-term; plants which last for years for a modest initial investment. Perennials and seasonal bedding plants may seem cheaper and more appealing at the outset, but their beauty is often short-lived.
Most shrubs are low maintenance. They cope with some neglect and require little in the way of regular input from you. Planting with shrubs is a great way of making a garden low maintenance.

Deutzia 'Strawberry Fields'

Once planted a shrub does not have to be transplanted. Perennials need regular lifting, dividing and replanting if they are to thrive and bloom. Anyone that's lifted and divided a clump of hostas, or Michaelmas daisies will know it's not as easy as it looks in the books!
A shrub is self-supporting. Most perennials need some support to keep the stems upright and avoid collapse as the season progresses. Shrubs stay looking good without the tedious task of staking and tying.
Shrubs do not die back to the ground in winter, or need to be cut back half way through the season leaving gaps in the border. Many perennials start the season well, and then have to be cut back, or they simply die down after flowering.
Most good shrubs have more than one season of interest. Some flower in spring and fruit in autumn. Some have attractive foliage and colourful winter stems. Many are evergreen and look good throughout the year.
Shrubs are the best plants when it comes to foliage colour. Those with purple, golden or variegated leaves are particularly eye-catching and great at holding a planting scheme together.

Weigela florida 'Variegata'

Many shrubs make excellent subjects for growing in pots. Permanent planting which lasts, rather than those bulbs and bedding plants that just do a season. It is cheaper in the long run and you don't have the downtime.
Many shrubs are excellent in shade, especially evergreens with colourful and variegated leaves. Throughout the year these add colour to shady corners where flowers fail. Ideal for small town gardens.
Shrubs have woody stems, so many are very drought resistant. They survive on dry soils where watering would be difficult or expensive; great if you've got a water meter.