Just when you thought spring has arrived the daytime temperature takes a tumble. But despite the weather spring is really springing in gardens across the nation. Trees are full of spring blossom and our gardens are waking up and really starting to bloom.
If your garden is lagging behind or you need a little inspiration then take a trip out to a garden near you and enjoy the spectacle you are sure to find.
We took a day out to RHS Gardens Wisley and were the last car to leave at closing time; there was so much to see. Here are five highlights of our visit.
Spectacular Magnolias
The magnolias are out and wow are they wonderful. You can get up close to see some of the blooms and if you love taking photos then they make the perfect picture. There are lots of different varieties in flower now that you can admire or short list for your garden. A few that caught our eye were the starry, pink blushed flowers of Magnolia stellata 'Rosea' and the large bowl shaped purple pink flowers of Magnolia 'Serene'. Another beauty was Magnolia lobneri 'Merrill' which has dreamy white flowers with a coffee latte centre all over the bare branches.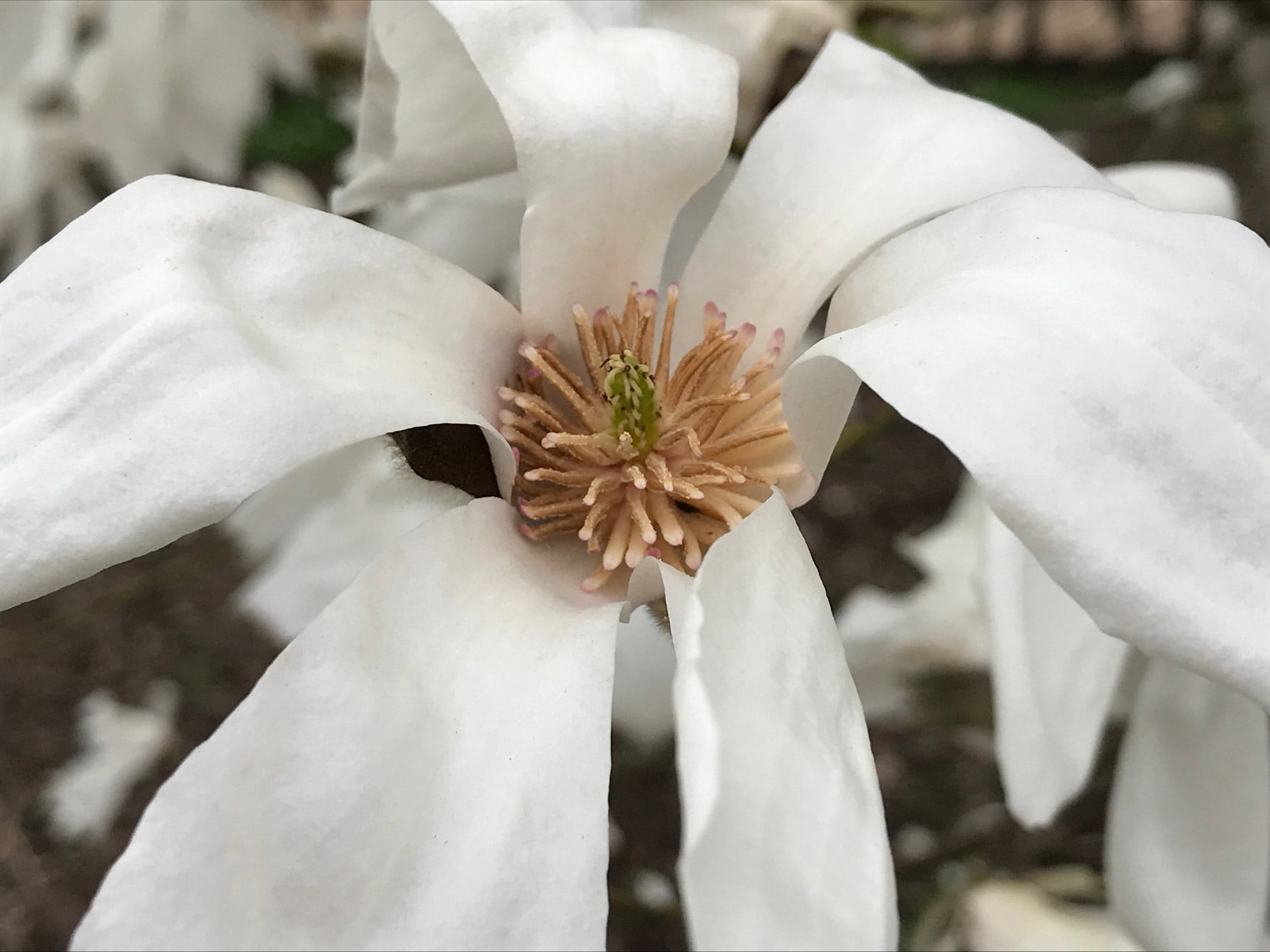 Emerging Bees
Anyone in tune with nature can't help but notice the large fluffy bumblebees feeding on the flowers in the garden. Wisley was richly seasoned with queen bumblebees searching for nest sites and foraging on the early spring blooms. But the reason for the visit was to crouch in front of a low cobb wall that sections off the education area alongside the cathedral-like Glasshouse.
In late March and early April the holey wall starts to come alive as the nesting Hairy Footed Flower bees (Anthophora plumipes) within the holes start to emerge.
First to appear are the gingery males who then patrol the wall looking out for the all-black females, which start to appear up to two weeks later. But these are really fast bees and getting a photo of them is a difficult challenge. These bees don't sting and are an amazing creature to introduce children to bees, insects and pollination.
Alpine House
The Alpine House at Wisley is a magnet for plant enthusiasts and in spring it displays a wide range of beautiful spring flowering bulbs as well as a host of other botanical delights. From unusual muscari and narcissus, to exquisite lachenalias and more, but for me the highlight was the Bumblebee orchid (Ophrys bomyliflora), the flowers mimic the female bees not just in their appearance but also by scent.
It's a pretty plant with amazing flowers and another fascinating insight into the relationship plants have formed with bees and other pollinators. The display in the alpine house is changed regularly so that there is always something interesting on display so you may not see this plant when you visit.
Wisley Glasshouse
The spectacular Wisley Glasshouse offers a journey through the world of plants. It's divided into climatic zones so that you can admire and enjoy plants that require similar conditions. Packed full of tree ferns and creepers, it's a virtual Jurassic park of rare, endangered and fascinating plants. If you love houseplants you won't be disappointed, there's a jungle of foliage from plants closely related to some of the wonders you covet for your home. From exquisite orchids and ferns to gigantic monstera (cheese plants) and carpets of mosaic skeleton plants (fittonia) all interspersed with air plants (tillandsias) and more.
Not to mention the dry temperate zone strewn with rocks and planted with an eclectic range of leathery, prickly growths that are succulents or cacti or other drought tolerant plants that have evolved to conserve water to survive.
Box Garden
Over recent years the humble, reliable garden box (Buxus sempervirens) has been attacked and in some places decimated by box blight and also the box tree caterpillar. Finding something else to replace the box has been a challenge. As a result the plant experts at RHS Wisley have planted a complete garden that consists of dozens of small leaved, evergreen and deciduous shrubs that could be used instead of box.
It's called Thinking Outside the Box and offers hope to anyone that needs a box alternative. It's an experiment that is on-going, but it's a great place to appreciate some of the lesser grown plants such as berberis, Lonicera and pittosporum that can make an attractive low growing boundary hedge.