The smaller show gardens at RHS Chelsea Flower Show offer the visitors ideas and designs that could fit their own garden space. Many convey a powerful message or promote the work of charities and other organisations. With six artisan gardens and nine space to grow gardens its hard to pick just five but you can see the others on the television coverage and of course online on the RHS website.
Space to Grow – The Montessori Centenary Children's Garden
Designer Jody Lidgard
This garden is simply packed full of colour, inspiration and great ideas. It commemorates the 100 years of the Montessori St Nicholas Charity in the UK. Like the charity, the garden is child led and future driven, offering an engaging space to nurture children, teaching then about the natural world set alongside technology. There's a fabulous green wall of edibles, a covered teaching area showcases hydroponics and the whole garden is densely planted with vibrant flowers, fruit and vegetables to encourage a foraging approach to life outdoors.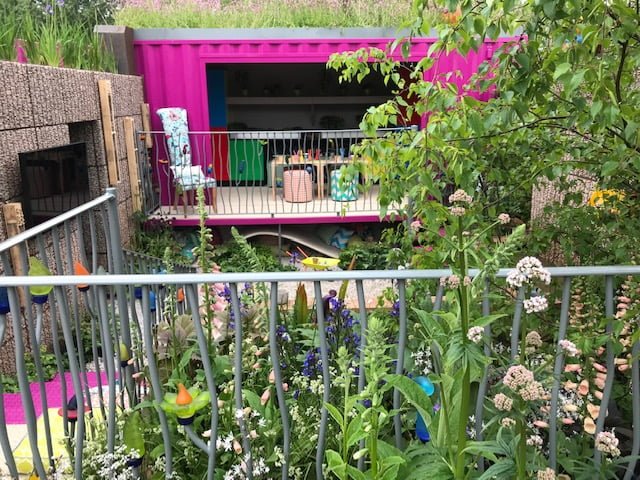 The vibrant pink container has a living roof and a play space beneath it and the sunken garden provides space to play as well as to learn. The vibrancy of the flowers and the elegance of the planting sets this garden apart, but it is the use of levels and hard landscaping that make it quite exceptional. Just lovely.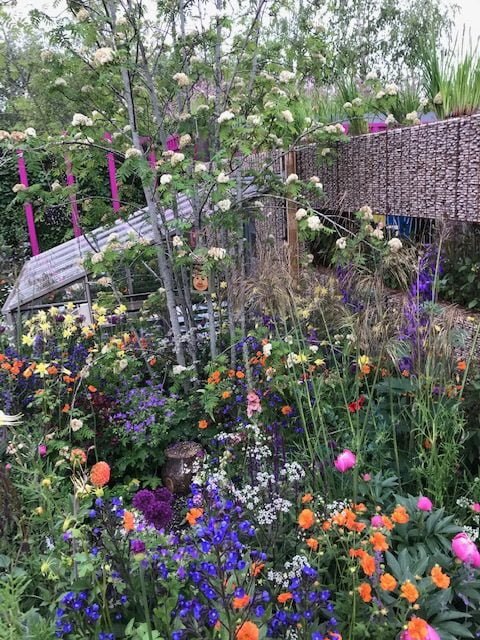 Space to Grow – The CAMFED Garden: Giving Girls in Africa a Space to Grow
Designer Jilayne Rickards
Education changes everything is chalked on the blackboard on the wall of the rural Zimbabwean classroom and this garden tells the story. It's richly planted with some interesting crops and captures the spirit of Africa with its vibrant colours and exotic flavours. It represents female-led, climate smart agriculture in sub-Saharan Africa and features an interesting array of edible crops such as iron enriched beans, sweet potatoes, peanuts and grains, so vital in helping children to thrive.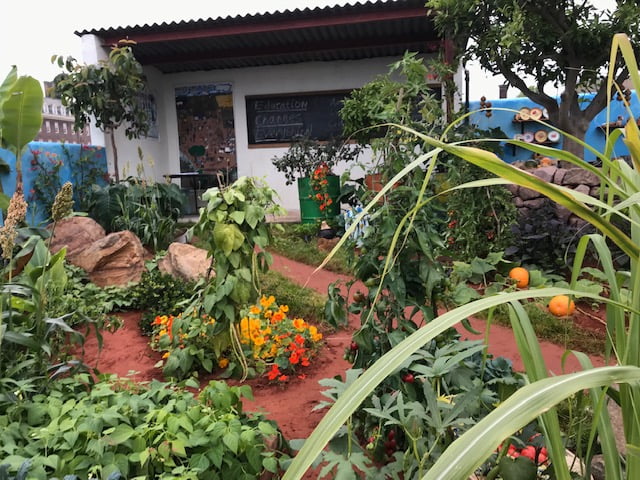 It's a garden with a message, designed to draw attention to the urgent need to empower and educate young women in some of the world's poorest affected communities. In Africa women produce much of the food, but struggle to access land, finance and training. By supporting CAMFED – the Campaign for Female Education, girls in rural Africa can stay in education, develop thriving agricultural businesses, create jobs and deliver prosperity.
Space to Grow – The Roots in Finland Kyro Garden
Designer Taina Suonio
This is a restful garden design that has a contemporary feel. The weathered boundary fence has been reclaimed from an old barn and gives the space a very soft but rich back drop. But the hues of its tone have been replicated with polished, bush-hammered and flamed granite paving, the seating and the floor of the sunken garden, weaving it all together almost seamlessly.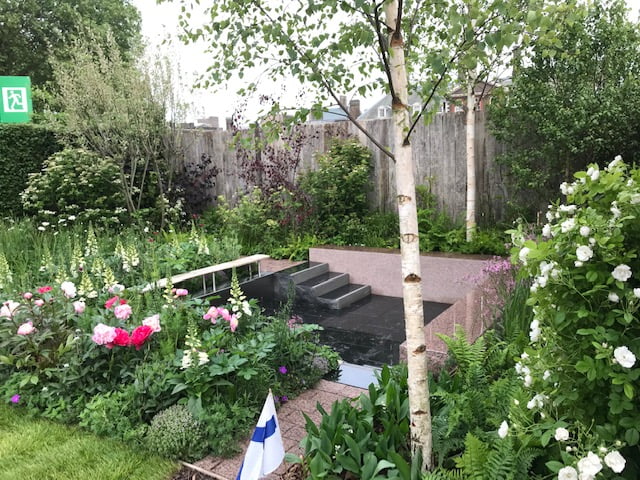 There are lots of nods to Finnish style and culture, from the cascading water that symbolizes rivers and rapids and the 188 000 lakes. The Finish national flower – lily of the valley features alongside a rare red birch and a richly scented, slow growing juniper that is used to make gin. It's a clean, urban design with the borders densely planted with peonies and foxgloves, offering a tapestry of interest above the steps down to the sunken garden.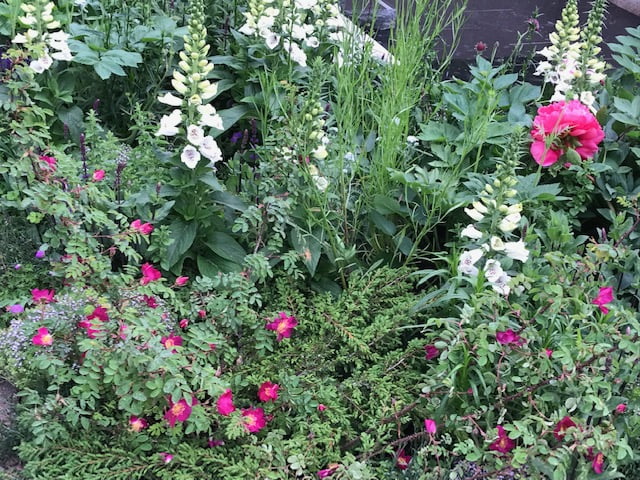 Artisan Garden – Family Monsters Garden
Designer Alistair Bayford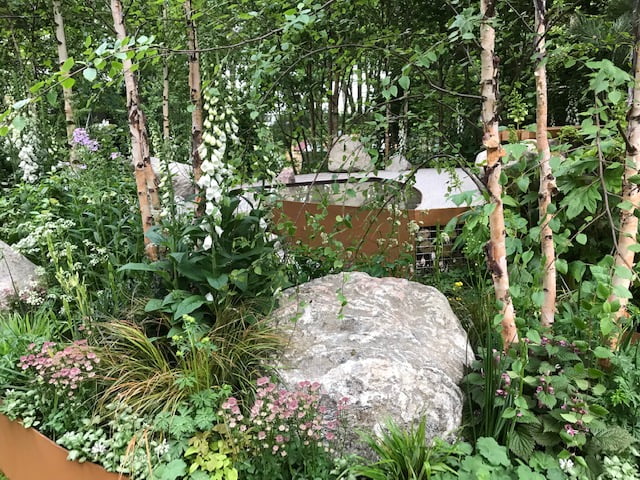 I am a big fan of birches and I love the way they encircle this garden with a woodland inspired, pollinator friendly planting. But it's also got a great message and celebrates 150 years of Family Action, supporting families across the country. The garden represents a journey from the pressures and challenges faced, and brings these hidden issues out of the dark and into the light to be healed.
It's a lovely mix of green and white flowers and foliage under planting the trees and gently wrapped around a reflective pool of clear water offering perspective.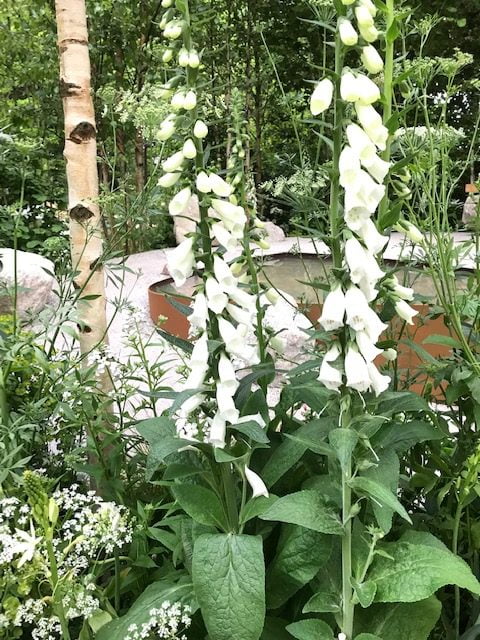 Artisan Garden – The High Maintenance Garden for Motor Neurone Disease Association
Designer Sue Hayward
Nature does reclaim and this garden tells that story. It's an established garden created with many years of hard work that has been loved and lost. Within the crumbling garage, a vintage car starts to disappear into the foliage.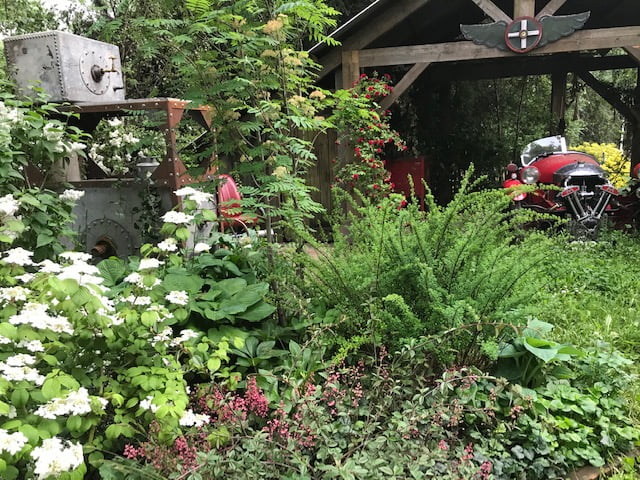 The untended garden reflects the limitations of a person with motor Neurone disease, their mind is active but their body is in physical decline. While the sensory elements can still be appreciated and enjoyed the garden will eventually become a wildlife haven.
It's a pertinent message for many keen gardeners. A large garden is a wonderful asset, but it does take some considerable time and effort to maintain and keep it looking lovely. That's fine when we are fit and healthy. But as we start to age and perhaps creak around the edges, some of the gardening tasks that we once took for granted become less achievable and we may need the help of other gardening professionals.