Ornamental grasses are one of the iconic plants of late summer. Easy to care for, and very versatile, they provide a beautiful addition to any garden. Many grasses offer fluffy flowers, soft textured foliage and autumnal tinted leaves. Interesting flowering spikes and nodding seed heads can also add a real sense of drama, catching the slightest movement of the wind, and reflecting the sunlight at the end of the day. As with all plants it is important to pick the right grass for the right spot in your garden – but with so many to choose from there really is a grass to suit all situations and bring a late summer 'wow factor' to your garden. The following five are included in my list of late summer favourites.
Pennisetum 'Hameln'
The fountain grasses, as all pennisetums are known, are one of my very favourite groups of plants. Though all demand full sun and a sufficiently well drained soil that doesn't waterlog in winter, the sheer profusion of fluffy, rounded, caterpillar-like flowers produced during late summer is just amazing. Pennisetum 'Hameln' was selected for its ability to flower regularly in a cooler climate. So each year from a mound of dark green foliage there suddenly seems to explode masses of pale coloured fluffy flowers creating a veritable fountain of flower. I especially enjoy this plant on dewy mornings when the flowers seems to double in size with the moisture. Grows to around 80cm – 1.1m.
Miscanthus 'Flamingo'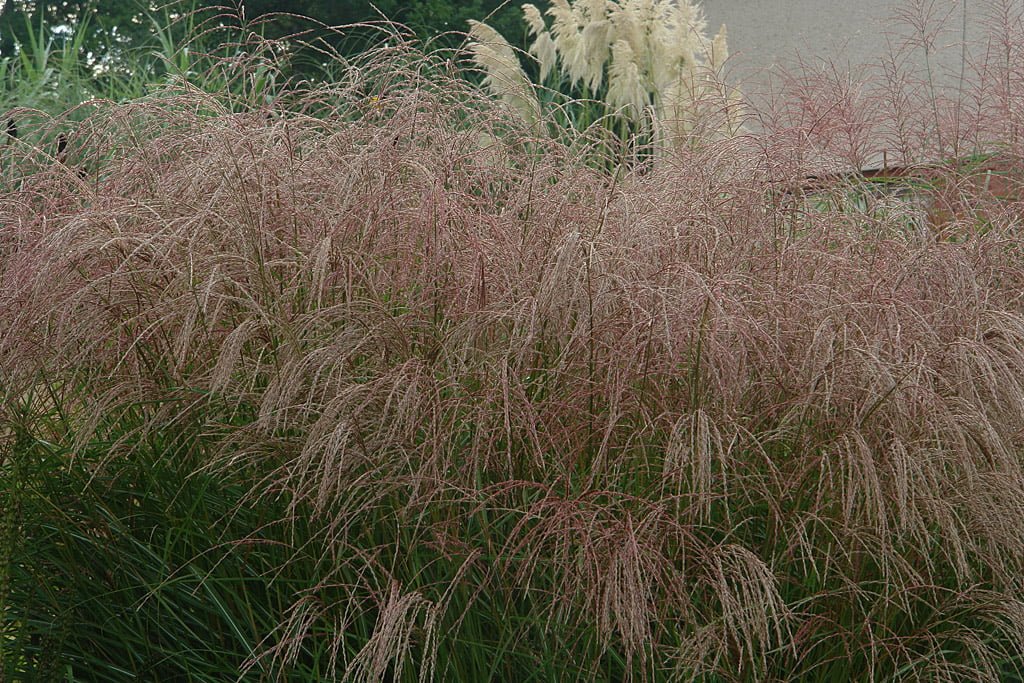 Miscanthus are the queens of the border in the grass world. They make generally tall mounds of healthy vigorous foliage topped by masses of beautiful flowers in all shapes and colours from deep red to silver. 'Flamingo' is among the first rank of miscanthus chosen for its quite wonderful, delicately pendulous, soft pink flowers produced in great quantity during high summer. It has great presence and, although the flower colour fades with age, the plant seems to gain in stature as the season passes. Grows to around 1.8 – 2.1m.
Panicum 'Shenandoah'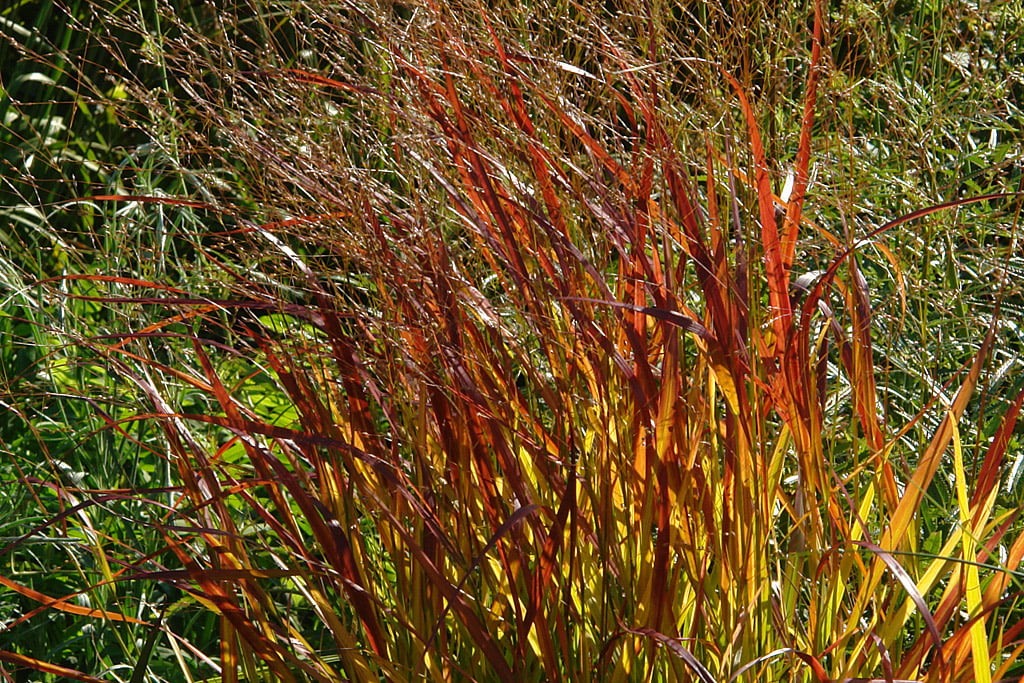 As a group of plants the prairie switch grasses are much underused. With a generally upright habit and good garden manners they are a size down from the miscanthus and so can be used in smaller spaces where the larger grasses may not fit. Panicum 'Shenandoah' is a really great selection chosen specifically for its foliage, which bears dark burgundy-red tones from high summer onwards. This stunning foliage, combined with the tiny red flowers produced in such profusion as to create clouds of fluffy flower, make it a perfect foil for many perennials. Grows to around 90cm – 1.2m.
Calamagrostis brachytricha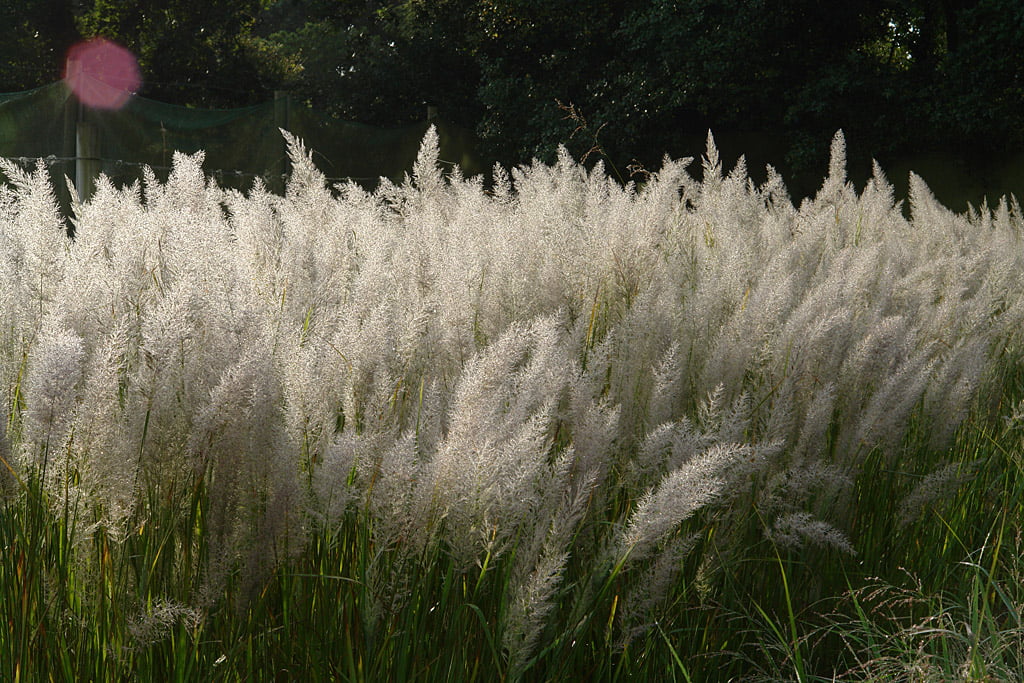 Seeing a group of the Korean Feather Grass in full flower reminds me a little of the grassy meadows I used to enjoy as a child. From mounds of soft green foliage come these impressive, large feathery plumes of greyish pink flowers reminiscent of arrow heads pointing resolutely toward the sky. Like many grasses the colour of the flowers change as it ages; close up the fresh flowers having an almost purple hue. Preferring a sunny open position this grass provides a distinct outline in summer and winter. Grows to around 90cm – 1.2m.
Hakonechloa macra 'Aureola'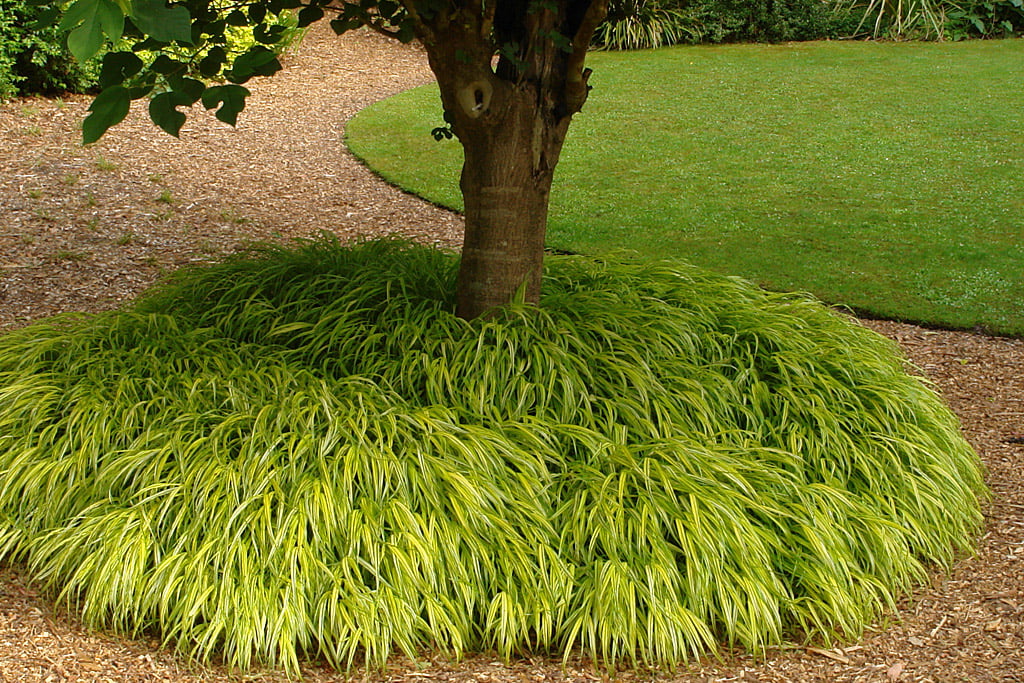 Grown for its amazing quality of foliage rather than its insignificant flowers, the golden hakone grass, Hakonechloa 'Aureola' is possibly one of the most beautiful of all grasses. It has a refined narrow leaf and gradually forms long lived weed smothering mounds that are effective from spring right through to winter, though late summer is arguably when the mounds are at their most resplendent best. At Knoll Gardens I have a bed of this amazing grass under a tree in shade and it looks simply stunning. Now that it is established it takes so little time to maintain but gives so much in return and is much admired by our many visitors. The golden hakone grass is a bit slow to get going but is very long-lived and so adaptable it also makes a fabulous pot plant in either sun or shade.