Allium 'Lucy Ball'
The ornamental onions have become a deservedly popular group of bulbs; offering an almost bewildering range of characteristically ball-shaped heads of flower that can be anything from a few centimetres wide to something almost the size of a football. Myriad shades of purple and white seem to be the favoured colours and I use both in my garden planted among later season grasses such as the fountain grasses or pennisetum. Pennisetum 'Dark Desire' is a good example. It really is a most fabulous plant flowering in late summer when the foliage is covered with masses of fluffy flowers. But earlier in the season, while still providing attractive mounds of bright green foliage, the grass is comparatively quiet. This is the time when Allium 'Lucy Ball' takes centre stage. It's tall stately stems, topped with purple ball-shaped flowers rise narrowly and so effectively from amongst the green foliage of the pennisetum. It's a wonderful partnership that provides much pleasure from June until Christmas.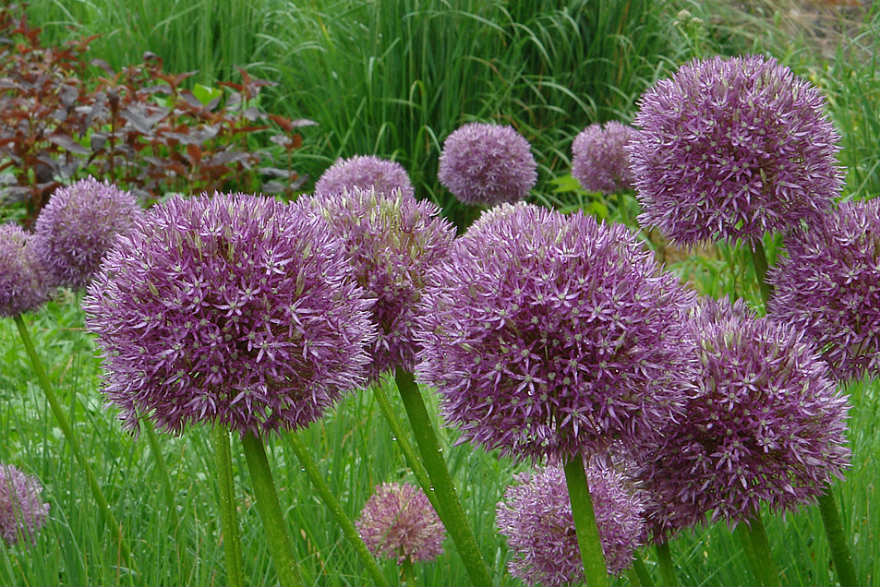 Persicaria 'Dikke Floskes'
As can be seen from the amazing number of newish cultivars now available, this is one of those plants that has seen a recent surge of interest as we have 're-discovered' just how wonderful these persicaria can be. What I love most about these plants is their amazing ability to flower for a very long period of time and in a mix of conditions that can go from the preferred full sun to part shade, and average to dry and even fairly wet soils. Adaptable and beautiful. Beloved by hoverflies as well as many other insects, vertically pointing tapers of flower are produced from around mid summer and can go on until the frosts. The original forms do eventually make significant clumps, though I find these perfect companions for the larger grasses such as miscanthus, panicum and the taller forms of molinia. Some of the more recent forms such as 'Fat Domino' and 'Dikke Floskes' have distinctive flower colour or shape and tend to be more compact which makes them ideal for planting with shorter grasses such as pennisetum, sesleria and deschampsia.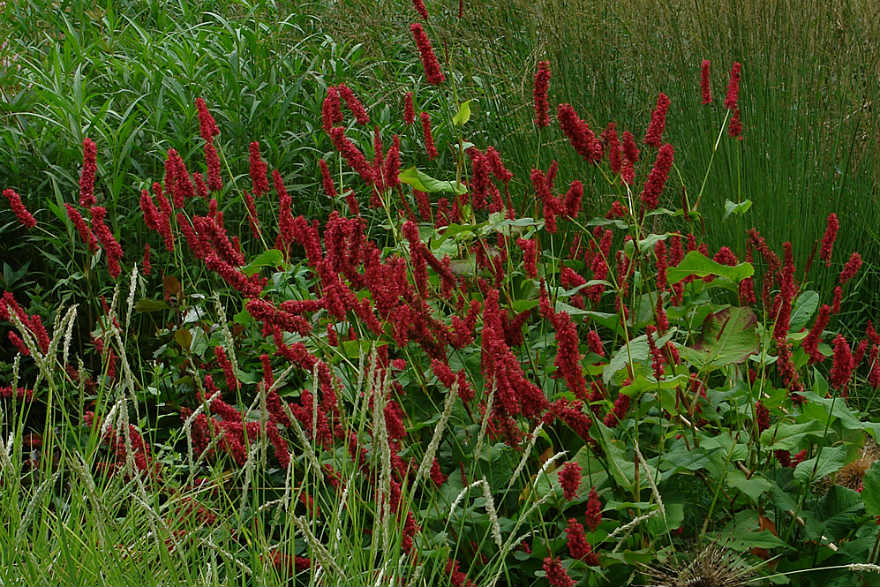 Sanguisorba 'Blackthorn'
Blackthorn is a real favourite chosen from amongst a delicate looking genus of plants that can range from the fairly short and compact Sanguisorba 'Tanna' to the tall and stately Sanguisorba tenuifolia purpurea. All are good perennials that work well with a very wide range of grasses as they tend to hold their flowers on the end of delicate looking flowering stems allowing them to appear seemingly to float on a sea of grass flowers. To achieve this effect, rather than planting en masse drifts, I like to mix smaller groups of sanguisorba among larger drifts of suitable grasses. So for example the compact Sanguisorba 'Pink Tanna' I might use in combination with Molinia caerulea while the significantly taller Sanguisorba 'Arhem' I might partner with say a panicum. Sanguisorba 'Blackthorn' I love for its large freely-produced strong pink flowers held above good clumps of foliage. It works very satisfyingly with the tall and airy Molinia arundinacea in the garden here.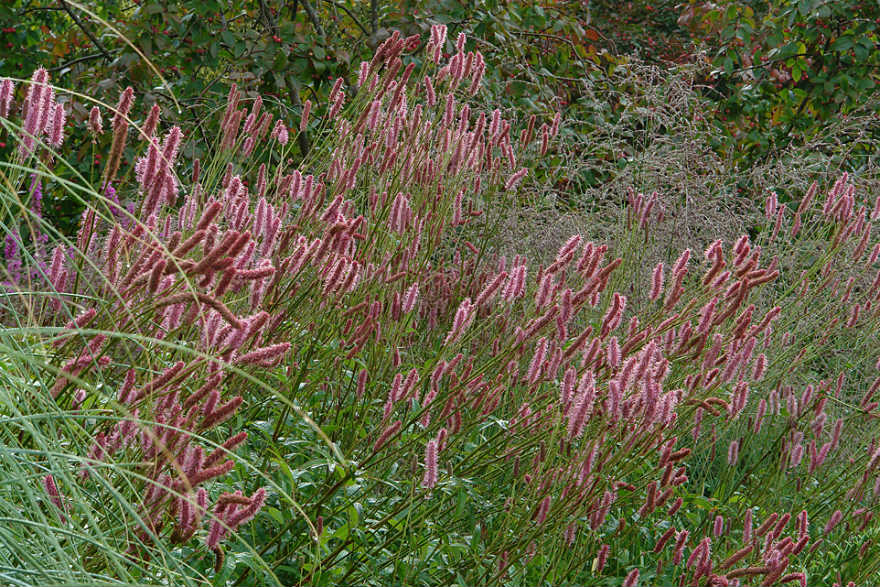 Sedum 'Matrona'
Known to most gardeners in one form or another, the 'ice plant' is a great compact flowering perennial with fleshy leaves and flat-topped flowers that are veritable magnets for bees and butterflies. Needing sunny open conditions in drier soils there are a great number of darker foliaged forms that are quite beautiful as individuals but, in my opinion at least, frequently do not make good garden plants as they are inclined to flop or otherwise misbehave when planted out. Sedum 'Matrona' does not seem to have this weakness on the whole, and has what I believe to be one of the most enchanting combinations of flower and foliage of any of the sedums. The leaves and stems have wonderful shades of purplish plum and are topped with large flat heads of a distinctive pink flower that taken together are entirely satisfying in their own right. I find these easy to please plants work so well with some of the shorter foliaged based grasses such as Sesleria autumnalis where the combination of flower, foliage and form are effective all season long.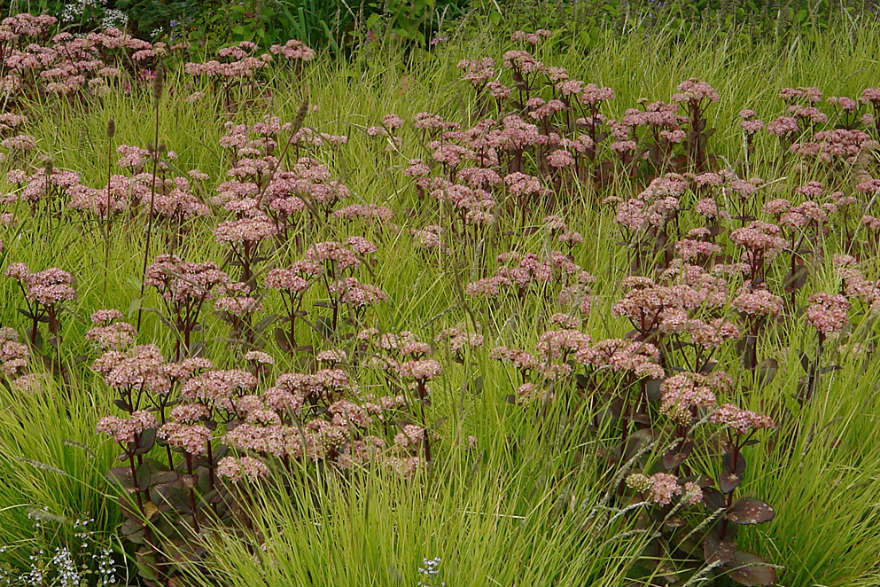 Scabiosa ochroleuca
I first planted this dainty looking scabious in my very dry and sunny gravel garden where it has since formed a happy colony of plants that have become an almost perfect partner for the magnificent large golden oat grass, Stipa gigantea. The combination of the dainty and light touch of the scabious, and relatively solid mounds of strong evergreen foliage and striking upright flowers of the stipa is always pleasing and would work with many other types of grasses. Calamagrostis brachyticha and Panicum 'Warrior' (or 'Shenandoah' or 'Heavy Metal' for example), have a broadly similar habit to the stipa and would I think work equally well with the scabious. While it is relatively short lived in comparison to the other choices, in the right conditions it will seed gently and so over some years a self-renewing colony is achieved; which can bring almost as much pleasure as the actual flowers themselves.