For fabulous beds and borders, choose RHS AGM award winning grasses to grow in your garden. Here are our picks for the five best garden grasses.
Grasses add a wonderful texture and richness to the garden. Some are grown for their unusual colours, while others add movement and sound into the beds and borders. Richard has chosen five fabulous grasses for the very best results in your garden. These plants have been proven to be garden worthy and among the very best varieties money can buy.
One of the biggest gardening trends in recent years has been the resurrection in popularity of hardy garden grasses. Ornamental grasses provide grace, structure, colour and movement in the wind, and are very versatile. Grasses are often underrated but in fact they add colour, structure and movement to your beds and borders.
Here are five fabulous varieties that will transform your garden and compliment your planting schemes.
Festuca glauca 'Intense Blue'
This stunning plant creates delightful spiky, rounded mounds of intense, steely silvery-blue narrow leaves. It is a beautiful, compact, evergreen grass that makes a perfect addition to Mediterranean garden plantings, gravel gardens, blue-themed plantings and anywhere else the strong blue colouring will help set off other plants and flowers. Then, in summer, the leaves complement the bluish-green flower spikes that age to a straw colour and remain intact in autumn and winter. It's a great plant for beds, borders or containers in a sunny spot and is ideal for ground cover. Grows to a height of 30cm (12in) and a spread of 20cm (8in). RHS AGM.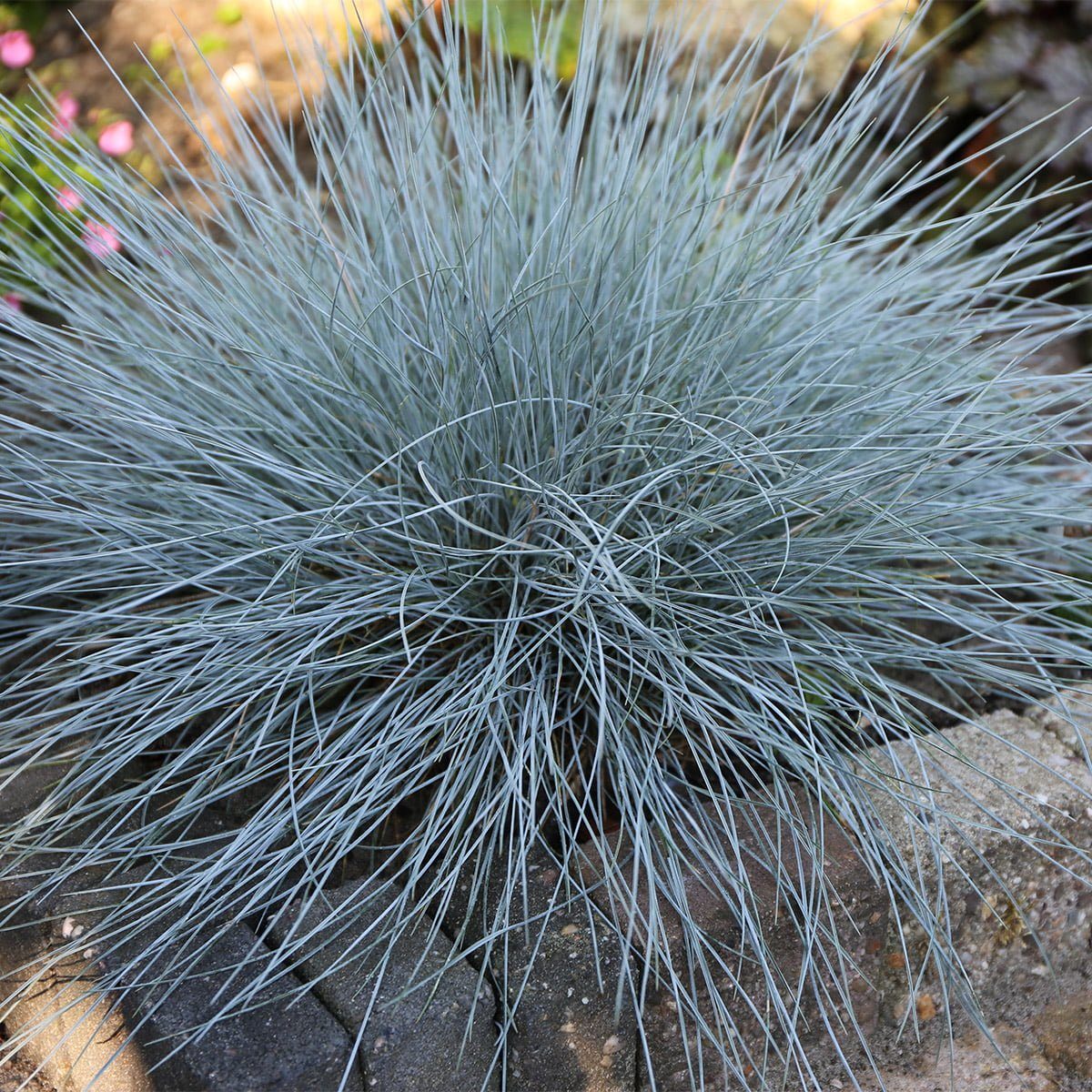 Carex oshimensis 'Evergold'
For a graceful golden yellow clump of grass plant the beautiful, Carex oshimensis 'Evergold', it is an evergreen Japanese sedge with delightfully coloured leaves. It makes a compact, graceful, arching clump of long golden leaves, each with deep green margins. Plant it at the edge of beds and borders, where its foliage acts as a fabulous foil for brightly coloured flowers. It is also perfect for growing in container displays, or why not plant it beside a pond. Although mainly grown for its colourful evergreen foliage, it also produces small, brown flower spikes in summer. Grows to a height of 30cm (12in) and spread 30cm (12in). RHS AGM.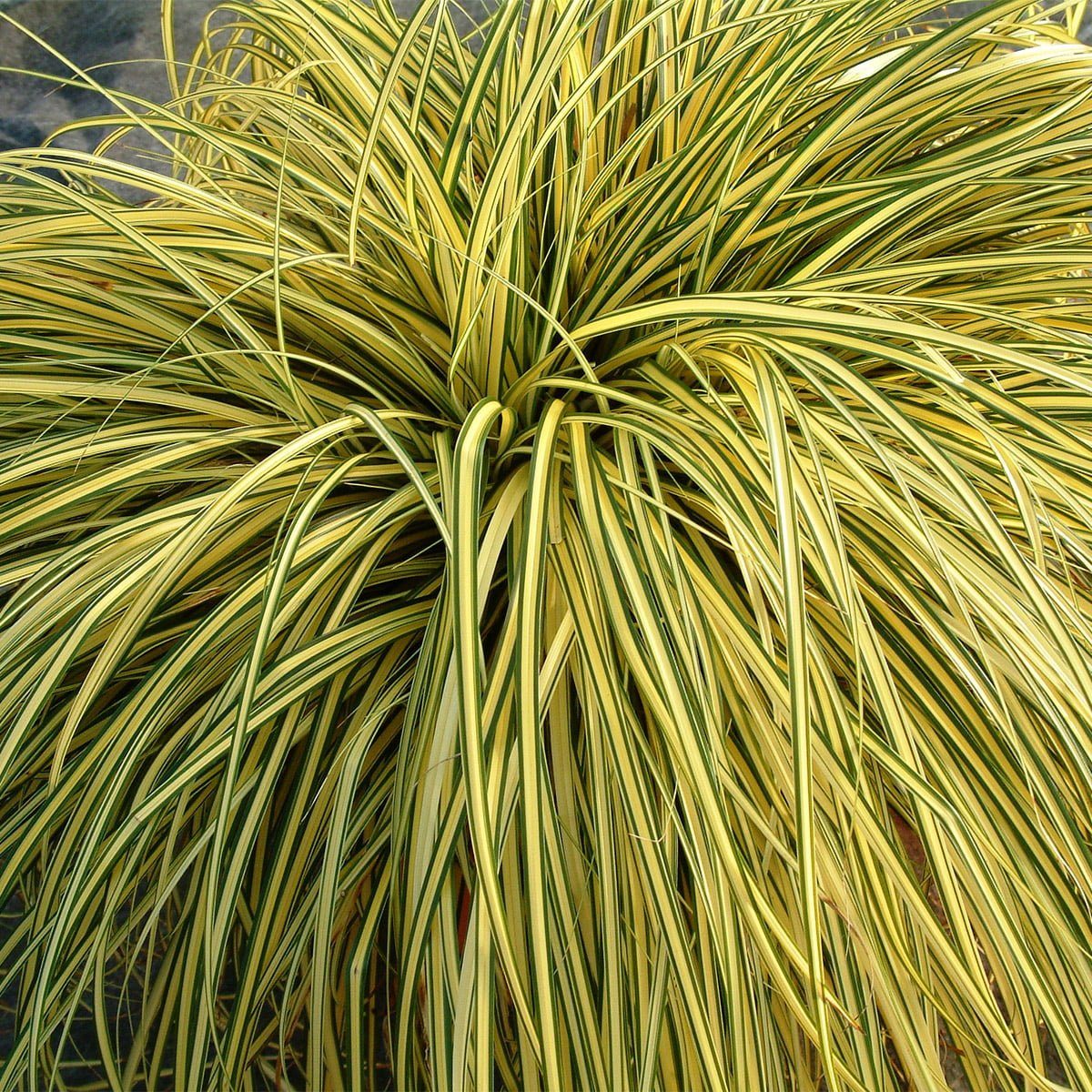 AGM Pony Tails Grass
The pony tails grass, Stipa tenuissima is sometimes commonly called the Mexican feather grass. Like its name suggests, it is a delightful, airy and open perennial grass that is one of the best and easiest to grow. It's a common sight in the show gardens at RHS flower shows. It's a neat, compact, perennial grass, bearing wonderfully wispy, pale yellow-green leaves. Then in summer, it is topped with masses of elegant, fluffy plumes of silver-green flowers, which mature in autumn to blonde-buff colour. These flowers can be cut and dried when they first open for use in indoor floral arrangements. Or leave them in place, as they're a useful winter food source for finches and other seed-eating birds. The pony tails grass really looks lovely in mixed beds or borders planted among herbaceous plants and with other grasses, or plant it in a sunny gravel garden or in a large container. It brings lots of movement to displays, since the fluffy flower heads and foliage sway in the slightest breeze. It grows to a height of 60cm (24in) and a spread of 30cm (12in). RHS AGM.
Stunning switch grasses
Ornamental switch grasses, Panicum virgatum varieties are an excellent addition to any garden thanks to their glorious leaf textures, summer flowers and their beautiful autumn seed heads that last well into winter. This makes them wonderful all year round plants.
Switch grasses are deciduous ornamental grasses, but that doesn't mean they die down to nothing in winter. Instead, they die back very gracefully in the autumn. The leaves change colour and remain throughout the colder months, increasing their seasons of interest. Then it's best to cut them down to ground level in late winter/early spring to get the best of the new year's growth. These grasses are brilliant for adding height, drama, structure and swaying movement to beds, borders and containers and are also great additions to prairie planting schemes. Richard has chosen two fantastic varieties for your garden.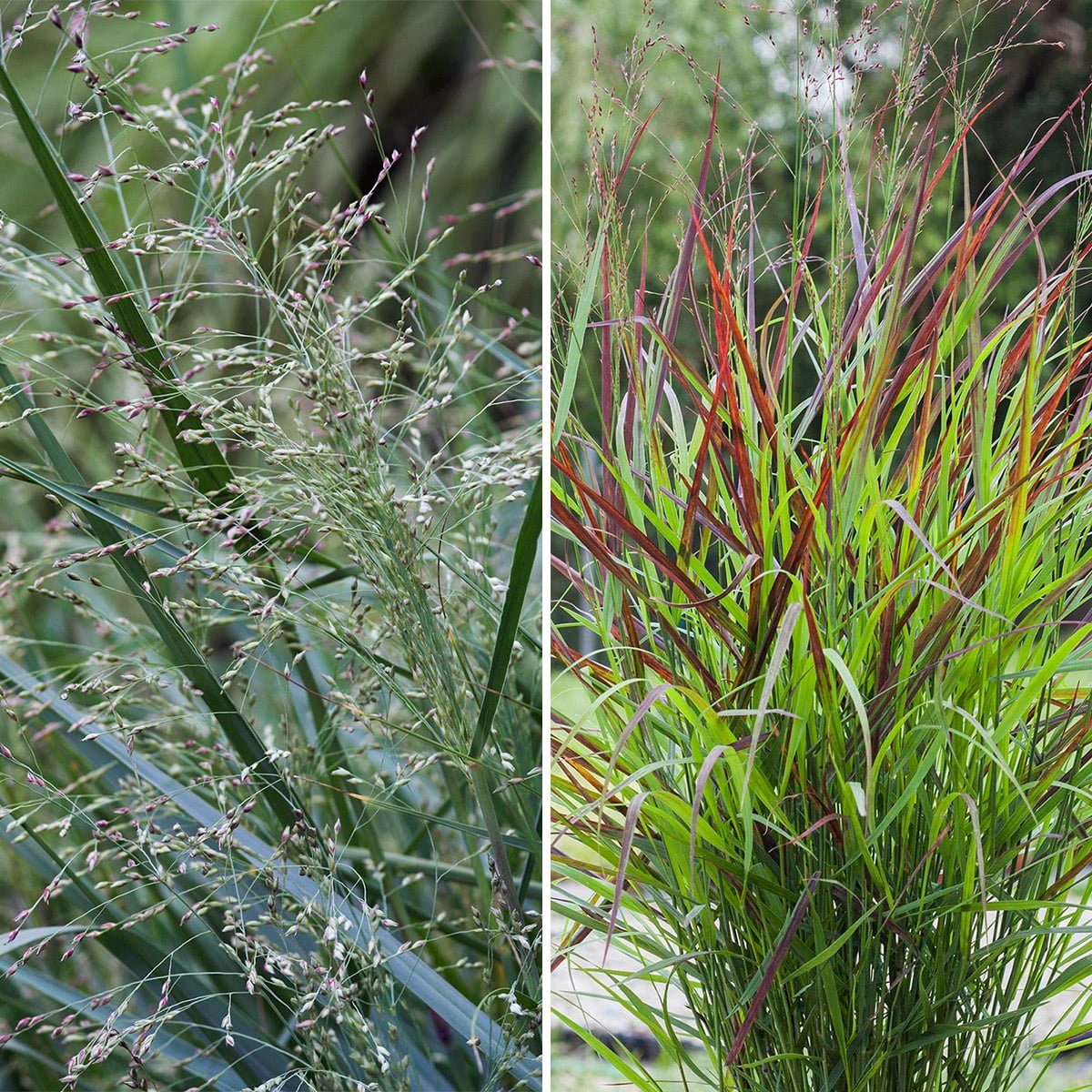 Panicum virgatum 'Prairie Sky' is probably the bluest-leaved switch grass, with striking, steely-blue foliage and flower stems and foliage from spring to summer, turning a golden orange-yellow in autumn and then remain throughout winter. In late summer, it is topped with delicate, pendant, open, blue-green flower heads that persist well into winter, extending the period of interest. Grows to a height of 120cm (48in) and spread of 90cm (36in).
Panicum virgatum 'Shenandoah' boasts steely, blue-green leaves that take on tones of violet, purple, burgundy and wine red in late summer. In summer it produces purplish flower heads. It forms a dense clump of foliage. Grows to a height 100cm (40in) and spread of 80cm (32in).