After several exciting months of gathering together entries for the Flower Power Art Challenge, the judges are whittling down the entries for display at the competition finale.
Downton Abbey's Jim Carter will be launching  the Flower Power art exhibition at a Special Preview event next month (May 2016).
Over 80 original artworks will be exhibited at a top gallery in London and sold to raise money for the Greenfingers charity.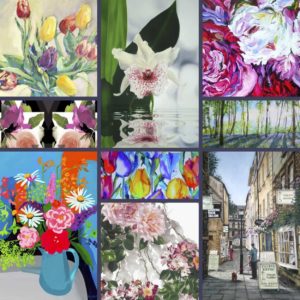 The artworks, currently being judged from entries submitted from amateur, professional and Botanical artists , will be sold from £50 upwards , with half the proceeds of each piece being donated to the charity. Actor and Greenfingers Patron Jim Carter will open the exhibition at a special preview evening on Thursday 5th May at the Strand Gallery, London, WC2N 6BP.  The exhibition will then run from Friday 6th May until Sunday 8th May.
Tickets for the Special Preview evening have just gone on sale and are likely to sell out fast, as numbers are limited. Guests on the evening will have the very first opportunity to see and buy the artwork on display.
To buy tickets for the Preview, please contact Ollie on 01494 674749 or email [email protected]
Entry to the Strand Gallery is FREE during the subsequent 3 days,  Friday 6th May until Sunday 8th May from 10am to 5pm, so don't miss your chance to see this fabulous exhibition of flower power inspired artwork.
The Challenge captured the imagination of amateur, professional and botanical artists from across Europe who have submitted a stunning collection of affordable contemporary artwork.  Each piece of art is  based on the theme of 'Flower Power', named after Richard Jackson's best-selling gardening feed, which has been the sponsor of  the challenge.
The Art Challenge pictures are available to view at www.greenfingerscharity.org.uk where visitors can also find out about the new gardens that the charity are planning to create in children's hospices across the UK during 2016.