February and the winter months might not be the best months of the year to appreciate your garden but if you look carefully, there can be many things to love about it at this time of year.
Lofty view
I'm very fortunate in having an office in a loft conversion that overlooks the back garden. And I am equally lucky to have a couple of pairs of robins that seem to have been here for several years now. The robin is, without doubt, one of our favourite garden birds. It seems to trust us, staying close when we're in the garden and occasionally taking food from our hands. They really do bring splashes of interest across the garden.
Garden sculpture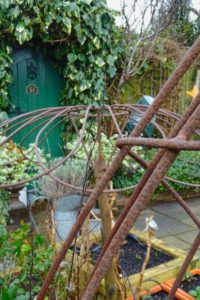 I am an avid collector of anything that will brighten the garden up. Indeed, some might say it resembles a scrap yard in the winter with it's range of rusty metal sculpture and arches. For me however, they all bring a real sense of interest and ensure there are still things I can appreciate and love, when there is a real lack of colourful planting out there. For example the umbrella piece was a Christmas present from my mother a few years ago and it is an original Victorian topiary frame, what's not to love? Memories as well as something being practical.
Winter stalwart
Throughout the winter months, one plant in my beach garden that I adore and one that brings the front garden to life, outshining everything else, is the amazing Coronilla citrina glauca. It does love full sun but other than that I'd recommend if for any garden to provide stunning colour at this time of year. This winter we've had the very worst gales in all the time we have lived here but this incredible plant just seems to ignore what is thrown at it and is determined to shine. Last year I purchased another three small plants, which are already making their mark too. An added bonus, you can cut the branches and use as cut flowers.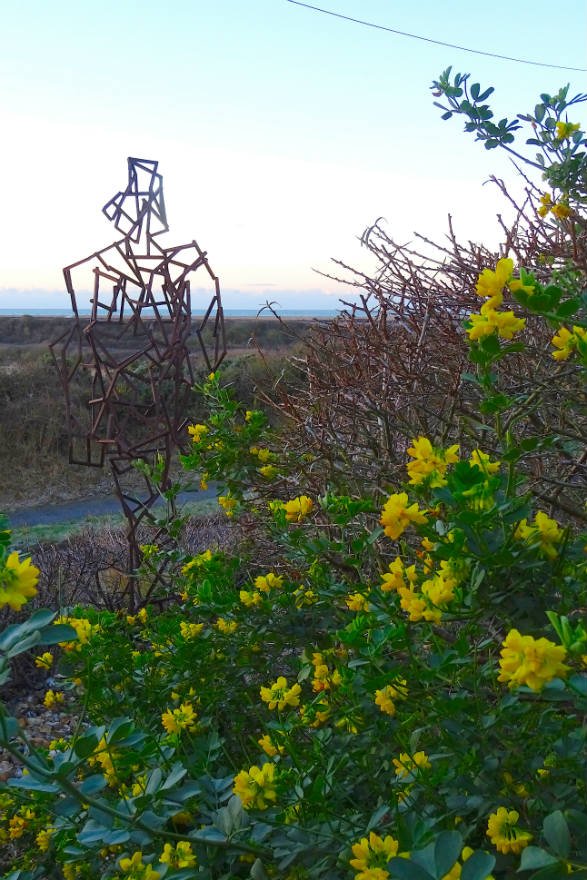 Winter light
One of the things I treasure most about the garden are the days when amazing light streams across it. This can be both in the early morning and again in the early evening. It really transforms an otherwise drab winter view into a dazzling and exciting view from the office. Meanwhile the view from the bench in the front garden captures a really beautiful sunset.
Camellias
I have several beautiful camellias growing in the garden, which are so stunning to look at on a cold grey winter's morning. They are like magical works of art brightening even the coldest garden. The largest of them came with me from my garden in London. I've probably had it now for over 25 years. It's a Camellia japonica 'Guilio Nuccio' and has the most beautiful delicate pink flowers. I think my favourite though is a stunning one called 'William Bartlett' which has really beautiful double flowers that are bi-coloured with pink streaks.
So, what's not to love about your garden in the winter?