Enhance a small garden, balcony or terrace with a few stylish accessories to add colour, ambience and comfort to your plot.
Mid May is traditionally when the RHS Chelsea Flower Show runs, but this year it's been postponed until the autumn. So we've put together a little guide of ideas to inspire you to make more of your small garden space. You can use these in any size plot, transform a patio area, or just dress up a corner where you can sit and have a coffee.
Sitting pretty
To make the most of every sunny moment outdoors, it's essential to have a seat, a bench or just somewhere to perch. If you have a tight budget, just take a chair outside. If it's comfortable that's even better and add a table and you've truly got the ability to sit out for morning coffee, afternoon tea or a glass of something chilled. Sitting down in the garden is a treat and something that many gardeners don't find time to do. Make your garden seat a permanent outdoor fixture and you have no excuse not to pop out with your cup of tea and take a break. The great thing about having a seating area, especially at the moment is that you can 'entertain' outdoors and find time to look at the different aspects and views of your garden. A seating area enhances the look of your garden but also extends your home into the outdoor space.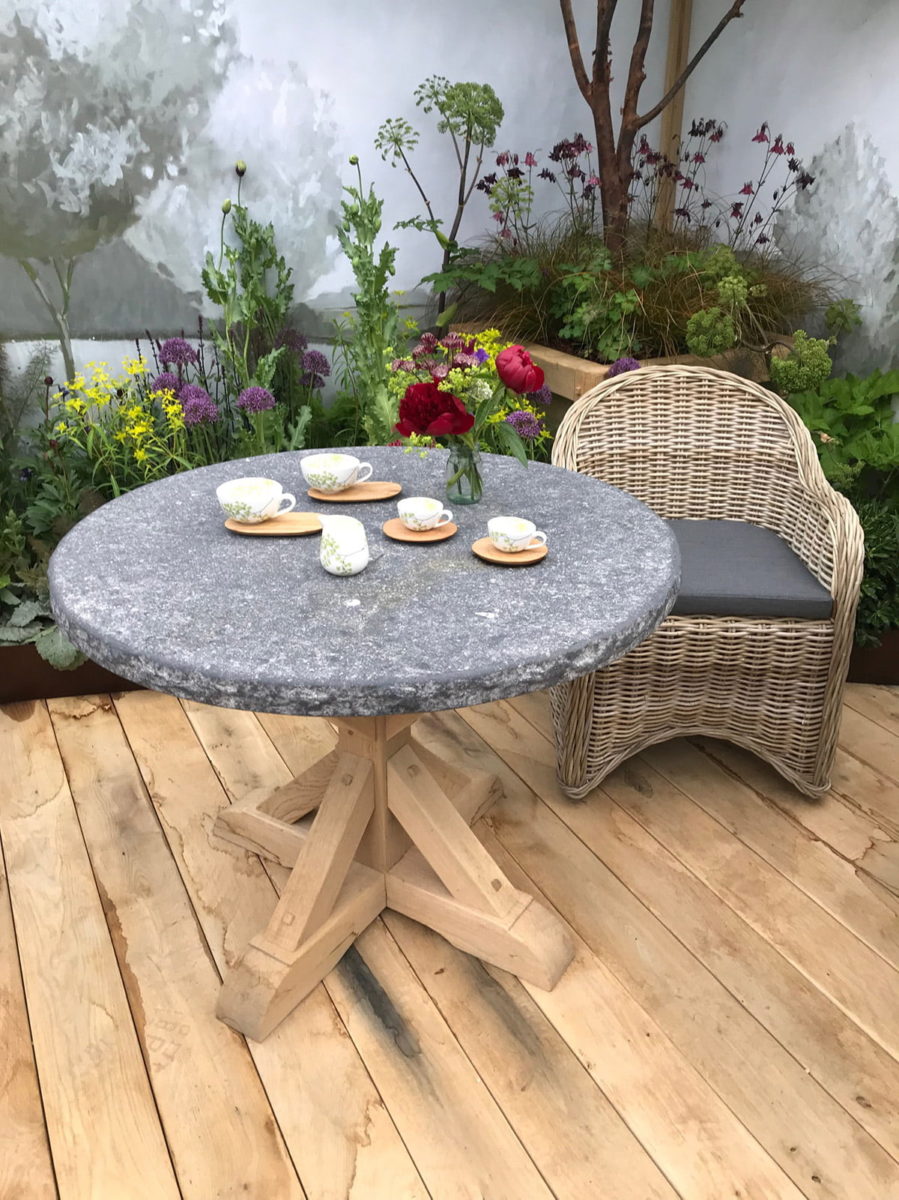 Jazz it up
If you've mastered the art of gardening then you've probably got a lot of colourful flowering plants growing. But it's not just plants, leaves and flowers that add colour to the garden. Add a bright cushion or parasol to the patio and you'll be amazed at the difference it makes. Plant up a couple of planters or hanging baskets with colourful flowering bedding and keep them fed and watered and they will inject some summer beauty to your plot. Paint a wall, trellis or fence in your favourite colour shade, marry it with some contrasting plants and place your garden seat nearby so you can virtually breathe in the drama. Or if you are on a budget paint some old oil drums and plant them up.
Light fantastic
With the lighter evenings we can all spend longer hours out in the garden, but you can extend your summer evenings by adding some lighting. These days you don't need to worry about an electrical supply nearby because solar lights are now brighter and more user friendly than ever before. The bulbs are higher tech, last for ages and draw less power and the designs are so much more inspiring. You can choose from pretty fairy lights, to lanterns, path markers, strings of bulbs and lots more. You can spot light areas of your garden or light the way from the gate to your house. And remember garden lights are also a deterrent to burglars. On a small balcony a set of battery powered fairy lights will create an instant effect. If you have a bigger plot where it would be safe to do so, why not add a firepit to the setting to keep warm at night and toast the odd marshmallow with the kids, supervised of course! If space is tight a solar lantern or even a tea light in a pretty jam jar will add ambience to your space.
Pots and planters
Beautiful flowers are not the only highlight of the garden. You can add colour and vibrancy by using attractive containers. Look out for fabulous contempory designs and shades to bring a fresh look to the patio or terrace. If you've got a railing on a balcony you can choose bridge pots that hook over the rail and can be planted with your favourite bedding to soften the edges and introduce more plants into your space. Walls can also be adorned with vertical containers arranged one above another with tumbling plants with beautiful leaves and flowers.
Water works
Even if you have a small garden, terrace or even a balcony you can still introduce some water into the mix. It might be just a bowl where you float flower heads, or a small birdbath, but it can be as ornate and beautiful as you like. There are self-contained fountains, solar powered water features and tabletop displays. But it doesn't need to be extravagant. Experiment to see what works in your space and find something simple that creates the look you strive for.
Flower Power
If you haven't got green fingers, or your space is a bit small for lots of plants, or maybe you just want an instant effect to brighten up your balcony? Simply place a jug or a vase of flowers onto your table. Preferably choose homegrown, but cut flowers from the florist would work just as well. Add a bright napkin and tea light in a jam jar and you've got instant ambience in a small space.