This guest post comes from David Ponton from Hayloft Plants. If you are new to gardening and want to grow something that is not just really easy but also extremely rewarding, begonia 'Apricot Shades' is the plant for you.
The flowers are a glorious blend of gold and apricot and the plants will tolerate whatever the British weather throws at them. This beautiful plant will thrive in sun or shade and it will keep flowering from early summer right through until the autumn. Begonia 'Apricot Shades' is such a great performer that experienced gardeners choose to grow it every year and apart from feeding and watering, it's pretty low maintenance too. If you've ordered your plants already, welcome to the fan club and if you are still deciding, you really won't be disappointed.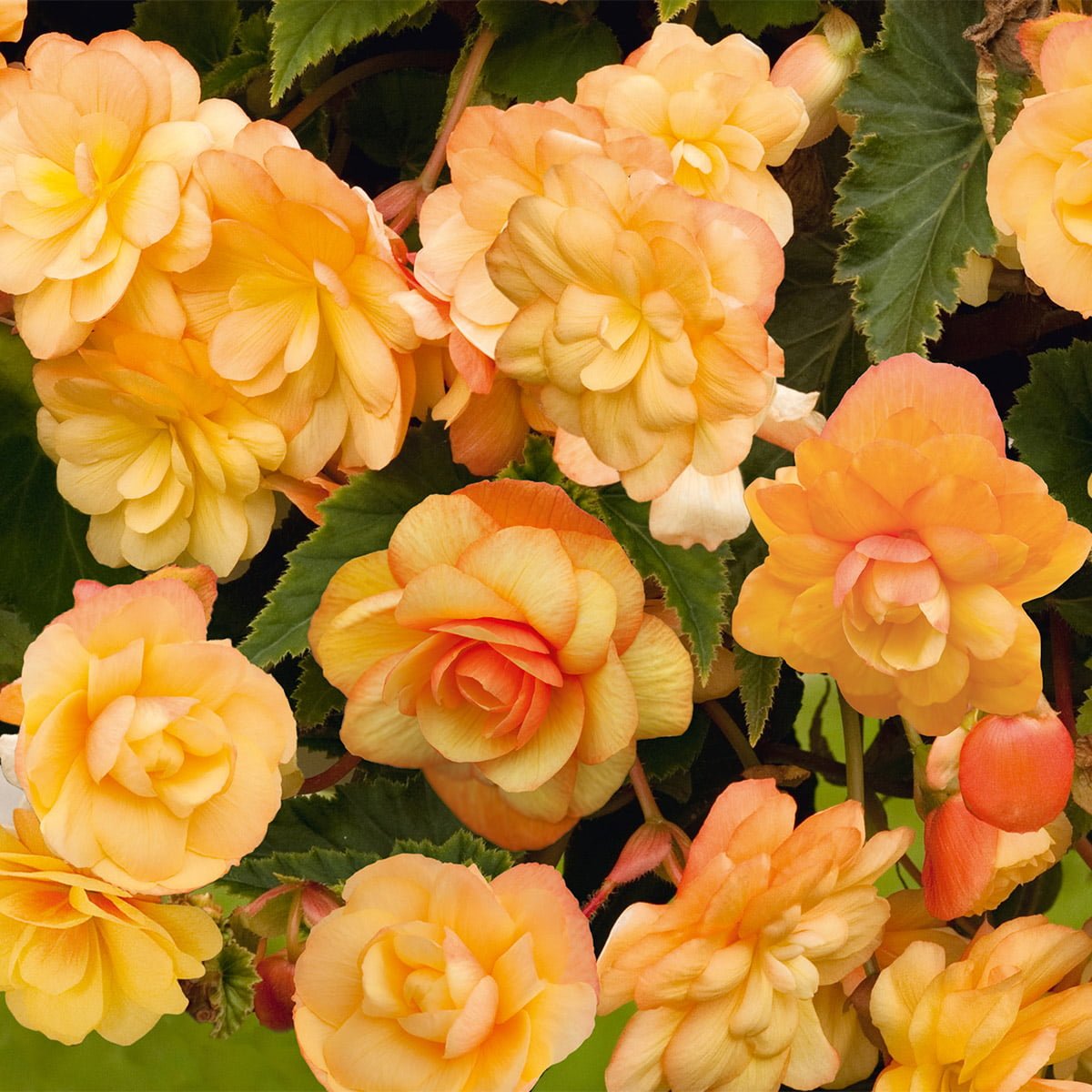 Great for baskets
You can grow 'Apricot Shades' in containers, but for the very best results choose to grow it in hanging baskets, where the flowers are at eye level and the plants spill over the edge to flower and flower all summer. The well-grown young plants will benefit from being potted up into compost to establish before you plant up your baskets. Do this carefully as soon as they arrive. Choose a good quality compost to give them the best possible start and pot each plant into a 9cm pot. It's really important to keep these plants out of the reach of frost. Due to their tubular stems, frost is the enemy of begonias as their cells rupture once the temperature nears zero degrees. So once potted up, keep them in a sunny room or a frost-free greenhouse to grow on.
When the roots have filled the 9cm pots and are peeking out the bottom they are ready to plant into your basket. Use a quality planting compost and add some Container Magic. Plant three plants per basket in a 'classic' triangle shape, with each tip of the triangle (which will be one of your young plants), 3-4cm from the edge. The size of basket isn't so important, as the plants will grow to meet in the middle. The 3-4cm distance gives the full cascading effect. Watering is another key factor at this stage. The compost should be kept moist but free draining. Keep them protected from frost until all risk of frost has passed, usually late May.
Feeding and aftercare
There is already some fertiliser in the plant plugs and micro-nutrients in the compost; therefore you do not need to feed for the first six weeks. Feeding plug plants too early can damage their roots; so let them use the food already in the planting compost. The plants will flower from a very early age and the weight of the flowers naturally pulls the plant round as it grows. This is how the begonia creates the wonderful ball of colour, which we so love about 'Apricot Shades'. So that means there's no need to stake them or to try and keep the begonia growing upright.
After the six weeks the plants should be ready to go outside into their final position, weather permitting. For 'Apricot Shades' sun, semi-shade and shade are all permissible…and it is time we start to feed. The plants are desperate to flower, they need fuel and have become hungry. Add some Flower Power to your watering can as you water, ideally you'll be watering and feeding once a week now and the growth will accelerate. If Richard could have made Flower Power for one plant, then surely this is it. High potash feed is essential as the plant is erupting into flower.
Into July and the begonias will be at their peak. With the hotter weather, masses of citrus coloured flowers will be simply billowing over the sides of your basket, at this point you need to be watering and feeding with Flower Power twice a week. Continue this regime well into September. Deadhead whenever you see a flower that has 'gone over'.
Overwintering
Come October things are starting to slow down. Colder nights, and lower daytime temperatures cause the begonia to start slowing down into its winter dormancy. What you did not see during the growth phase was the plant commencing to form a small tuber. In October let the upper part of the plant slowly die, as all the while it is putting energy into the newborn tuber.
In November carefully dig up the small tuber, wrap it in newspaper and keep it frost-free over the winter. These can be re-planted the following year and the cycle can commence once again. Richard knows of Begonia 'Apricot Shades' plants that are 10-years –old!! However, if you prefer growing the young plants, can't overwinter the tubers, or are addicted to this fabulous plant and want lots more, you can always buy some more next year.