May is the month that sees the world-famous Chelsea Flower Show taking place. This year I am very fortunate enough to be able to visit all day on Friday 25th as part of my volunteering on the National Garden Scheme Stand during the show.
Most gardeners will have heard the phrase, the Chelsea Chop, but what is it and what does it mean. It's a pruning technique used at this time of the year which helps to control and limit the size and flowering season of many herbaceous plants.
RHS advice re the Chelsea Chop
According to the RHS, there are three suggestions or methods to ensure the Chelsea chop is effective. Which method you choose will depend on the type of plant, how big your plant clump is and the effect you want to achieve.
a) Clumps of perennials can be literally be chopped back by one third to a half, using shears or secateurs. This will delay the flowering until later in the summer and keep plants shorter and more compact.
b) If you have several clumps of one plant, try cutting back some of them, but leaving others. This will prolong the overall flowering time as some will flower early and the others later.
c) Another method is to cut half the stems back at the front of an established clump, which will extend the season of flowering rather than delay it.
After you've cut back your plants, make sure you give them a thorough watering and some feed. Of course I always use Richard Jackson's Flower Power to feed my plants.
Plants to chop using the Chelsea chop method
I do have some plants in my garden that are very suitable for the Chelsea chop! I have a small bed of Achillea 'Moonshine' which can get tall and leggy, so cutting some of them back in May encourages the production of more flowers over a longer period. Another plant that it works well with is Nepeta, some of which I have growing under a sea buckthorn tree.
Some other suggestions for the Chelsea chop are heleniums, penstemons, sedums, echinacea and phlox!
Other ways to cheat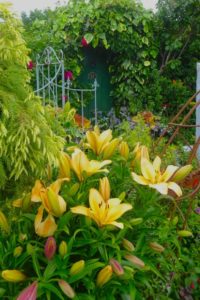 The Chelsea chop might be a well-known garden technique, but I'm sure you have many of your own tricks that you apply at different times of the year! One that always works for me is the excessive use of containers in the garden. Plant up more than you think you might need with plants that flower at different times throughout the season. Then when they have gone over, you can just lift out the pot with the dying flowers and drop in the fresh pot with those about to flower. This usually works well for me with tulips, lilies and some summer annuals. I prepare more than I might need so I can refresh them quickly, should any die before the season is out.
I've got an amazing container of orange and red lilies that belonged to my Aunt who died back in 2004, I inherited the pot and they always look amazing at the start of the season. I've left them in the same container and drop it into a space in the border so visitors can only see the flowers, not the pot, and when they go over, I just lift it out and replace them with something else!
Garden Art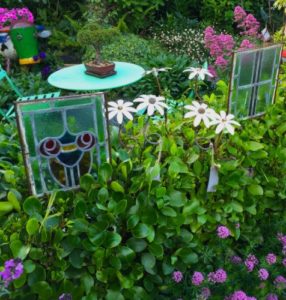 A good technique that works well for me at Driftwood, bearing in mind that I have a eclectic collection of bits and pieces around the garden, both metal and ceramic. If a corner or area starts to look less impressive as plants go over, I tend to move objects around to ensure the eye is drawn to the art or object rather than the less than perfect planting around it. A good example is the beautiful ceramic hydrangea which can quickly fill a gloomy, shady corner when needed. I've also used these stained glass panels that I bought in a junk shop a few years ago. I had a local artist make the frames for them and set them on stakes, they are perfect for brightening up a hedge or border. Trust me it works a treat!
If you'd like to learn more about Geoff's award winning garden, visit his website, or better still make sure you visit on one of his open days this summer.