Since first opening my small domestic back garden back in 2009, who could possibly have imagined how its reach could extend across the globe? The continually rapid developments of social media, on all levels, means that your garden can become global very quickly. In the last 2 years it has never ceased to amaze me at the visitors that come from far and wide, both across the UK but equally from across the world. Only this summer, visitors from Canada celebrated Canada Day at Driftwood back in July. With the garden being on TripAdvisor, we frequently have seen many foreign visitors, notably from Tokyo and Beijing.
The publicity the garden has had, has extended to features in 2018 in an American national gardening magazine in April, to one in a French magazine a couple of years ago. We have had coach tours booked from Austria, Sweden and The States to name but a few.
Visitors and fans from afar
Last summer, Angela Darby, who lives in South Africa and has been a frequent follower of my posts about Driftwood on Facebook, messaged me and said "Thank you so much for posting such beautiful images, I just love looking at your photos of the garden and salivating over your delicious cakes – where do you get the energy?" She sent me some mobiles to hang in the garden too.
Last Autumn, Kate Muir, from Canberra, Australia, wrote in the visitor's book,
"An inspirational garden for non-professional gardeners, truly breathtaking," while her travelling companion, Wendy Sculley, also from Western Australia, wrote "Loved your garden, very creative." So much so, they returned on 1st September this year to see the garden again!
There is no doubt in my mind that a beautiful garden can speak many languages. While neither the Chinese or the Japanese visitors could speak much English, we communicated beautifully, jointly appreciating the flowers. For someone who never wanted nor desired to set the world alight with his gardening prowess, these visitors from abroad certainly make me feel exceptionally proud.
World's apart
I must be honest, I do have a few interesting plants that hail from around the world too. Here are 3 of my favourites.
The first, the wonderful aloe striatula. It is an evergreen succulent with bushy, scrambling stems. The stems and leaf sheaths are striped light and dark green. Yellow racemes of flowers with protruding orange stamens are produced on spikes 40cm high in summer, mine looked amazing this year.
Another incredible plant from Brazil that I've been growing this summer was inspired my visit to the Eden Project last autumn. It is the beautiful Tibouchina organensis, much commented on by 2018 visitors.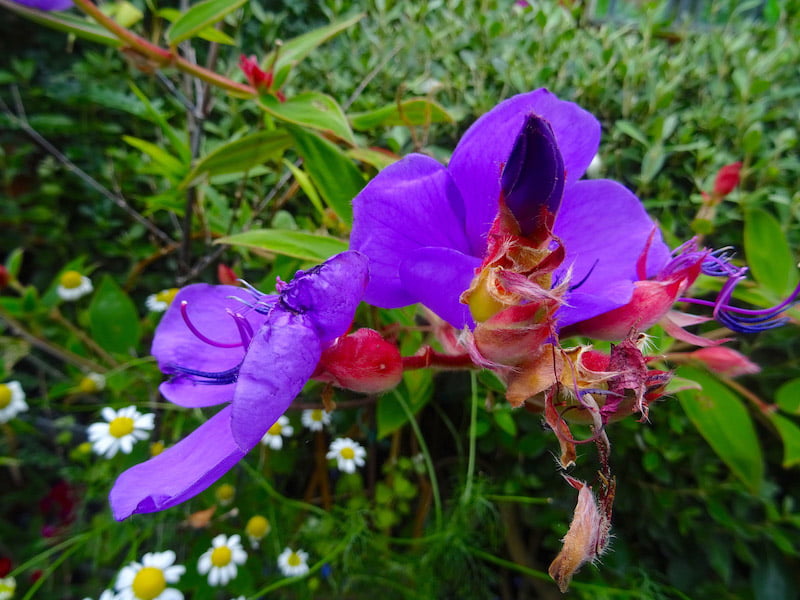 It is a tender, open, erect, evergreen shrub with four-angled, hairy stems bearing velvety, ovate to oblong, grey-green leaves and leafy panicles of red buds opening to satiny, saucer-shaped, purple to purple-blue flowers from summer into autumn. I kept it indoors until May and will have to take it back in again very soon.
The third, is the stunning eucomis, hailing again from South Africa.
The Eucomis or pineapple flower may look exotic, with their blooms being crowned by a tuft of leaves, but they are, in fact, quite easy to grow. All mine are in containers, on the patio and I move them to the greenhouse in the winter, although friends here on the south coast do leave theirs out in pots, close to the house all winter. So, get global and introduce some stunning plants to your garden next summer.