Rhubarb crumble is one of those puddings I always think will be a good idea, then find it is a bit overwhelming. This cake brings together rhubarb, a crumble topping and some custard (in the buttercream) without being overpowering.
SERVES 8–10
You will need:
2 × deep, round cake tins, 20cm/8in diameter, greased and base-lined
Ingredients
Crumble topping:
40g/ 1 1⁄2oz plain flour
40g/ 1 1⁄2oz porridge oats
40g/ 1 1⁄2oz unsalted butter
40g/ 1 1⁄2oz light brown muscovado sugar
Cake:
600g/1lb 5oz rhubarb, trimmed and cut into 0.5cm/1⁄4inch pieces
350g/12oz plain flour
1 tablespoon baking powder
100g/ 3 1⁄2oz ground almonds
1 teaspoon ground ginger 250g/8oz unsalted butter
150g/5oz caster sugar

4 eggs

1⁄4 teaspoon vanilla extract
Buttercream:
350g/12oz icing sugar
50g/2oz custard powder
150g/5oz unsalted butter
50ml/2fl oz double cream
Method
For the crumble topping, mix the flour and oats together, then rub in the butter. It is fine to leave some small chunks of butter. Stir in the sugar and set aside.
For the cake, preheat the oven to 170°C/325°F/gas mark 3. Toss the rhubarb pieces in 3 tablespoons of the flour. Mix the remaining flour with the baking powder, ground almonds and ginger and set aside. Cream the butter and sugar together, then beat in the eggs, one by one, and the vanilla extract. Stir in the flour mix until everything is incorporated. Stir in the rhubarb. Divide the mixture between the two tins and spread as level as you can (it is quite a sticky, lumpy batter). Scatter the crumble topping in an even layer over the top of the mixture in one tin. Bake for 50–60 minutes until a skewer comes out clean. Leave in the tins for 10 minutes, then turn out on to a wire rack, to finish cooling.
For the buttercream, sift the icing sugar and custard powder into a large bowl. Add the butter and cream and beat (on a slow setting at first for a stand mixer, then a high one) for 5–10 minutes until fluffy.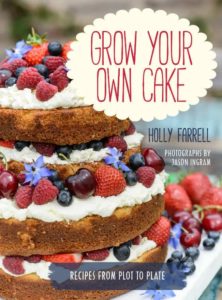 To assemble
Spread the buttercream over the non-crumble topped sponge, and place the crumbled sponge on it.
Recipe and images from Grow Your Own Cake: Recipes From Plot to Plate by Holly Farrell, photographs by Jason Ingram. Published by Frances Lincoln (£16.99).