With spring in the air, the gardening team at QVC is hosting a special 24-hour event for gardeners nationwide. It's the very first 24-hour gardening special on QVC UK and will be hosted by gardening presenter Richard Jackson and his team throughout the event. You can expect heaps of useful garden advice, friendly and informative presenters and lots and lots of great offers on plants, products and accessories. Tune in from midnight on Friday  11 March all the way through to midnight on Saturday 12 March and get a head-start on the gardening season.
Quality, Value and Convenience
Look out for special offers on Richard Jackson's Flower Power Premium Plant Food, it's the Product of the Month at QVC, which means there's not only a great deal on the product and the price, but it's delivered to your door for free. It's the big 1.6kg pack, the largest ever pack supplied with free P&P.
The popular Richard Jackson's Easy Flowers all-in-one mix will be on offer on the day. Last year it completely sold out, this is the very first time it's been back in stock this year, so if you want to order some tune in the show. Easy Flowers contains eighteen different types of flower seed, all chosen to grow and look beautiful together, with a special natural fertiliser rich in nitrogen, potassium, trace elements and amino acids, all of which give the emerging seedlings a great start in life. Brighten up your garden with months of colour, the easy way! It's easy to use and will support the native pollinators in your garden too.
Don't miss the NEW Richard Jackson's Lawn Care Kit, which contains everything you need to grow and maintain a lush green lawn. The kit includes one pack of the Premium Triple Use Grass Seed – the professional way to create a better lawn, plus a one 1-Litre bottle Premium Lawn Magic for a green, healthy and great looking lawn.
Plants Galore
Richard Jackson's Garden on QVC wouldn't be the same without the special plant offers. Tune in for some fabulous plant offers selected by the expert team of growers and suppliers, ready to establish and flower in your garden.
Don't miss the special Eryngium collection from Plants2Garden. These striking plants with silvery-green foliage and wonderful, cone-shaped flowers from July to October are fantastic for butterflies and bees and a must for every border. The collection includes three ready to plant perennials, Eryngium planum, Eryngium varifolium and the stunning Eryngium 'Blue Hobbit'.
There will also be a limited number of the new and exclusive Petunia 'Night Sky'. It's the winner of the Flora Select Award for 2016 and has rich purple flowers, with white mottled starry patterns on each one. Perfect for pots, containers and hanging baskets it will be talk of the town if you grow it.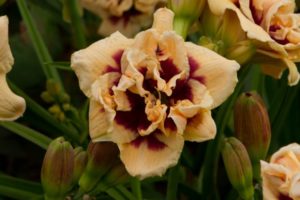 Also on offer is an unusual day lily with double flowers in a soft peachy colour with a rich red/purple centre. Hemerocallis 'Roswitha' will fill your garden with a mass of beautiful flowers from June to August.
Tune in to QVC from midnight tonight (11 March 2016) until midnight tomorrow (12 March 2016) and join the special spring garden celebrations.