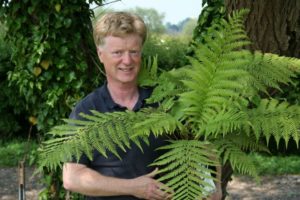 This post comes from QVC's David Ponton. David was originally an osteopath specialising in spinal disorders in racehorses and he took up gardening after a life threatening injury. QVC viewers love his wonderful enthusiasm and passion for plants, especially when he discusses the fascinating stories behind the lovely plants he presents for Hayloft Nurseries.
One of the most popular garden plants in spring and early summer is the purple flowered Erysimum 'Bowles Mauve'. Garden centres and nurseries are simply full of this fantastic plant. But if you want something different and really exciting, there are some new varieties available for the very first time, this season.
New evergreen wallflowers
Just as we nurserymen thought there was nothing new and exciting in the world of Erysimum a small nursery in a secret location in the UK has successfully bred three new stunning varieties.
These fabulous plants will bring your garden alive with colour and drama all summer and are a magnet for pollinating insects too.
The three new varieties are Erysimum 'Early Sunrise', Erysimum 'Night Skies' and Erysimum 'Tropical Sunset'. Hayloft Plants and QVC have worldwide exclusivity on these three new varieties for 2016 and they will appear on the QVC Richard Jackson's Garden television shows throughout the month of May.
The exclusive offer is possibly the greatest line-up of Erysimum ever sold in the UK and also includes two other fabulous varieties, Erysimum 'Paintbox' and Erysimum 'Spice Island' too.
Great garden plants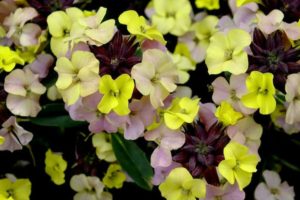 If you've never grown an Erysimum, you might not appreciate why this is such a fantastic collection of plants.
These amazing, reliable plants have longer spring to summer flowering periods than the old fashioned wallflowers.
They offer fantastic value, as they are hardy and flower with an amazing scent year after year.
Erysimums are larger and more colourful and therefore you need less in a given area to provide the same colour effect.
They also have wonderful scent which attracts wildlife to the garden.
Erysimum flowers constantly change colour to attract pollinators. (At any point you can have pink, purple, orange, yellow and salmon flowers all at the same time on Erysimum 'Paintbox'.
There are very few plants that have this exciting colour changing feature and as far as I'm aware the only hardy plant with this feature is Erysimum.
Commonly asked questions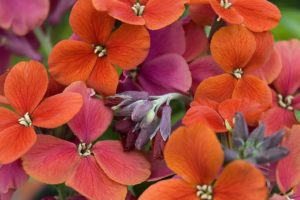 If you are still not convinced, or have some questions about these amazing plants, please read on. I've tried to address the questions I am most often asked about Erysimums.
How big does the flower/plant grow? Each plant will grow to a height and spread of around 70cm x 30cm during the growing season
Do they arrive as bulbs or plants – how many? Five individually named young plants
Can you plant outside straight away? Yes, but they need very careful watering until they are established in the garden. Ideally, they are best potted on for four to six weeks to establish a good root system, before planting out.
Are they annuals or perennial? Perennials that improve with age.
How long will they be in flower for? Flowering in the first year will commence in late summer/early autumn. In their second and subsequent years they will flower April to July.
What fertiliser is best to use? All compost has sufficient fertiliser in it for the first six to eight weeks of plant growth. Erysimum have a low fertilser requirement. During flowering you may wish to add a weekly feed of a high Potash fertiliser. Richard Jackson's Flower Power is the ideal soluble fertiliser to use.

Erysimum 'Paintbox'

What's the best position for these inside or out/in the shade/sun? Plants ideally should be started under cover in pots, then after 4-6 weeks planted in containers or in the garden borders. They like a sunny position in a free draining soil. The brighter the spot the quicker they grow. Do not plant in full shade.
How often do they need watering? They have their origins in the Mediterranean where they grow well in poor sunny conditions. In containers they require watering twice a week, in hot windy periods this will need to be increased to every other day. In the border, once established, they'll only need watering during prolonged dry spells.
Should you deadhead for better results? Ideally yes, but this is not essential.
How do I prune? They can sometimes get a bit 'leggy' so cut back the stems quite hard. This helps keep their shape and can encourage a second flush of flowers.
What other plants can I plant to complement or work with these? They are great on their own, or grow them in an area with other Mediterranean plants such as lavender or Verbascum. They also blend in well with the traditional English Cottage Garden 'look'.
Which way up should I put it in the compost? The root ball should go into the compost and placed just below the surface. Firm the compost around with your hands.
Do they like clay, sandy, acid or alkali soil? They are best in a sandy/free draining/neutral soil.
How do I know which plant is which in the collection? Each variety corresponds to a letter, A to E, embossed on the side of the green recycled packaging.