How can everyone have a cottage garden? Surely it's not possible. Well, it IS! Some clever planning and careful selection of varieties means you can choose shorter, more branching herbaceous perennials, which will give that cottage garden look in a smaller space and especially patio pots and containers. Your balcony could even become a cottage garden.
When planting up a 'patio cottage garden', you'll need to consider that the plants are likely to be in the compost mix for longer than your usual summer annuals. So, choose a compost such as Richard Jackson's Premium Multi Purpose Compost. I would also choose a slightly larger container than you would for annuals, as it will dry out less, due to the increased volume of compost.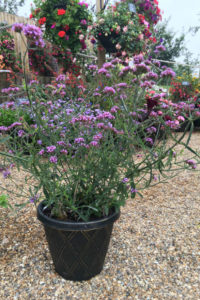 You'll also need fewer plants per pot than you do with annuals. In fact, just ONE plant per container will suffice in many cases. For some extra oomph add a dose of Richard Jackson's Container Magic. Growing herbaceous perennials in pots really does add a different dimension to the path area, and you can really play with the design too, either opt for terracotta styles to match the cottage garden feel, or jazz it up by planting frothy verbena in an edgy silver zinc container.
Let's get on with the recommendations! Here are my top 5 tried and tested cottage garden plants for your patio or balcony.
Ferns
I was super surprised during my summer trials, when I left a mixed pot of painted lady fern varieties on a sunny patio… all summer long. They were absolutely fine. We are always conditioned to think ferns only like shade, but this isn't the case. Having said that, if you're looking at a shady balcony and want the cottage garden look, then ferns would be a top-notch choice.
Verbena 'Lollipop'
You might recognise this shorty! It's the compact version of its lanky bigger brother, Verbena bonariensis. The incredibly branching habit means the shorter size doesn't compromise on bloom quantity either.
Scabious 'Kudo Pink'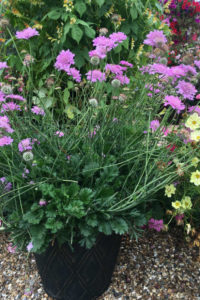 How about a plant where there are so many blooms you can't see the foliage? Scabious are usually known as wiry, untidy border plants, however 'Kudo Pink' changes all the rules. A bee and butterfly magnet, and flowering longer than many perennials, in fact you'll wonder when it's going to stop.
Delphinium 'Flamenco'
Just a total wow factor, the delphinium that looks nothing like a delphinium. Cute little pompom blooms, packed with petals, and lasting longer than traditional types, which often blow apart in strong winds. The plants are shorter too, so won't need staking and are ultimately more weatherproof. You'll be amazed to see multiple side shoots too, meaning the plant goes on long after the first flower spike fades.
Hydrangea 'Pinky Winky'
Hydrangeas are well known and easy to grow; yet the Hydrangea macrophylla plants can be quite thirsty, especially in pots and containers and it's easy to go wrong with the pruning. 'Pinky Winky' is a Hydrangea paniculata type, and a short one at that, so it's perfect for pots. Super hardy, long flowering and with a spectacular carnival of colour as the blooms change from white to pink to green. You can't grow wrong.