Us garden writers are very lucky people. We get invited to all sorts of 'dos' where we get exclusive insights into what's new and on-trend in gardening and horticulture. One of the must-go-to shows in the calendar is the annual Garden Press Event.
As well as meeting lots of leading plant and product suppliers and getting lots of gardening gossip(!), there are always numerous new products on view. Here are my favourite five from this year's show.
Goodness, gracious, great balls of nematodes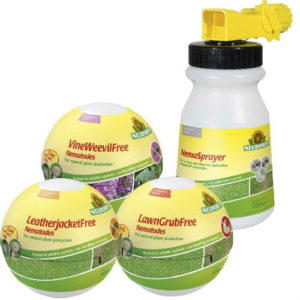 Lots of gardeners now appreciate how effective biological control nematodes are at controlling various garden pests. But one of their major drawbacks is that they're only available mail order, so you have to wait several days after ordering them for your biological bully-boys to turn up and battle your pests. That is, until now! Organic pest control specialist, Neudorff, has cracked the problem of how to keep the microscopic nematodes alive outside of a fridge. Neudorff Nematodes can be stored fridge-free for up to six months and will be stocked by garden centres and stores. So, when you have a pest problem, pop down the garden centre, stock up and you can start attacking the pests straight away. You can even buy a few and keep them at home, so you always have some ready to hand.
There are currently three products – LawnGrubFree, LeatherjacketFree and VineWeevilFree, plus the NemaSprayer – a hose-end applicator for quick and easy application of the nematodes over large areas.
Price: LawnGrubFree £29.99; LeatherjacketFree £19.99; VineWeevilFree £14.99; NemaSprayer £13.99.
Supplier: Neudorff
Reach great heights
Tree and shrub pruning can be a challenging task when you have to reach up high, down low or a long way away. And, as lots of garden accidents occur when gardeners (actually, mainly men) fall out of trees or fall off ladders; being able to carry out tree pruning from the safety of the ground is a quite literally a blessing. Fiskars' PowerGear X Telescopic Tree Pruner is the answer. It has a maximum reach up to an impressive 6m (20ft), the PowerGear transfers three times more muscle power into each cut and the cutting head has an adjustable 230 degrees cutting angle. And, what's more, the soft-grip handle and non-slip base ensure comfortable cutting.
There's also a shorter PowerGear X Tree Pruner with a 4.5m (15ft) maximum reach.
Price: PowerGear X Telescopic Tree Pruner £135.99; PowerGear X Tree Pruner £78.99.
Supplier: Fiskars
Have some hot, warming joe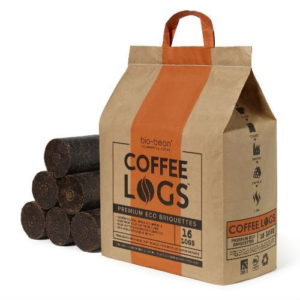 While the UK reels under a mountain of waste take-away coffee cups and wonders what to do with them, the clever people at bio-bean have worked out how to cope with the waste coffee grounds. Turn them into fuel! The UK produces 500,000 tonnes of waste coffee grounds every year, most of which is disposed of via landfill where it emits the greenhouse gas, methane. At the world's first coffee recycling factory in Cambridgeshire, the grounds are made into Coffee Logs, Premium Eco Briquettes. Each carbon neutral Coffee Log is made from the grounds of 25 cups of coffee and contains about 20% more energy than wood – meaning it burns hotter and for longer than wood. This makes them perfect for your BBQ, firepit or chiminea – or indoor log burner.
Price: £6.99 for a handy bag of 16 logs.
Supplier: bio-bean
Take it easy on the knees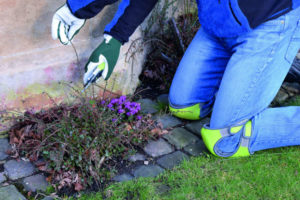 When we scramble around the garden on all fours – weeding, planting and doing all the other low-down, intricate jobs we need to do – our knees take an enormous amount of pressure and pounding. To keep them in good working order, it's essential to use some form of protection. The new Kew Gardens Kneeler and Knee Pads from Spear & Jackson will provide all the cushioning they need. As its name suggests, the Kew Gardens Collection is produced in collaboration with the gardeners from this world famous garden.
The Kneeler is heavy duty and hard wearing with extra cushioning for hard surfaces. It has a five-layer foam and EVA rubber-like construction, easy clean, quick drying nylon cover and Neoprene water-resistant lining.
The Knee Pads are similar with a three-layer construction and easily adjustable Velcro straps to ensure a secure but comfortable fit around the leg.
Price: Kneeler £13.99; Knee Pads £13.99
Supplier: Spear & Jackson
…and, finally, relax!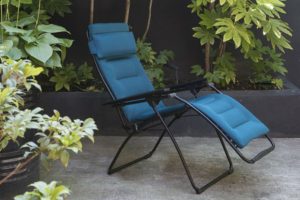 I nearly fell asleep at the show. No, not because I was bored – far from it – but because I was invited to try out the Futura Air Comfort Relaxation Chair from Lafuma Mobilier. It is the go-to lounger for relaxing, as it is designed to provide the ideal relaxation position – 127 degrees, the angle of the body in zero gravity! The essential remit is that your legs are positioned slightly above the heart to optimise rest. It also features a padded Air Comfort seat– a three-layer pad that combines breathable and permeable materials for comfort, softness, breathability and quick drying time. Plus the back suspension system provides firm comfort and perfect back support.
Price: £214.90
Supplier: Lafuma Mobilier