Having closed my garden for 2017, I decided it was time for a well-earned rest and maybe the need to look at other gardens and possibly draw some inspiration for new ideas at Driftwood in 2018. We rented a cottage near St Michael's Mount, not far from Penzance, last month and visited nine gardens during the course of the week. Here are five of my favourites:
1. Eden Project
This trip was only my second ever visit to Cornwall, the last over 30 years ago, so the Eden Project was top of my list. To begin with, I have to confess to being a little underwhelmed, that was until I set foot in the rain forest! This was an amazing experience, so much so, I had to come out and go around again! I defy anyone not to be inspired by its planting. Two amazing plants stood out for me. The first, the beautiful Japanese lantern (Hibiscus schizopetalus) that I have never seen before. I am pleased to learn it can be grown outside in this country during the summer and so I have ordered two for Driftwood. The second the outstanding pineapple ginger (Tapeinochilos ananassae) which just looks amazing but I've not managed to acquire one yet. But I did buy a coffee plant (Coffea arabica) and a tea plants (Camellia sinensis) too. The whole space was totally inspirational, and I left thinking that really, I need a roof over Driftwood!
2. Chygurno
On a totally different level, I visited a 3-acre private garden on a cliff edge, Chygurno, overlooking Lamorna Cove, just beyond Penzance. I'd been aware of the garden over the last 6 years, having read about Robert and Carol Moule's incredible achievement after their retirement and move from Cheshire to Cornwall, in the Independent back in 2011. How they have managed to achieve what they have over the last 19 years is beyond belief. Robert had many amazing tree ferns and generously gave me three babies from his garden to grow back at Driftwood. How exciting.
3. Lost Gardens of Heligan
Another long awaited visit was to the Another long awaited visit was to the Lost Gardens of Heligan. Here again, the jungle valley did not disappoint. There were many amazing tree ferns here too and some incredible gunnera and bamboo. I already have a large gunnera growing in a pot in the garden but could not resist another, a Gunnera manicata to add to my collection, along with a fabulous Faucaria tuberculosa, which has leaves a bit like crocodile jaws and hails from South Africa to add to my succulent collection.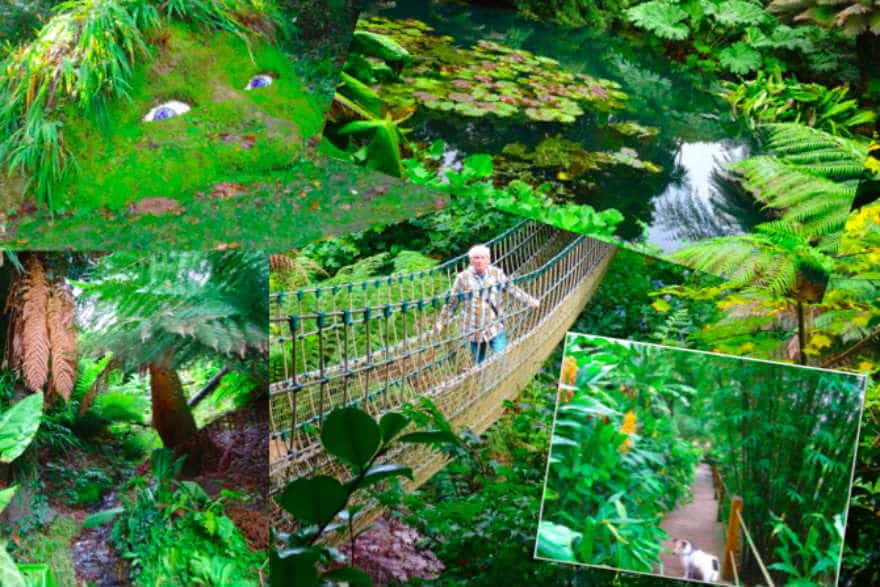 4. Trebah Gardens
Next up was Trebah Gardens, which I have seen on television a few times. Nothing however prepares you for the magical garden, dropping away down the valley to the sea. Even the drizzle could not spoil the experience. The hydrangeas still looked stunning, despite many flowers having already turned brown. The rain forced me into the shop where I ended up buying several plants, among them the glory bush (Tibouchina organensis), it will look great in the garden next summer but will be kept in the house over the winter.
5. Tremanton
My final choice is Tremanton, near Saltash. In the middle of the bailey wall stands the house, a white stucco villa combining Cornish romance and Regency elegance. Wild flowers cover the steep slopes up to the keep and giant gunnera grow beside the Gatehouse. The garden is being restored and rejuvenated by tenants and garden designers Julian and Isabel Bannerman. It certainly has a feel of faded elegance about it, which certainly adds to its romantic air.
Plant purchases
Those were the gardens but what of the plants? I returned with 19 fine specimens. I came across an aeonium that I have never seen before. It is tabuliforme, a succulent biennial or perennial forming a compact, flat rosette of overlapping, fleshy light green leaves. Large panicles of small, starry yellow flowers should form if I'm lucky!
And I just could not resist two lovely, if expensive, small succulent planters for my office, which really look great on my desk. The one thing that particularly stuck in my mind for something to recreate at Driftwood next year was a fabulous tall tree fern in a large container at Tremanton with hydrangeas and geraniums frothing out beneath, but equally the beautiful colour of the chairs as well! Watch this space to see what I can do at Driftwood.