It's the middle of summer, a time when we spend a lot of time enjoying our outdoor spaces. Of course, the downside is that we really notice whether our gardens are pulling their weight or whether they are just a little mundane. If yours is lacking pizzazz, now is the time to make some changes that will have an immediate effect on the way it looks. From adding upright structures to growing architectural plants, here's my guide to instant impact gardening.
Add a focal point
Pergolas, arches, arbours, gazebos will take your garden to new heights. These upright structures will add a strong formal backbone, direct foot traffic and work as punctuation points to disrupt a boringly even landscape. All can be used to create focal points, drawing the eye from one part of the garden to another.
Most structures arrive in flat pack form and usually take a couple of hours to put together. Once built, dig holes for their uprights, ensuring they are the right distance apart. Put the structure into position and check the level. Once happy, half fill holes with water and tip in a bag of Postcrete. Cover with soil once set.
Make the most of vertical structures with climbing plants – use scented ones and you'll pause to enjoy the experience, rather than rushing underneath. After attaching training wires, dig holes 45cm (18in) away from the structure to avoid dry soil. Tilt plants towards supports, planting at a 45-degree angle.
Time for a new feature
A new feature will make a big difference to the look, feel and atmosphere of your garden. So, if you're fed up of looking at the same old components consider updating your plot with a pond, water feature, rock garden or maybe some raised beds. Any of these features can be adapted to fit any size, style or shape of garden.
I've recently given my garden a new look by removing a shabby lawn and replacing it with a gravel garden. I scraped off the turf, removed some soil and added a 5cm (2in) layer of Solent Gold gravel. My intention is to plant some drought tolerant gems like cistus, phlomis and Stachys byzantina 'Primrose Heron'.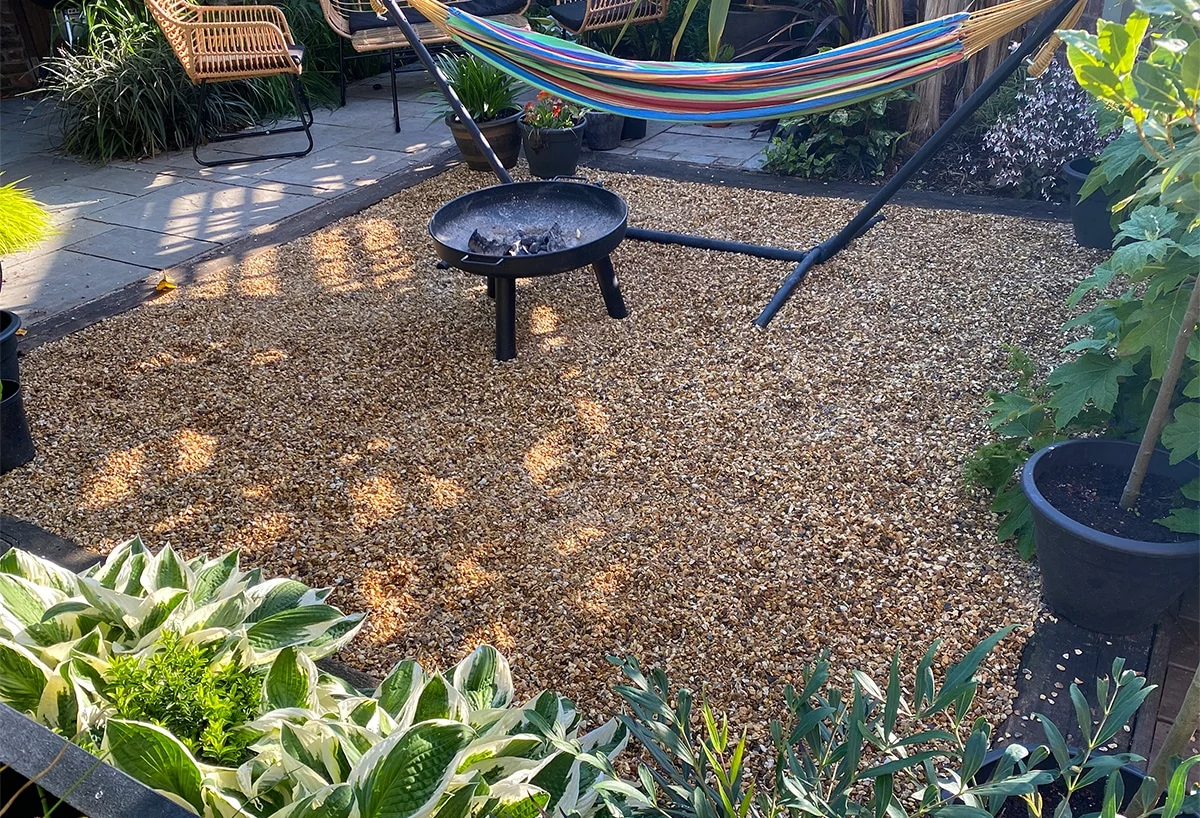 As a lawn lover I was loath to remove it but it had become a burden – I'd re-laid it four times in six years and was fed up of repairing holes, yellow patches and areas worn out by my dogs. Reaction to my creation on social media was positive with 'very stylish', 'great work' and 'this is fab' among comments.
Plants with punch
If your garden looks a little pedestrian give it an instant lift by introducing some bold plants. Shapely bits of topiary, architectural gems and out-of-the-ordinary shrubs will make a big impression with minimal effort. Sometimes a little pricey, it's not necessary to fill your space with them as a single piece will often do the trick.
Elevate your beds by dotting in a muscular evergreen, such as Italian cypress or lollipop-shaped Elaeagnus x ebbingei, or use a shapely palm, tree fern or olive tree as a focal point. Transform a dull patio by raising a cloud pruned piece of Japanese holly or standard bay in an attractive container.
If you have a shady garden or dimly lit corner, don't despair. There are a number of plants that will do well in low light. For a long season of interest, try evergreen shrubs such as Schefflera taiwaniana with its narrow leaflets or Fatsia japonica 'Spider's Web', whose green palmate leaves are speckled white.
Instant container colour
A quick way to add colour is to snap up some ready grown bedding plants and set them in hanging baskets, window boxes and patio containers. Young plants sold in spring had to be nurtured indoors for months before being put outside but you can now buy plants laden with buds that can be displayed outdoors immediately.
Geraniums (pelargoniums), petunias, begonias, busy Lizzies, bacopa and other flowering varieties can be combined with foliage types for an attractive mixed display. Plant slightly closer than you would do normally for a fuller, more immediate effect. If you have gaps in your beds and borders, plug them with bedding plants for a splash of quick colour.
Enhance your space
It's not just features, structures and plants that will provide instant impact in the garden. Treat your garden just like a room in the house and carry out a few simple styling tricks. Painting a wall or fence a different colour, adding new scatter cushions to your furniture or even placing a rug on the patio will add a pop of colour that will give your space an entirely different look.