If you are new to gardening, or have a bare border to fill, here's a great way to grow masses of plants easily for a spectacular display all summer.
It's the cheapest gardening ever! Pop down to your garden centre seed section and spend a few quid on the easy grow hardy annuals. Simply sow them straight in the garden, stand back and watch them burst into bloom.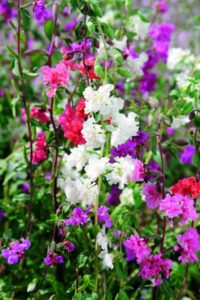 There are lots of really pretty varieties to choose from – and they're all amazing value for money. Most of them cost around £1 for a pack of seeds that should produce up to 100 plants. Splash out a fiver on a few different hardy annuals and your garden will be a riot of colour this summer.
Hardy annuals are a great choice because they are tough and cold resistant and can be sown before the last frost and will still grow. You don't need to mess about with pots and pricking out, you can sow them into the garden soil, or in pots and containers.
If you're not sure, ask for some help from the garden centre staff, but most packets will be clearly marked.
Sow them in March, in a sunny garden spot. Rake the soil first, then sow the seeds in rows. That way you'll know that anything growing outside the row is a weed and can be pulled out. Your plants will grow fast and should look a picture by the end of June.
Let a few flowers set seed at the end of the summer and save these seeds to sow the following year. So next year's flowers won't cost you a penny. Now that's what I call a bargain!
Top tips for growing hardy annuals
Save the seed packets. There's lots of useful growing information on them.
For best results, thin out some of the plants to allow the others to grow bigger. See the back of the seed packet for full details.
Pick of the bunch
Here are my favourite hardy annuals, none of which will cost a packet!
Californian poppies (Escholtzia): Pretty fern like leaves and brightly coloured flowers that flutter in the breeze. Great at the front of borders in a hot, sunny spot. Try them in pots too.
Pot marigolds (Calendula): Extra easy to grow and pretty whatever the weather. Drought tolerant too, which means they cope well if you forget to water them occasionally. And, if you fancy it, you can even eat the flowers- top restaurants now add the petals to salads!
Clarkia: a much loved cottage garden favourite. The double form called 'Appleblossom' has flowers that look like delicate powder puffs. Great for cutting too.
Lavatera: For impact you can't beat these hardy mallows. 'Silver Cup' grows 80cm tall and is covered in glowing pink, satin sheen flowers. A cracker for borders or pots. For a range of colours, look out for 'Beauty mix'
Larkspur: The spires of delphinium like flowers look amazing at the back of the border. Fantastic for cut flowers. The taller varieties, which grow 90cm high, are better than the more compact forms.