Unless you actually live on the Isle of Wight, then you'll need a to book a few days away to visit some of these gardens, or you can hop on the ferry for a great day out, but ideally you'll need to take your car.
I'd really recommend booking a long weekend or longer and combining your visit with a few gastronomic island delights as well as some great gardens. Arm yourself with the latest copy of the NGS Open Gardens book and you've already invested well for your trip away.
This small landmass, just 23-miles long by 13-miles wide, offers dozens of great gardens and horticultural hotspots for plant addicts. Gently washed by the Gulf Stream, spring comes early and late summer stretches generously into autumn, extending the gardening season significantly and enabling islanders to grow many exotic, unusual and eclectic plants.
On the Isle of Wight there are several national collections that include fabulous delights such as nerines, hemerocallis and kniphofia, 26 gardens open for the NGS, plus several public gardens that are all well worth a visit.
Private paradise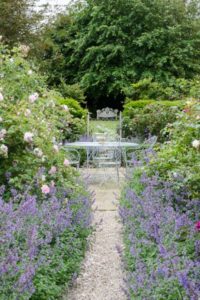 The Old Rectory Garden in Kingston is an absolute must garden to visit if you go to the IOW. It usually opens for the NGS and it's worth arranging your trip to coincide with its opening (already passed this summer) but visitors are also welcome by arrangement from May to July. The homemade teas are delicious; watch out for the adorable four leggeds that want to share your cake. This garden is a mecca for rose lovers, every border is packed full of fabulous examples and there's even a rose cutting garden where owner Louise Ness can indulge her love of these fabulous flowers. There's a new walled garden packed full of incredible edibles and a dreamy glasshouse for raising seeds and cuttings. This is a wildlife friendly, family garden and it's packed full of ideas and inspirations too.
Saved for the nation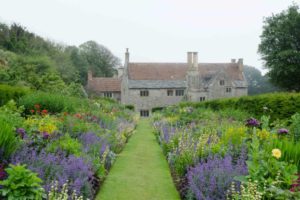 If you are looking for fabulous double herbaceous borders then Mottistone Manor (NT) is well worth a visit. In summer the rose garden is a delight. Insect rich wildflower banks are alive with the buzz of pollinators and the productive kitchen gardens are sure to inspire. But for plant enthusiasts the sunken garden contains a fascinating mixture of sub tropical plants such as grevilleas and ensete and the intriguing monocot border is richly seasoned with surprising and extraordinary examples of this plant group. Take afternoon tea (or ice cream) in the garden, or stop for a light lunch.
Summer Glory
Nearby at Shorewell is the garden of Northcourt Manor. It's a fabulous place full of wonderful plants and unusually the site boasts both acid and alkaline soil allowing them to grow pretty much anything there. The spring blossom at this captivating garden is simply magical. The alkaline chalk soil on the cooler northern side supports a range of delightful flowering cherries, but look out for the stunning magnolias growing high on the terraces on the southern side of the garden on a band of acidic Upper Greensand. Treat yourself to B&B or a self catering stay at this amazing place.
Botanical wonder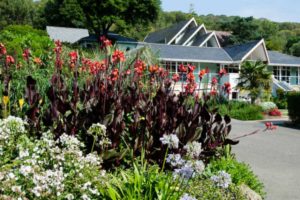 On the southern tip of the island is Ventnor Botanic Gardens, another must-visit delight. It's packed full of subtropical and exotic plants arranged in geographical zones around the site. You can see the world in an afternoon. Amble along the radiator rocks of the South African terraces for glimpses of lampranthus, kniphofia and rare proteas. It's then a few short paces to see the botanical wonders of Australia and New Zealand. There's a fantastic tea room overlooking the garden (see below) where you can enjoy filled baguettes, teas and coffee or visit the Edulis restuarant for lunch. Make a day of it and exit at the far left corner and follow the coastal path down and down to Steephill Cove, the clue is in the name, but it's worth the hike down to the secret paradise almost frozen in time and renowned for fresh crab sandwiches and more. Stop for an ice-cream (or hot chocolate) and enjoy the ambience.
A holiday memento
Don't go home empty handed. Just outside Nettlestone is Eddington House Nursery, a plantsman's paradise of island grown alpines and perennials.
Eating out