There's much more to RHS Hampton Court Flower Show than fantastic show gardens, amazing trade stands and fabulous plants. Wander around and you will find a fascinating treasure trove of creative, innovative and inspiring exhibits all designed to make your day out even more special.
Here are five things you shouldn't miss at this year's show.
Franchi Seeds (stand 287)
Seek out the real Kitchen Garden on the Franchi Seeds stand in the Cook & Grow Marquee. It is a growing, living garden staged in a real kitchen, with edible plants overflowing out of the cooker, the sink and growing in the pots and pans. Take a look at the tiled floor created from real Franchi Seed packets that have been lacquered into a fabulous tiled effect. It's a fantastic display, created by a team of autistic gardeners and creative, bringing the real meaning of a kitchen garden to life.
Future Florists' Competition
I just loved the floral bugs in the Floral Design Studio. It's next door to the Festival of Roses and well worth a visit. Four colleges are competing in the competition and were tasked with creating giant bugs, which of course drew me like a bee to a honey pot. I had to giggle as one of the exhibits from Capel Manor College, had actually used one of my RHS features on Solitary bees as wallpaper for the backdrop of their stand. The floral bugs were simply stunning and I don't envy the judges in deciding a winner, they were all truly excellent.
Pure Glass Greenhouse (stand 765)
I am rather attracted to these rather stark frameless greenhouses that disappear into the garden and yet puzzled by their odd presence when filled with gardening accessories. There's something mesmerizing and rather bizarre about their concept and while they are almost invisible they are also quite attractive. Probably another marmite moment, I'm not sure that I love them, but I definitely don't hate them.
Vegetable boxes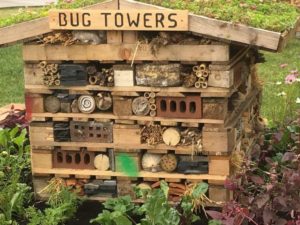 Don't miss the Vegetable Box from Walton Community Allotment. It's one of two on the showground and draws attention to the benefits of community gardening. This one features a large bug hotel made from a mix of recycled materials that reflect the diverse origins of the community and each individual's needs, interests and abilities. It features a sedum roof and a variety of hidey-holes for all manner of wildlife.
Plant Heritage
Tucked inside the vast Floral Marquee is the Plant Heritage display showcasing a handful of plant collections. It's a great place to learn more about some of our favourite plants and understand the vast complexity of a plant family and all its members. But beware, because plant collecting is contagious and once you start to see and understand the extent of a family you are bound to want to add to your collection. On trend and for the succulent aficionado is the National Collection of Casual, so if you've got one or two it's a great place to come and see some of the other family members. Look out for the pretty crassula tableaus densely planted with cuttings to create a living picture. It's something you could recreate at home.