Every time I mention to a friend that I'm interested in plants, the response is always 'oh, I just kill houseplants'. So, why do most people get it so wrong!?
I am convinced the problem is watering. Too many people over-water plants, rather than under water them. The constant panic that they've forgotten to water their plant means most householders keep watering them each time they pass by, which could mean a lot of water. The best method is to only water a houseplant when the surface of the compost has dried or, even better, water from a saucer below the plant. This way, the plant will only take up what it needs, and you'll see when it's empty, or when the plant isn't using the water available. Lighting can sometimes be an issue too, but it doesn't have to be if you choose the right plant for the right place. Ferns are the kings of the shade, and they love moisture too, so the bathroom is perfect for them. Orchids, on the other hand, prefer indirect light, so away from the window but in a well-lit room will be ideal for them. You'll also find that the orchid flowering period will last for a long time too, thanks to the waxy texture of the flowers. Sunnier windowsills are the spot for your cacti and succulents, which have become super trendy.
Below is my list of five easy houseplants that are a doddle to take care of and will look great in any home. My top five easy houseplants can take a bit of neglect, so are perfect for beginners.
The Spiderman Plant
This fun plant is an Alocasia, but I prefer it's cute nickname, the Spiderman Plant. It is eye-catching and architectural, in fact it is no longer a houseplant, but a statement piece for the home. Start interior designing with living plants, as well as furnishings. Imagine the steely, veined foliage against your favourite wallpaper, for example.
Begonia 'Escargot'
This one has been around for a while, and is grown for the decorative foliage rather than the flowers. Good for a slightly darker room, 'Escargot' has amazing spiralled foliage with a metallic sheen.
Coleus
My Nana used to grow a lot of Coleus from seed, and this particular variety was one of her favourites. Many newer gardeners don't actually realise you can grow coleus indoors, as newer releases have been bred for outdoor bedding schemes instead. The foliage is very colourful, and actually accompanied by oddly contrasting blue flowers in the summer too.
African Violet
We cannot forget about these traditional beauties. Easy to grow, impossible to kill, and nearly always giving you flowers. Again, my Nana grew them in their masses, filling every windowsill. Get interior designing with their quite vibrant blue, white and purple colours too.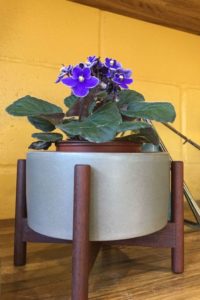 Hydrangea
Now this is a clever choice of houseplant, because once you're done with it inside, you can actually move it outside and enjoy it in the border for years to come. Many garden centres are offering the compact, pot grown hydrangeas which make a good centrepiece for a dinner table. You can have a bit of fun with the flower colours too – they'll be blue when the soil is acidic, and pink when it is alkaline. Most garden centres sell colourant to allow you to make this magical colour change.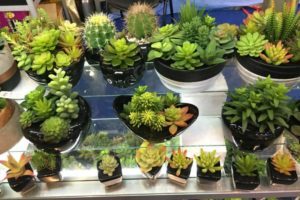 I was at a trade show last year (2019), where I was extremely impressed with the quality and range of artificial cacti and succulents! The best thing being the spines won't prick you, finally a safe cactus for the home! Even better, you won't need to water them either. Look out for these in the next year or two.
So there you have it, my list of five easy houseplants. If you'd like more advice on taking care of houseplants, be sure to check out Plantsmith, and their range of houseplant care products, also now available in our online shop.