Get into the car, go on – do it immediately and be one of the first to step into the outback in the Eden Project's brand new Western Australia Garden found in the Mediterranean Biome.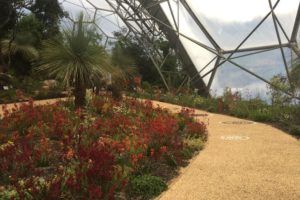 Eden is the pinnacle of rebranding. With more than a little imagination and a lot of foresight all those years ago a defunct China Clay pit near St Austell in Cornwall, was transformed into a biblical vision of heaven on earth. Not an institution to rest on its laurels, the Eden Project always strives to provide its some one million visitors per year something new to look at.
Visit Australia in Cornwall
The new Western Australia garden, two years in the planning is the perfect excuse to visit Cornwall; for both Eden newbies and seasoned visitors alike. Headed up by principal Mediterranean Biome Horticulturist, Catherine Cutler, the Western Australia Garden replaces the old Californian garden and represents several natural bush habitats of the wild landscape just outside Perth. (Creepy crawlies not included!)
Botanical wonders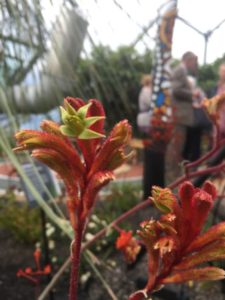 The stunning display features all our Aussie favourites – Eucalyptus, Banksia and Grevillea as well as some more unusual little chaps that make even the best of us ooh and aah. The real star of the show is a plethora of Anigozanthos, commonly called the kangaroo paw. The horticulturists at Eden have carefully selected some of the best species, as well as their cultivated cousins, to balance authenticity and gardening eye-candy for the visitor. The showstopper of the display is Macropidia fulginosa 'Midnight' a kangaroo paw – like no other. It is luminous lime green and black; a combination that you'll have never seen, and to my mind worth the admission cost itself. Deciding on what plants to use can't have been an easy process. Indeed Australia is one of only 17 other counties known as 'Mega Diverse', defined as covering only 10% of the earth's surface but containing 70% of the world's species. The jewel in Australia's crown is its 24,000 native plants compared to the UK's 1,400.
Education by stealth
The primary goal of the Eden Project is not to conserve plants, although that is certainly a key factor of the work that is carried out here, but more importantly it's the education of people and getting them interested in plants and gardening alike. It really is a case of grass roots education with programmes for primary school children as well as offering apprenticeships and degree courses. The most far-reaching learning that is achieved however is the "education by stealth" of every single visitor that comes through the gate. The Western Australia Garden teaches the visitor about the environment and culture of this part of the world. The Garden is split into three sections, the first – the Jarrah, explains the role fire plays on the flora of Australia. The second – the Kwongan, displays plants that thrive in poor soil mixed with examples of Aboriginal art. When Catherine is asked what the final section shows, her answer is clear "Well, it's just things that look fab."