Since moving to my seaside garden in Sussex, back in 2004, I was keen to chart it's development for pure self-interest, pictures can tell the whole story. I've recently been looking back at some and have to confess to surprising myself at what can be achieved by just doing what you think to be right for you and your plot.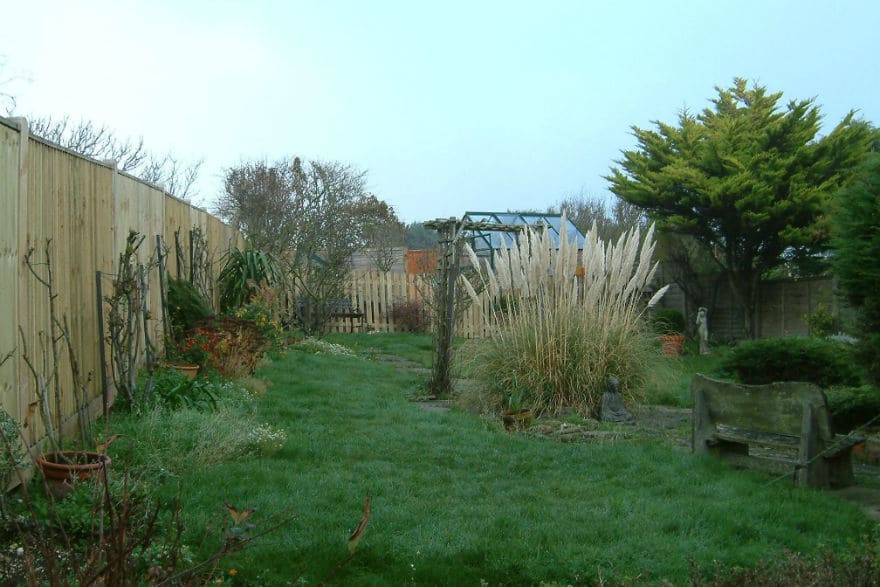 Do something amazing
So, if a non-gardener like me can achieve these results, there's hope for all of you reading this blog to be inspired to do something amazing with your own garden. My starting point was a pretty blank canvas, the only remaining features are the conifer and the pear and apple trees.
It took me a while to decide what to do and where to start.  I made just simple changes in 2006 like bordering and shaping the lawn with log roll, which made a tremendous difference and was very easy to do myself.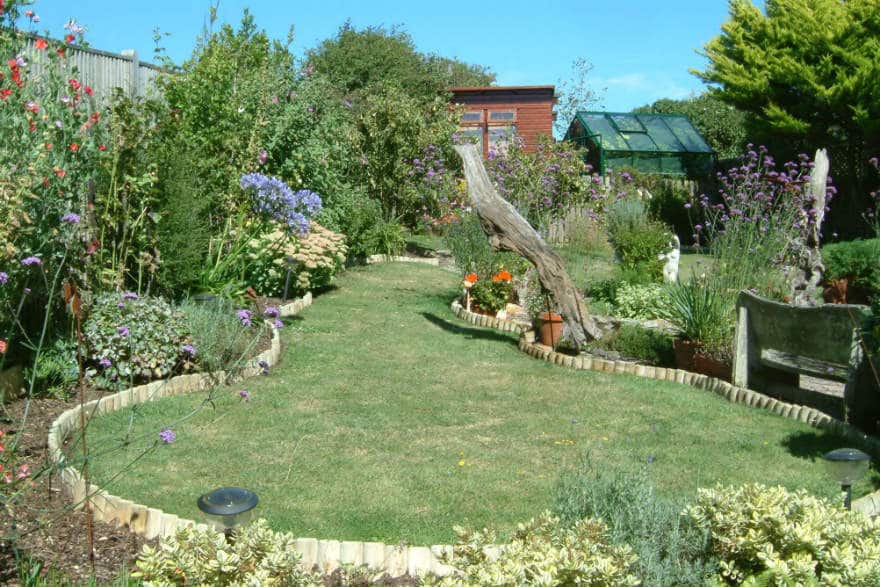 I'm not a big fan of bare wooden fences, so it was important for me to conceal them with planting that would grow, but not be devastated by the strong winds that blow from the south west. Buddleja and Lavatera were good starting points along with a large Rhododendron 'Cunningham's White' that I had brought with me from my previous home in London. I found it important to use pots all around the garden, it allowed me the flexibility to relocate them as my ideas for the garden developed.
Garden design
The interesting thing for me is that I actually commissioned a designer to plan the garden for me back in 2007, but I was so disappointed with his designs that I cut my losses and decided to do what felt right for me, in stages, based on what I could afford. So, by 2008 the pebble circle in the lawn with driftwood sculpture had appeared, many more pots were littered around the garden and I introduced small, decorative fence panels to help create room dividers and wind breaks.
The previous year I had decided I wanted a summerhouse, so this was installed at the top of the garden to maximise the view of the sea to the side of the house. This was the first truly level surface in the garden on which to put a table and chairs, as it all slopes upwards away from the house.
Open to the public
I first opened the garden to the public in 2009 and I got such amazing feedback from visitors. In 2010 I finally achieved my ambition to get rid of all the lawn and started to really create the garden that I have now, one of many diverse garden rooms, each with its own character.
The last vestiges of the lawn were replaced with stones and I created raised beds using new railway sleepers. Hedges of Olearia x haastii 'Tweedledum' and Griselinia littoralis, have created the illusion of garden walls. I had this great idea to have a folly door built against the fence too to draw the eye and also create the illusion of a much bigger garden.  So, with this and other projects over the next two years, by 2012, the change was almost complete. In 2012 the garden won Best Small Garden in the UK with Garden News Magazine and was one of four finalists in the Daily Mail National Garden Competition.
Garden evolution
Never one to sit on my laurels, I like the garden to have a different feel each year as so many loyal visitors come back to see it year after year! By 2014 there was even more packed into it. I can never resist a plant that I like the look of and will always find room for it somewhere in the garden. Francine Raymond said in the Sunday Telegraph in 2015 "I was overwhelmed and charmed, and wondered how so many plants have fitted into such a perfectly formed space."
Come and see for yourselves in 2016 but more importantly, come on guys just go for it in your own plot this summer and create your own paradise. Read more of the garden at www.driftwoodbysea.co.uk