Last year the buzz from British Flowers Week reached a record 5.4 million on Twitter. This year there's a bid to beat that staggering statistic and create a new record. As part of the campaign, five passionate florists have been commissioned by the New Covent Garden Flower Market to make fabulous floral creations for this year's event.
Over the course of the British Flowers Week campaign (13-19 June), their exciting and innovative designs using British flowers will be revealed online at www.britishflowersweek.com and on social media using the hash tag #BritishFlowersWeek.
Between them, these five talented, creative florists represent a complete cross-section of the flower industry. Each florist has their own distinct floral design style and runs a different type of flower business, but all are united in their passion for British flowers and for London's famous Flower Market.
Rob Van Helden of Rob van Helden Floral Design: A Dutchman abroad, Rob Van Helden is one of the world's leading event florists, masterminding the floral decoration for glamorous, exclusive events from London to Mumbai from his flower studio in Battersea.
Amanda Austin of Amanda Austin Flowers: The actress turned florist with a miniscule flower shop on Kings Road and a cavernous studio in Vauxhall, Amanda Austin is one of London's most highly respected florists and the preferred supplier to the most exclusive venues in town.
Florence Kennedy, Petalon: Dubbed London's hippest florist, Florence Kennedy is a true floral entrepreneur, running a thriving flower business delivering beautiful bouquets by bike to addresses across London through a fleet of apparently gorgeous cyclists.
Anna Day & Ellie Jauncey, The Flower Appreciation Society: Art graduates who met by chance in a Hackney pub, Anna and Ellie have created a fun, creative and original business, designing flowers for events, styling for product launches and writing a bestselling book.
Philip Hammond of The Dorchester: The youngest designer florist in the history of the iconic luxury hotel, Philip Hammond creates the magnificent florals that adorn The Dorchester from the bedrooms to the ballrooms and the famous Promenade for Afternoon Tea.
What's on?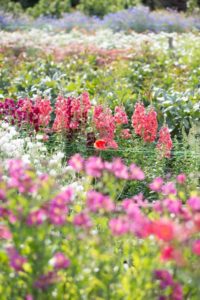 British flower growers and florists and venues up and down the country are preparing to welcome visitors during British Flowers Week for flower farm open days, workshops, floral demonstrations, pop-up flower stalls and even a cocktail party. Check out the what's on listings for more information.
The Dorchester and Number 10
To mark the start of British Flowers Week on Monday 13 June in style, The Dorchester, London's famous luxury hotel, will be decorating its beautiful Promenade with exquisite arrangements of British cut flowers. Guests for afternoon tea will be treated to the sights and scents of the finest British flowers in magnificent floral urns and table arrangements throughout the week, and The Dorchester will be selling British Flowers Week bouquets online and at Parcafé at The Dorchester.
Day Two of British Flower Week will see British flowers and foliage at the heart of government, as the British Florist Association and students from Capel Manor College take a vast floral display behind the doors of Number 10 Downing Street.
About British Flowers Week
British Flowers Week runs from June 13th to the 19th 2016. It is the brainchild of London's New Covent Garden Flower Market, where British grown flowers and foliage have been traded for centuries. The British Flowers Week campaign is organised by the Flower Market and brings retail and event florists, flower schools, growers and wholesalers together to showcase the best of British flowers, foliage and floristry. The floral campaign will also be featured on Countryfile, reaching a potential 9 million viewers.