Little Miss has had a thing about bonfires (or camp fires, as she calls them) ever since we went camping last summer and had a small camp fire. So whenever we get the opportunity, we get a garden bonfire going – great for getting rid of all the pruning waste, but also great for toasting marshmallows!
A couple of weeks ago we decided to get rid of all the apple prunings, so we lit a bonfire. This time, as well as toasting marshmallows, I told Little Miss that we would try 'banana boats'. When I was in the Girl Guides, we would slice a banana length-wise (1), fill with chocolate chips (2), wrap in tinfoil (3) and place in the embers of the camp fire for about 15 minutes (4), then eat – delicious!
Little Miss wanted to try something she called 'marshmallow toast'. Now this wasn't one I'd heard of, although it sounds a little like a s'more, but with toast instead of a hard biscuit. I have no idea where she got this idea from, but we gave it a go as well. It was very sticky and messy, but I have to say it actually tasted OK.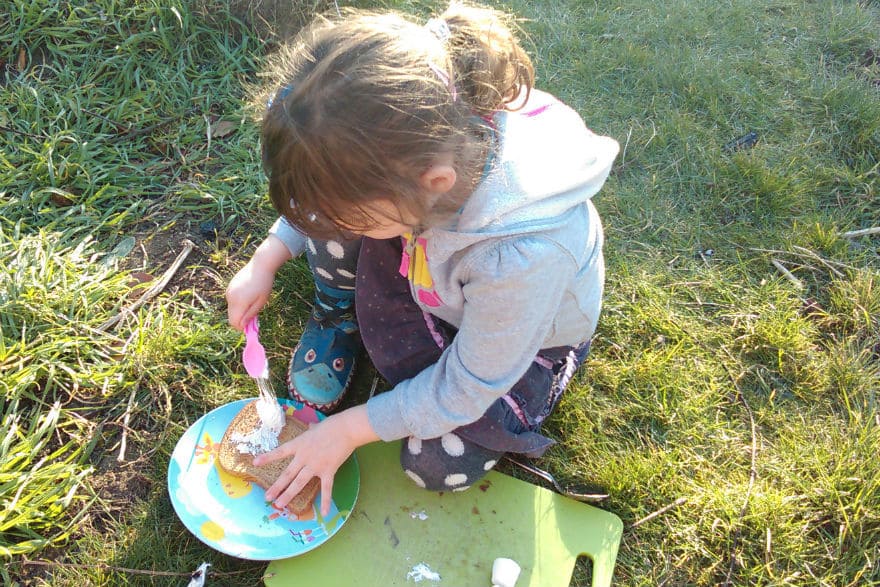 When we had our first bonfire in the garden with Little Miss I was really worried about her getting too close. But she is very good. We talk about the fire and how she must not go too close. She now even makes sure we have a bucket of water nearby when we start (fire safety – something the Girl Guides drummed into me!).
Now that the weather is improving, we'll all be getting out in the garden more. For the first time, Little Miss is really excited about the garden and really starting to take an interest in the plants we have. Over the next few weeks we'll be getting our seeds ready and planting out our potatoes – busy times ahead!