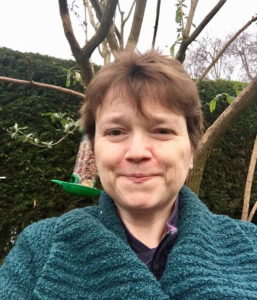 Watching the garden birds is a wonderful way to lift your spirits at any time of year. The lively antics of these delicate creatures breathe life into the garden as they flit between the trees and shrubs and linger at the feeder to feast.
Garden owner Michele Green has fed the birds all her life. Her garden, on the edge of the countryside in Essex, is alive with wildlife large and small, but it is her love of the birds that keeps her inspired and entertained. Michele started using Richard Jackson Premium Bird Food about two years ago and since then her garden has been a magnet for a huge variety of birds. "I just got inundated with different bird species", she explains, "some of which I couldn't identify and actually had to look them up. It was a really bumper year and friends on my Facebook page were always keen to know which species had visited each week. Our weather last year, in particular 'the beast from the east' blew in a few unusual species, but also offering the birds Richard Jackson bird food attracted many different species, often arriving in small flocks. Last year I actually had forty-four different bird species in my garden. It was amazing."
Rare species
"There was one particular bird that appeared which puzzled me. I was waiting for my baby woodpeckers to arrive and I happened to look up and saw a strange bird, I didn't know what it was but my camera was nearby so I snapped away and then when I looked at the photos I still couldn't identify him/her. I belong to a number of wildlife Facebook groups so I posted the photo – 'help please, what is this?' The replies came back in seconds 'it's a Rose Coloured Starling, where are you?' I had visions of a garden full of twitchers! I had to report that one as a rare bird sighting, because they are infrequent visitors to these shores. My father in law is very jealous as he has never seen a Rose Coloured Starling and as far as I am aware that particular bird has not returned to my garden. That was really exciting, but to be honest my favourite bird is a little Nuthatch, I'd never had them in the garden until last year, and I now have a pair of them that come in regularly, they are my favourite garden bird."
Bird food fan
Michele is a big fan of the nutrient rich bird food.
"I like the fact that it feeds a variety of different bird species, and it is particularly beneficial when I've got the fledgling birds in the garden because it's all perfectly sized for them. Richard's bird food ensures that the babies can get that nutrition when they need it most, we get a lot of fledglings in the garden and it is definitely appreciated. I do put out other food for the larger birds, things like whole nuts, suet and apples which are just fine for the bigger birds like the Jays, Magpies and other corvids."
Bird calendar
Michele was so thrilled by the variety of birds in her garden that she created a bird calendar as a Christmas gift for her family and friends. She sent one to Richard to thank him and to highlight the birds she had seen. "I know he likes to know how people appreciate his products, and I thought, I'll send him a calendar and I was so touched when he wrote back with a hand written letter." If you'd like to share your garden story of one of Richard's products, please do get in touch via our Gardening Club.