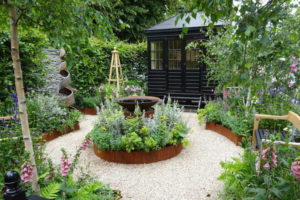 July 5th saw my visit to the Royal Horticultural Society's Hampton Court Palace Flower Show. I had volunteered to promote the National Gardens Scheme on the Griffin Glasshouse Stand. It was a very early start, car to Surbiton to park on a private drive, train from Surbiton to Hampton Court then the lovely walk over the river and by the side of the Palace. My arrival at 07.15 gave me ample opportunity to survey the many gardens, floral marquee and other exhibits with virtually no-one else around.
Gardens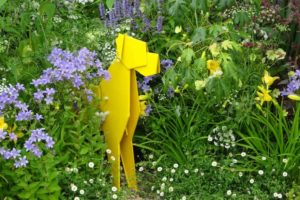 My favourite garden by far happened to be the first ever dog friendly garden at RHS Hampton Court Palace – 'A Dog's Life', designed by Paul Hervey-Brooks. It is a garden for both people and dogs to enjoy together with dog-friendly features woven into its fabric without dominating the design. I met up with one of my Facebook friends, Gareth Wilson, who had done the landscaping and he gave me a personal tour of the garden. I just loved the metal, origami formed yellow dogs peeking out around the garden along with the gorgeous wire mesh dogs by the water. Both dogs would look equally at home in my own garden. Wishful thinking! The garden has won a coveted RHS Gold Medal.
My favourite smaller garden was without doubt, A Summer Retreat designed by Amanda Waring and Laura Arison. I just loved the smart simplicity of it all and could just see it being lifted and dropped into my own back garden.
Shopping opportunities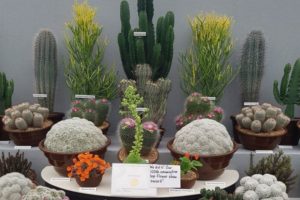 I couldn't resist a few purchases this year. Craig House Cacti had a gorgeous display that had earned them their 100th consecutive Gold Medal and I could not resist a small Crassula 'Buddha's Temple', to add to my ever-growing collection of succulents at home.  Two other items caught my eye as I wandered around the deserted stalls before opening; a lovely rusted metal boot which is going to look amazing once planted up in the garden. And a some stunning spoon flowers on stakes caught my eye and I had to have them. They already look at home in among the planting at home.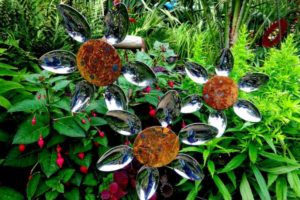 It was certainly a day for meeting Facebook friends as I went to the plant creche to meet up with another follower of my own garden, Maureen Taphouse, who was volunteering in the creche. This weekend sees the annual garden trail that I organise for Macmillan Cancer Support take place from Brighton to East Dean and its patron is Christine Walkden. She and I met up for a long chat between her sessions in the Celebrity Theatre to talk about the event, she had opened it last year but is unable to get there this year.